The school grounds have been a hive of activity during half term (massive thanks to Mrs O'Malley who was on hand to make sure all the work could take place). I'm sure you've noticed the amazing new playground equipment at the front of school – some parents were tempted to have a go themselves! It's great
 to see the ideas of the Junior Leadership Team come to life.
I really like it – the monkey bars are hard but I like a challenge. (Y3 pupil)

It's amazing; I like the wobbly plank. (Y2 pupil)

It's superb! (Y5 pupil)

I don't like it; I love it. I can hide in the tunnel. (Y4 pupil)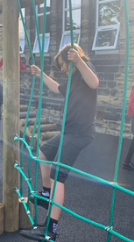 Before half term, we met with some contractors about the green space at the back of school which is the next phase of development. They're creating a design to show what it could look like so that we can then decide exactly how it is going to evolve.
Finally, the Junior Leadership Team met before half term and came up with a wishlist for new playground markings and they also created a shortlist of names for the new green area – we'll let you know when that has been decided.
Exciting times and more changes definitely on the way!