What an action-packed week we had last week!
We were learning all about staying safe, looking after ourselves and making safe choices, including online.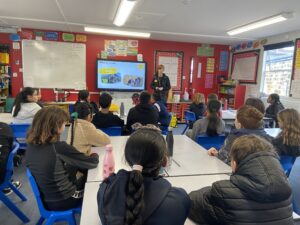 We had lots of visitors, including Mrs Hill from Dogs' Trust who taught us about how our behaviour can change how a dog feels and therefore reacts. We can make safe choices around them to help everyone.
"If a dog is eating or sleeping, just leave them. When they're awake, then you can pet them," said Evie.
Asthon explained, "When a dog comes near you that you don't know, you can put your hands across your body and turn away."
Leeds City Council's Road Safety Team came to talk to us about the choices we can make to stay safe on the roads. We also looked at what they do in order to protect us.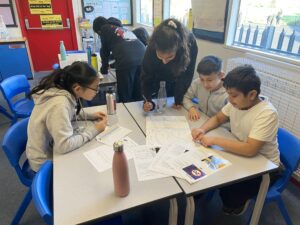 "I learnt that lots of road safety equipment cost a lot of money!" shared Aadil.
"I enjoyed the lesson – it was a good idea to use a real life situation where we only had a certain amount of money in order to help people," said Billy.
Go Wise came in to talk to us about the safe choices we can make online. Check out the pictures above for their golden rules plus what to do if you have a problem.
"There can be some weird people on the internet so we can be safe by blocking strangers you don't know or not accepting random friend requests," said Harman.
Da'wud simply stated, "Screenshot. Block. Report."
Lots of our favourite visitors were the fire officers. We discussed fire hazards in the home and had a great chat with them about how they keep us safe in our community.
Khadija learnt that they have to wear a special suit to protect them against the fire and they have a tank filled with air that's very heavy.
"I liked when they came in because they showed us the fire equipment up close," said Christina.
"It's best to close your doors at night because they can stop the fire from spreading around your house," said Vedant.
We also talked about safe choices when it comes to setting physical boundaries and being in charge of you. The book below is a great way to open up the conversation.
"I liked how it shows real life situations and it made me feel more confident about not just going with it like you're crossing a road or you don't always have to hug someone – you can high five them if you prefer!" reassured Sasha.
Finally, we watched a virtual assembly, hosted by some familiar faces, which was all about speaking out to get the help you need in order to stay safe.