To celebrate all things books, Y6 had a lovely morning enjoying the library, completing activities related to their favourite books and chilling out and reading.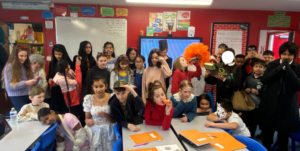 We looked amazing in our costumes and we all took turns to share who we'd come as, which book we were from and who was the author!
Amber from the Midnight Gang takes her mind off her broken arm.
Gangsta Granny is probably researching another jewel heist.
Mr Poe is giving the competition his best shot – good luck!
If you'd like to still enter, bring in £1 and bring your competition sheet back by Friday 11 March.
And finally…
Where's Wally?