This half term, in science, we are biologists and we are learning all about plants.
Here is a summary of the key learning and also the vocabulary we are using.
We used our observation skills when looking at the parts of a plant.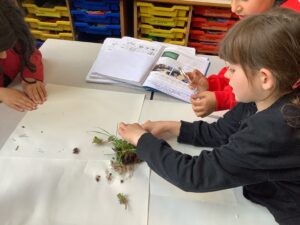 We've also been planting seeds and measuring our plants as they start to grow.
In this video, have a look to see what goes on underground when a seed has been planted. What parts of a plant can you see?
We've also been doing some gardening in the front playground planters.
It's been great to see the children spotting plants in their garden and in their neighbourhood.
Can you identify any of the plants? What parts of the plants can you see?
Today, we finished our plants learning with a walk around Moortown Park to see what plants we could spot. We used the Seek App to help to identify plants that we found.