In Year 1 we are reading a different poem every week. We read it every day just before lunch time and we have really enjoyed joining in when we get to know it. So far we have read two poems by Michael Rosen and the children are very excited to hear next week's poem about a boy with bananas in his ears!
Each poem we read is then put in our poetry scrapbook which is available for children to read in the reading corner. I have loved hearing children reading our special poems to themselves.
This week we even watched Michael Rosen himself perform our poem of the week – I am hungry. You can listen too if you click the link here.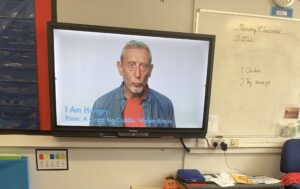 I would love to hear about any poetry you have been reading at home too.