During our Topic lessons, we have been learning about architecture (the history and the skills!).
Our skills lessons have been focused on creating digital art – art that is made using digital technology. We have been photographers, photo editors and graphic designers. But this week, we have been "collagers"! The children used photographs of the school and its architecture to create their own buildings. They used collage as their method.
The adults were blown away by the how fantastic they were. The children experimented with different layers and colours and building shapes. Here are just a few: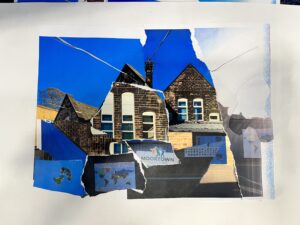 Next Friday, Year 3 and 4 will be creating their own art galleries for display. Other classes and teachers will be able to visit to celebrate their hard work! We are looking forward to it.