Here are the final results from the Year 4 skipping festival this week.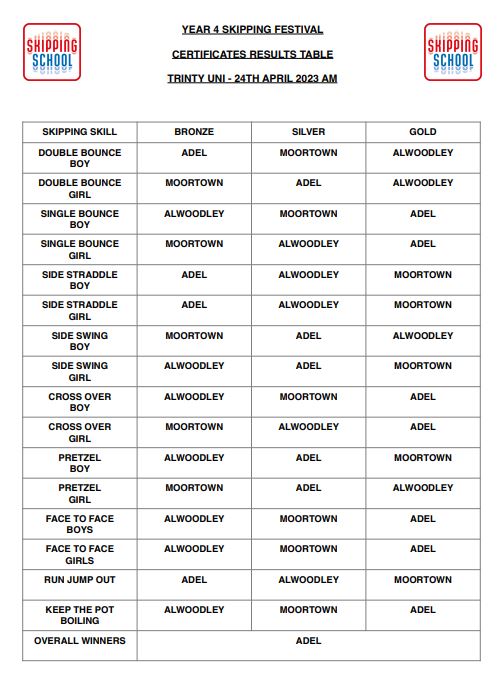 The Skipping School programme (for Year 2 and Year 4) is one of the ways we invest our PE Premium so we always like to check if the investment was worthwhile for the children.
Pupil feedback
I learnt lots of new skips. Now I can do fancy footwork and at first I had no clue what to do!

I enjoyed the skipping festival because we got to have a little bit of competition and skipping is great exercise.

I couldn't do side straddle and now I have learnt how to do it.

I learnt different skips and I had a really good time at the festival.

I really enjoyed it because of all the new things I learnt.

It was good to do skipping in PE as well as other sports.

I learnt to have fun whilst exercising and winning doesn't matter. Taking part was important.
Parent feedback
My son thoroughly enjoyed this event. He doesn't normally do PE competitions so it was really good for the whole class to go. He was so proud of his two certificates.
Organiser feedback
Your Year 4s did an amazing job at the festival this morning.