On Friday morning, we had a visitor from the Red Cross visit Year 6 to help us learn about refugees and asylum seekers.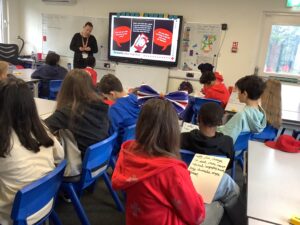 We discussed empathy and the experience of asylum seekers, thinking about how we would respond if we were forced to flee our country. We read a story about a 13-year-old Syrian refugee and used key words from the story to create a poem.
Here is a poem written by one of our Year 6s:
School is free
Healthcare is free
Loving family
Everything changed
Uncle died
Have to move
Have to prove my identity
Been abused
Been robbed
Need to rotate
To reunite with my family
Help at home: ask your child what a refugee is and one thing they would do differently after today's workshop.