This week, we've been very busy getting ready for the King's Coronation this weekend.

This afternoon, we had lots of fun reading The King's Pants by Nicholas Allan. Throughout the week, we designed a new pants for The King to wear on different occasions.

The King will wear my knickers…
FlM – when he sees a rainbows.
HB – when he goes to a party.
AS – on a school trip.
TH – when he comes to my house.
AM – to a wedding.
AP – at a tea party.
SL – at Christmas
HM – when he's exploring.
AT – when he's crowned King Charles.
Today, we enjoyed a picnic style lunch in the hall with our friends.

This afternoon, we thought about different questions we would like to ask King Charles.
SB – Do you watch TV?
HM – Why is it called a Coronation?
AM – Who's your favourite brother?
TH – What's your favourite thing to do?
LC – What's your favourite teddy?
Literacy
This week, we used our imagination to write our own versions of The Very Hungry Caterpillar. They came up with some fantastic ideas!
HM – The Very Hungry Bee
SL – The Very Hungry Ladybug
JQ – The Very Hungry Stag Beetle
AS – The Very Hungry Spider
TH – The Very Hungry Ant
On Wednesday, the children were eager to check on how much the caterpillars had grown.
LN – They are spiky
LC – They are really big now.
AM – They are climbing to the top.
EC – They look might make a chrysalis soon.
Yesterday, we looked at different types of butterflies and talked about what they look like.
JQ – They have wings.
AP – They are symmetrical.
EC – They have lots of colours.
AS – They are beautiful!
LC – They have legs.
Help at home: The life cycle of a butterfly has four stages. Can your child remember the four stages? Draw a picture of the life cycle.

PE
Yesterday afternoon, we had our second Foot—Tech session. We continued to practise the three key skills: push, kick and throw.

Amazing writing!
Every morning, after the children have done their morning jobs, they do a morning activity. Yesterday, Miss Gaunt and I were blown away by their writing! Some of the children wanted us to take a photo of their writing to show you at home.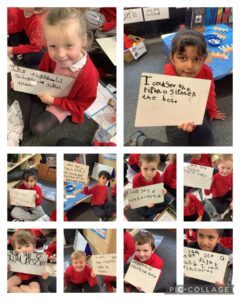 Help at home: Write a sentence about this picture.

We hope you have a fabulous long weekend with family and friends. See you on Tuesday.