On Tuesday, we had a visit from Dave from d:side. Dave talked to us about keeping our body healthy.
There are three things that should go in our body (also known as our basic needs which is part of our current science learning). These are:
If we have all these things, we might still get poorly so Dave reminded us of keeping safe around medicines and who should (and shouldn't) give us medicines.
But where does the food, water and air go in our body?
We learnt about different parts of our body and where they are found. We recreated it correctly too!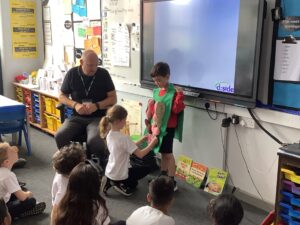 Help at home: Ask your child, what were the different parts of the body we learnt about?