Y6 Book Club will now be every Wednesday. This is so that it's closer to homework on a Friday – I'm sorry for the confusion!
In this week's Book Club, we celebrated the amazing words and phrases we have come across in the texts we're reading.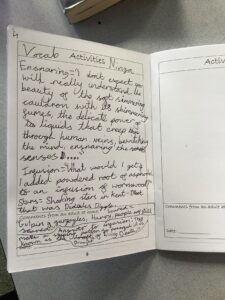 We had a lovely, relaxing reading session and made note of and discussed some inspiring vocabulary or words that made us curious.
Help at home by exploring the meaning of words and phrases when you're reading together at home. Talk about the word class, root word or other sentences you might find it in.