This week, Year 2 have been using their food preparation skills to create their latest product, a banana sandwich.
This forms part of our Design and Technology food learning which involves following a recipe to create a product each term.
Here are some of the skills we used.
Peeling
Bridge hold (for cutting)
Claw grip (for cutting)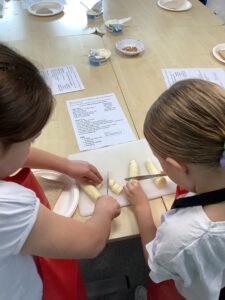 Spreading
Arranging toppings
Sprinkling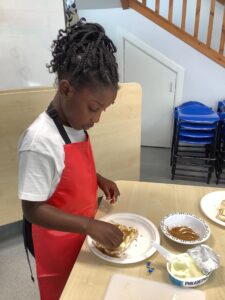 The comments from the children when they got to eat their product were very positive!
I can't stop eating it!

I've never had this before but I like it.

It's the best sandwich I've ever had.

I'm going to make this at home for all my family.

It was unbelievable!

I didn't think I'd like the cream cheese but it's amazing.

The cinnamon gave it a little bit of a spicy taste.

We always evaluated our product afterwards to see how it could be changed it next time.
Well done to all the children who worked safely and sensibly with Ms Canning. Next week, we will be using this learning to help with instruction  writing.
Help at home: your child has taken this recipe home. Can they demonstrate some of their food preparation skills by making this again at home.