What an action-packed day we had on Tuesday!
Y5 and Y6 went on an amazing trip to the Yorkshire Sculpture Park to support our Art learning for this half term.
Before we went, we had a look at the website and previewed the art which made it very exciting when we actually saw them up close!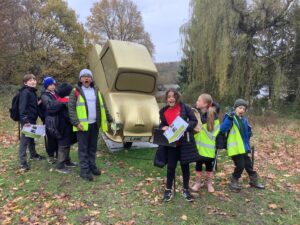 We took our Arty Ideas books and did a lot of amazing sketches.
It was great to see both abstract and figurative sculptures – just like we've been learning about in school.
Spot the difference: Moortown vs Network by Thomas J Price edition.
Zodiac Heads was definitely a fan favourite.
The texture and scale of the sculptures was sometimes mind boggling!
We did a lot of walking – luckily, the scenery was stunning. Can you spot Henry Moore's Reclining Figure: Arch Leg in the distance?
In the afternoon, we took part in a workshop with a real artist!
We investigated patterns, colours and shape in Three Stones for Three Trees by David Nash.
And did some artwork without looking at the page – it was quite spiritual in a way.
Another great moment was seeing Barbara Hepworth's Family of Man in real life! We had a tour of the sculptures and learnt all about the story of what they represent.
Lastly, inspired by the sculptures we'd seen, we made our own out of clay, just like Henry Moore would have done. He used a maquette made out of plaster.
Help at home by asking your child about their review of the trip which we're doing in writing!