At Moortown Primary, we aim to be a happy and healthy place to learn. To do so, we will:
● Provide a curriculum which is enjoyable, relevant, inspiring and creative
● Understand and respect diverse values, languages, religions and traditions
● Foster a safe and caring community
● Develop enquiring minds
● Celebrate achievements
● Develop skills and knowledge for a rapidly changing world
● Encourage positive choices, whether academic, physical, social, or emotional
● Provide equality of opportunity within an inclusive community
● Nurture social, moral, spiritual and cultural values
● Promote positive parental and community involvement
View our Curriculum Aims.
Our visual ethos statement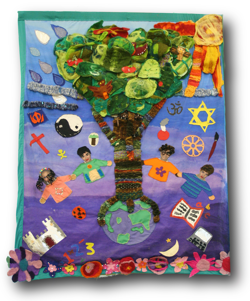 Our Visual Mission Statement was designed and produced by Year 5 pupils in 2006.  The project was part of our very successful Artists in Schools programme.
The tree's trunk and branches are symbols of all the adults who support and care…
…for the children at Moortown Primary School, represented by the leaves.
The cherries represent the good times we have at Moortown Primary School.
The globe shows that we are a multi-cultural school with pupils and staff from many different countries.
The four children holding hands show that we all work together at Moortown Primary School. Co-operation and friendship are important to us.
The symbols around the tree represent the subjects we learn in school.
The birds in the sky are symbols of the visitors to our school – we welcome all of them.
Flowers around the bottom represent our blossoming knowledge and skills as we learn more and more.
The sun and rain symbolise the guidance and growth we get from our governors.
The religious symbols you can see represent all our different faiths.
Our aims and ethos complement fundamental British values of democracy, the rule of law, individual liberty and mutual respect and tolerance of those with different faiths and beliefs.