Welcome back. We hope you had a great half-term!
We can't believe we have reached the last half term of the year and the children will soon be heading off to Year 1!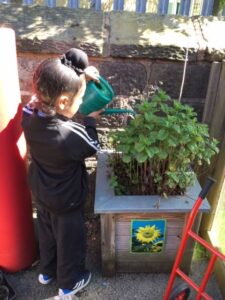 This half term is always busy with lots of exciting things to look forward to.
This term our mini-themes will be:
Let's make a splash!
As we move into the final term of the year, the weather is much warmer (we hope!) and we begin thinking about days at the beach. The water area is a favourite in our provision and has lots of learning opportunities. As a scientist, your child will investigate floating and sinking, making predictions and testing theories. They'll also investigate materials in terms of being waterproof. As a geographer, your child will look at a seaside town and find it on a map, learning that a seaside town is always on the coast. They'll talk about the things that they see at the seaside that they don't see in Leeds. Finally, as a historian, your child will learn about seaside holidays of the past, identifying differences in clothing and entertainment by looking at old photos and videos.
Where in the world?
Summer holidays are on our minds during these last few weeks of term. This theme enables us to develop an understanding of travel. We will think about the different ways people can travel to holiday destinations: by car, coach or aeroplane, for example. Your child will find out how much travel has changed through history. They will become travel agents in role-play situations, too.
In addition we will be thinking about change and our transition to Year 1. The children will be given the chance to visit their new classroom areas.
Phonics
We are continuing with phase 4 learning. The children will be reading more challenging words and sentences and gaining more confidence and fluency. They will use their knowledge to write simple sentences independently.