On Tuesday morning, we went on our local walk around Moortown to look at landmarks. Before going on our walk, we looked at Google Maps to check the route. The children were so sensible and showed fantastic manners to members on the public. One person even commented on their amazing manners. Well done, Reception!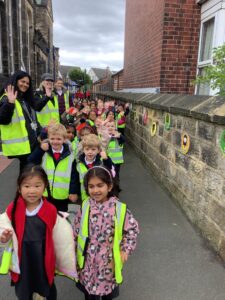 After our walk, we had a go at drawing our own maps of where we went. The were fantastic at using symbols on their maps!
Maths
This week, we've explored the composition of 3 and 4. We've investigated part–whole relations, e.g. seeing that 3 can be composed of 1 and 2. Through practical experiences we know that a 'whole' is made up of smaller parts and is, therefore, bigger than its parts.
Throughout the week, we've been collecting groups of 2, 3 and 4 objects. Here's some children collecting 2 objects (one and another one)
We also explored making repeating patterns.

This week, the construction area has been very busy! Many children have been making models with the Mobilo. Check out their amazing models!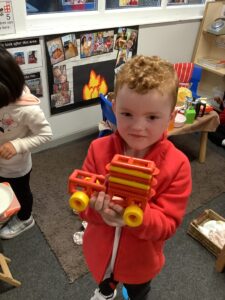 This week, one of the chilli challenges was to do an observational drawing of an autumn leaf.  We talked about the colours we could see. Next week, we'll be talking about autumn and doing lots of autumn challenges.

Mornings
From Monday 17 October, your child will line up in the playground and come into classroom independently. This will allow us to start our learning straight away. Please wait with your child in the playground until the bell goes.
Reminders
Phonics Stay & Learn – 11 & 12 October
Thank you to everyone who has signed up!
Please email any 'WOW' moments or new interests at home. We love receiving and sharing photos in school.
moortowneyfs@spherefederation.org
You child will have been assigned their new e-book. Please make sure your child reads this daily alongside love of reading books.
Reception coffee morning – Monday 10 October at 9am
Come and enjoy a coffee and chat.
Home-Link Challenge