It's felt very Christmassy in Reception this week.
Take a look at what we've been up to…
On Monday, we made a bag of reindeer food in case the Santa's reindeers are hungry on Christmas Eve.

The children have been very busy wrapping presents in Santa's workshop.

Writing letters to Santa.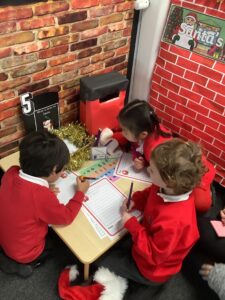 Looking at Christmas books with our friends.

Making paper chains in the finger gym area.

Playing Christmas maths games.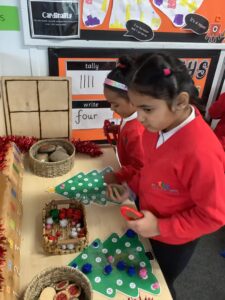 On Wednesday, the children decided to start a conga line. Why not? It's Christmas after all!

After our final gymnastic session, it was time to sit down for our Christmas dinner. We had lots of fun dancing away to the Christmas songs.

Poetry Picnic
Click here to watch this week's poem.
Phonics
This, we recapped all of the phase 2 graphemes and tricky words.
Next half term, we'll be starting phase 3. In this phase, the children will continue to learn more digraphs (two letters making one sound) and they'll be introduced to some trigraphs (three letters making one sound).
Maths
In maths, we've been learning about 3D shapes. We've looked at some common 3D shapes such as cylinder, sphere, cuboid, cube, square based pyramid and cone. We looked carefully at the shapes and talked about the properties of the 3d shapes.
Ask your child if they can find any 3d shapes around the house. Can they remember the name of them?
Finally, looking forward to seeing you all at the learning journey drop ins next week.
Reminders
Christmas production – Tuesday and Wednesday at 2.15pm
Christmas party – Friday
Your child can come to school in non-uniform. 
Have a happy and healthy weekend.