What a busy week we've had in Reception! We're so proud of all the Reception children for their FANTASTIC singing and dancing. Thank you to everyone who came to watch Wriggly Nativity.  We hope you enjoyed watching it as much as we enjoyed learning the songs.

Literacy 
This week, we've been learning about The Christmas Story. We used actions to help us remember the story. Click here to us in action.
On Wednesday, we played a true or false game. Read the statements to your child. Can they remember which ones are true?

We also wrote a sentence about a picture from The Christmas Story.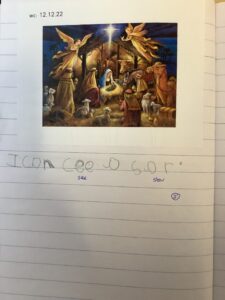 Poetry Picnic 
We love learning new poems in Reception! This week, has got to be one of our favourites. Before watching this week's poem, put the kettle on and make a cup of tea – cheers!
Christmas party
This morning, it was PARTY time! We had lots of fun playing party games and showing off our best dance moves. After all that dancing, we sat down and enjoyed eating some party food with our friends.

PE
Next half-term, PE will be on Monday and Friday.  Please make sure your child comes to school wearing their PE kit. If you child has their ears pierced, earrings must be removed before school.
Finally, thank you for your generosity. We hope you have a happy and healthy break. Enjoy spending some quality time with friends and family. Merry Christmas and a happy new year from all of the Reception Team!