Literacy
We continued to read Supertato. We created wanted posters to try and help capture the Evil Pea. We thought of sentences to describe the Evil Pea.
He is green.
He is round.
He has a red cape.
He wears a black mask.
He is tiny.
Once again, the Evil Pea has been up to mischief! We've been super building traps in the construction area. The children came up with some fantastic ideas!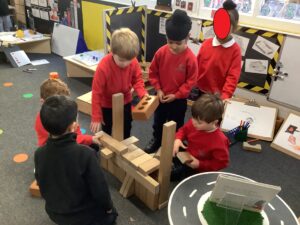 Some of the children drew a picture of their traps.

Maths
We've been learning about weight. We used balance scales to compare the weight of different objects.

Art
We looked at some of Yayoi Kusama's famous dot paintings. Yayoi is a Japanese artist who is sometimes called 'the princess of polka dots'. Although she makes lots of different types of art – they have one thing in common, DOTS! In the creative area, we had fun creating our own dot paintings using cotton buds and bubble wrap.

Poetry Picnic
This week's was called Mrs Bluebird. The children particularly liked being Mr Bee!
Outdoor learning
The wind didn't stop us from having fun outside.

Early writing
A short presentation by Mrs Payne, one of our Sphere Federation Reception teachers has been emailed to you this week. The presentation explains how writing develops over the Reception year and has some ideas of things that you can try at home to support your child's learning. If you have any questions about the presentation, please ask.
Reminders

Parent-teacher meetings – Monday 06 & Tuesday 07 February
I look forward to chatting to you all in person next week.
A new e-book is assigned every Thursday. Please make sure your child reads this daily at home.
Library books must be returned every Friday.
Finally, thank you to all of the parents and carers who came to the fiddly fingers stay & learn session today. It was lovely to see so many of you! We hope you all enjoyed it.