Over the next two weeks, in Writing, we will be exploring, planning and writing a WWII recount as if we are evacuees. Yesterday, the children looked at and created Expanded Noun Phrases (ENPs) that they could use in their piece of writing.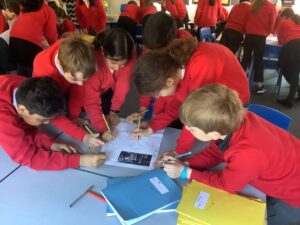 An ENP is made up of a 'determiner adjective, adjective noun' or 'determiner adjective noun'. Here are a few we made:
a picturesque view
several weary, emotional evacuees
many worried, exhausted mothers
the congested, humid train
Help at home: Take a look at ENPs on BBC bitesize or create your own ENPs for this picture.