This week's message is a short one, starting with a reminder of the our annual Summer competition…
Big brains
A recent news article caught our eye – front page of The Times (28.06.23):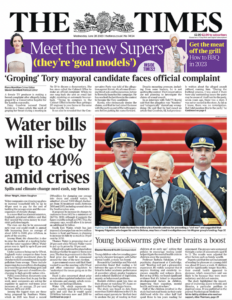 Here's an extract from the article:
Young children who love reading grow up to be cleverer teenagers with better mental health, a study has found.

Research by Cambridge and Warwick universities found that reading a lot between the ages of two and nine was linked to better academic performance at secondary school, greater happiness and a reduced likelihood of depression, anxiety or behavioural problems.

Bookish children spent less time on their phones or watching TV. Scans revealed that they had bigger brains.
The research authors stressed the value of parents and carers 'doing their best to awaken the joy of reading in their children at an early age'. The reaserch suggests that the ideal would be for children to read about 12 hours each week.
Talking of reading…
Extreme reading
Here at Moortown Primary, we love reading. Over the Summer holidays, we've a challenge for your child… Show us how reading-obsessed they are by sending us a pic of them reading in an extreme place or position.
Here's someone who's already getting stuck into some extreme reading. (can't think who it could be!)…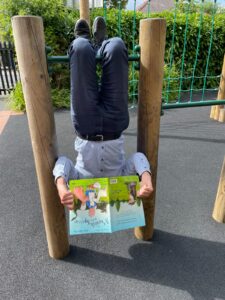 To enter, email your pics to moortownoffice@spherefederation.org by Friday 08 September. Enter 'Summer competition' as the subject.
All entries will be displayed in school, and there are prizes for our favourites.
Governance
Each year, the Sphere Federation governors produce a document that outlines their work over the year. Read the 2022-23 Annual Governance Statement.
Finally, in case you missed it, check out Mrs Weekes' post from a few days ago which describes the themed week coming up next week.