Wriggly Nativity
The children are very excited about our upcoming production of 'Wriggly Nativity' in the last week of term.
We have found a playlist of all the songs we have been learning in school on Youtube. (link here) We would be really grateful if you could practise the songs at home.
Thank you for your support,
Year 1 and 2 team.
Bethan Woollvin Webinar
This morning Year 1 and 2 had a very special online visitor. The author and illustrator Bethan Woollvin spoke to both classes about her work, how she creates her stories and what she likes about being an author and illustrator. We have been reading lots of her stories in class so we were very excited!
She read us the story Little Red and then gave us a tour of her studio including showing us some of her sketchbooks, it was very interesting! Bethan then showed us how to draw Little Red in a draw along session. We concentrated very hard and we were very proud of our drawings!
Finally, we got to ask Bethan some questions and hear her answers. We asked some terrific questions and we were very grateful for Bethan to give her time for such a wonderful webinar! Hopefully, it can inspire some new authors or illustrators in Year 1 and 2!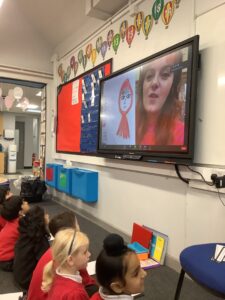 Skipping ropes
We continue to work with Skipping School as part of the Year 2 and Year 4 skipping festivals.
While you might be thinking about Christmas presents, we have skipping ropes available to purchase from school for a subsidised price of £3.  These are available in two sizes and a range of colours.
Living and learning: mental health
This week, Year 1, with the help of some of the characters from the Beano, have been learning about a range of emotions.
Emotions are feelings. They can change all the time.
We all experience a whole range of emotions, from anger to happiness to fear.
Looking at someone's face and their body language can help us to understand how others might be feeling.
How might Dennis be feeling? What clues tell you this?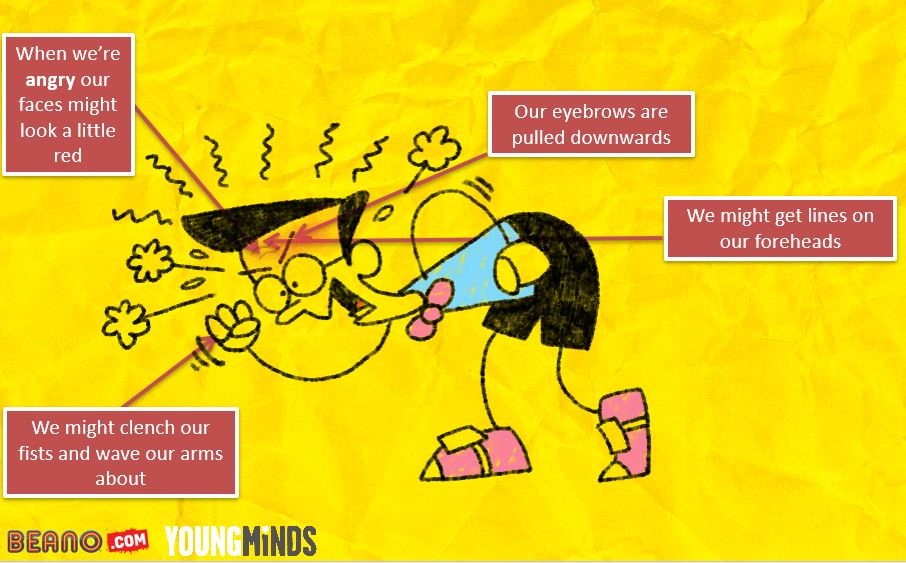 We discussed why it is important to recognise and talk about our emotions and how to seek help with our feelings or if we notice a friend might need help.
Everybody in the class had some great ideas to help ourselves when we feel strong emotions and we will discuss this more next week.
Well done Year 1.
Live webinar with author Alex Willmore
On Thursday, Year 1 and 2 met author Alex Willmore (virtually) in a live webinar. It was great for the children to be inspired by Alex's storytelling, illustrations and  the introduction of his new book ' I DID see a mammoth!'.
As well as enjoying Alex's new book, all the children followed Alex's live drawing to draw their own mammoth. Alex talked about how he became an author and gave the children tips of how to create their own stories.
Science – Looking for signs of Autumn
Today in science we recapped our learning so far about the seasons. We thought about what changes happen in different seasons and the order of the seasons. Then we went outside to investigate which season it is right now. We took out the iPads and had to find evidence as to what season it is.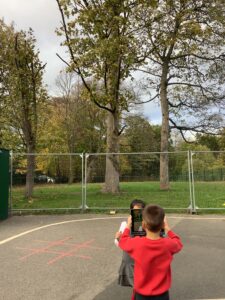 We found lots of evidence that the season was Autumn! Fallen leaves, leaves changing colour and lots of wind!! Here are some of the photos the children took. Well done everyone!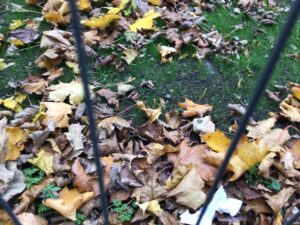 Living and Learning: Me and my community week
This week has been very busy in Year 1! We have been working all week learning about our identity and our community!
On Tuesday two Police Community Support Officers came into the classroom to talk to us about staying safe using fireworks and sparklers. We listened really well and even found out you should put your sparkler in a carrot!!
On Wednesday, as well as our amazing class assembly (Well done everyone!), we also had a visit from the RNIB. They brought along a guide dog with them and we learnt all about the job of a guide dog.
On Thursday, teacher for the deaf came to visit to talk to us all about how we can help deaf adults and children understand us more clearly. We learn some sign language too.
We have had an amazing week learning all about how we are the same and how we are different. It has all been topped off by everyone showing off their identity today! Amazing work everyone!
The PTA needs you..
Do you want to make a difference to our school community?
Are you able to give some, time, skills or ideas? 
Existing members of the Moortown Primary School Parent Teacher Association (PTA) are urgently looking for new parents to join. The PTA is a registered charity and they are looking for parents to take on the roles of three trustees; as well as these roles, they need enough people to help out so that organising and running the fundraising events is shared between more people.
They would like to invite you to join the PTA before the AGM on Tuesday 15 November. If you are interested in joining the PTA, please contact the school office and they will put you in touch with the right people.
A brilliant first half term!
Well done everybody! We have all had a tremendous first half term in Year One and we should all be very proud of ourselves! We have got to grips with lots of new routines and worked really hard on our learning! I am sure that the children will be feeling really tired after these 7 weeks and they will be happy for a rest.
We have learnt all about the Great Fire of London in History, habitats in Science, three little pigs in English, new graphemes in  Phonics and all about numbers 1-10 in Maths.
Over half term it really important to keep reading as much as possible so please keep logging on to the e-books platform.
Year 1 Class Assembly
Our class assembly is on Wednesday 2nd November at 2.40pm. Your child should have been given some words to practise over the holidays so we can be ready for when we get back! Can I also ask that you practise the song 'London's Burning' with your child over the holidays. There is a link to it here.
Thank you for all the support over this past half term and I look forward to seeing you again in November!
Themed menu 04 November 2022
Catering Agency, our school meal provider, will be running a special themed menu on Friday 04 November. Bonfire night menu. Please contact the office if your child would like a school dinner on this day (no action required if your child normally has a school meal on this day).