Literacy
To help get us thinking about the seaside, we read lots of seaside poems collected by Jill Bennett. For our writing activity, we wrote a sentence about things we might see or do at the seaside.

On Wednesday, we looked at some at a photograph of Scarborough and talked about the things we might see at the seaside that we don't see in Leeds. We then thought about things they have in common.
You can't see seaweed in Leeds.
You can't see the sea in Leeds.
You can't see a lighthouse in Leeds.
I can't see a hermit crab in Leeds.
Leeds and the seaside have fish and chips.
You can see some beach huts at the seaside.
You can have ice cream in both places.
You can see hotels in Leeds and at the seaside.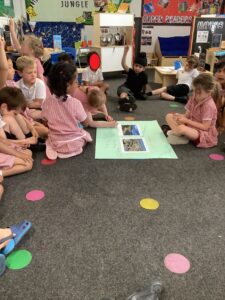 Splish, splash, splosh!
We had lots of fun getting wet (and cooling down) in our very own paddling pool.

PE
This week, in Foot-Tech, we continued to play 4 corner tag. Each group were asked to set up their squares independently – I was so impressed with how well they did this! When playing the game, they were fantastic at negotiating space, changing direction and coming up with their own tactics to trick the tagger.

Jellyfish
One of the chilli challenges this week, was to make a jelly fish. Cutting the material for the tentacles was quite tricky.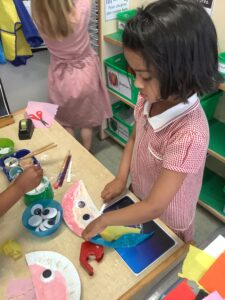 Poetry picnic
This week, we've been learning the nursery rhyme The Big Ship Sails…
Check out their amazing singing!
Stay safe in the sun!
It looks like the glorious weather is here to stay for a little bit longer. Please continue to make sure you apply sun lotion to your child before school. This stops us from missing any learning time. Thank you to everyone that has done that this week.
Reminder
Don't forget to attend the Reception to Y1 transition parent Zoom on Monday.