Goodbye Reception 2022!
We have reached the end of our year in Reception.
The children have all been amazing and we have been impressed with how much they have progressed. I will miss seeing them grow up!
Thank you for all your kind messages and presents.
Have a happy and healthy summer.
Summer of sport
It's just 7 days to go until the Commonwealth Games begin in Birmingham. Watch this introductory video to find out more.
To keep active over the summer holidays, why not try these commonwealth personal best challenges at home. My Commonwealth PB incorporates skills that are used in 7 of the sports which will be taking place at the B2022
Commonwealth Games.
Use the QR codes below to see each challenge.
We'd love to hear how you get on!
Super Sports Day
What an amazing day yesterday! Our first full sports day since the pandemic and we came back with an amazing bang! Mrs Taylor did a grand job of organising everything, as always, and all the helpers that made it run smoothly were brilliant. Mr Roundtree is a little croaky today after his commentating but I'm sure you'll agree, it was well worth it. You will see a photo of Mrs Burke completing her final egg and spoon race as a member of staff but you never know, she might be guest of honour next year. Thank you to everyone who came along to watch!
Scooter Training
The children had great fun on their scooter training session and learnt how to stay safe near the roads.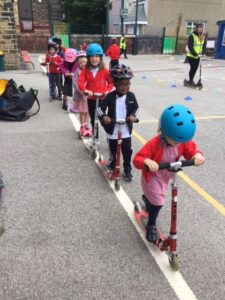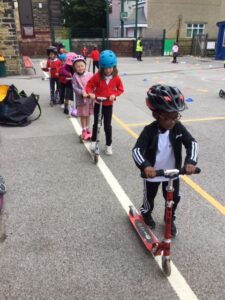 PE
PE will be on Thursday instead of Friday for the next three weeks.
Living and learning: drug education
This half term, part of our Living and Learning focus includes drug education. We have arranged for visitors to come into school to help to deliver this key aspect of education. 
We have been working with d:side for many years and they will be visiting school to deliver sessions to all classes based around drug education on Monday 11 July and Wednesday 13 July.
 d:side is a comprehensive drug & alcohol education programme that encourages children to make positive & healthy life-choices whilst promoting a pro-active attitude to life. They focus on developing the children's knowledge, skills & attitude, whilst equipping them with the appropriate life skills to successfully manage sensitive situations with peers & encourage a positive approach to life.
As part of this visit, Dave Hill, from d:side, will be available in the playground after school on Monday 11 July 3:05-3:30pm to answer any questions about this learning. 
This week
This week will be a very busy one!
Sports Day 
Remember to send your child to school in their PE kit and correct coloured T- shirt. They will need their water bottle and hat if it's sunny.
PE
PE will now be on Thursday until the end of term as the children will be having football coaching.
Library
We are now visiting our school library to borrow books every Tuesday. Please bring library books back on Tuesdays.
Meanwood Valley Farm
We had a great time at the farm-but the best part was the bus journey!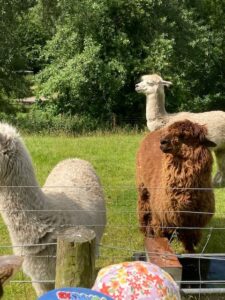 A busy week ahead!
We have a very busy few weeks ahead of us as we reach the end of term.
Balanceability
These sessions will be held on Monday, Wednesday and Thursday. Please make sure your child has long trousers and suitable footwear.
Meanwood Valley Urban Farm
Please send your child in their school uniform and with a packed lunch. It  looks like it will be a sunny day, so please send your child with a hat and apply sun cream before they come to school.
Topic
The children are enjoying learning about oceans and the animals that live there.
They have been role-playing in our 'ice-cream shop' and reading in our 'under the sea' reading area.
The children have been visiting the Year 1/2 shared area and enjoyed finding new equipment and challenges.
Welcome back!
Welcome back. We hope you had a great half-term!
We can't believe we have reached the last half term of the year and the children will soon be heading off to Year 1!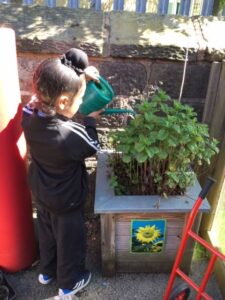 This half term is always busy with lots of exciting things to look forward to.
This term our mini-themes will be:
Let's make a splash!
As we move into the final term of the year, the weather is much warmer (we hope!) and we begin thinking about days at the beach. The water area is a favourite in our provision and has lots of learning opportunities. As a scientist, your child will investigate floating and sinking, making predictions and testing theories. They'll also investigate materials in terms of being waterproof. As a geographer, your child will look at a seaside town and find it on a map, learning that a seaside town is always on the coast. They'll talk about the things that they see at the seaside that they don't see in Leeds. Finally, as a historian, your child will learn about seaside holidays of the past, identifying differences in clothing and entertainment by looking at old photos and videos.
Where in the world?
Summer holidays are on our minds during these last few weeks of term. This theme enables us to develop an understanding of travel. We will think about the different ways people can travel to holiday destinations: by car, coach or aeroplane, for example. Your child will find out how much travel has changed through history. They will become travel agents in role-play situations, too.
In addition we will be thinking about change and our transition to Year 1. The children will be given the chance to visit their new classroom areas.
Phonics
We are continuing with phase 4 learning. The children will be reading more challenging words and sentences and gaining more confidence and fluency. They will use their knowledge to write simple sentences independently.
Where has this half-term gone? It seems to have flown by!
Lots of learning in Reception last week about animals and their habitats. The children have enjoyed looking at maps and naming countries and continents
Phonics
We are learning within Phase for of  Little Wandle  Revised Letters and sounds. In this phase the children will be blending words with adjacent consonants and learning more 'tricky words'.
The reading books we use in school and send as an  ebook are closely linked to the phonics learning.  It is important that your child reads and re-reads these books to help them gain confidence and fluency.