Spring 2: Week 6
I can't believe we're at the end of our second term in Reception! This half-term, we found about transport from the past. We created simple maps and learnt how land, sea and rivers are represented on maps. We've noticed the first signs of Spring, planted flowers and beans and learnt about the different stages of a beans life cycle. Finally, we talked about how some families celebrate Easter and created our own Spring baskets.
Here's a video of some of our amazing highlights from this half-term.
Poetry picnic
This week's poem was called The Tiny Seed.  This week, we talked about the rhyming words. Can your child tell you the rhyming words in this week's poem?
Reminders and upcoming dates
PE will be on a Monday and Thursday next half-term.
Don't forget to keep reading your Collins e-books over the holidays.
Monday 01 May – Bank holiday
Monday 08 May – Bank holiday
Monday 15 May – Training day: school closed
Help at home: Practise spelling the phase 2 and 3 tricky words.

As always, I hope you all have a happy and healthy half-term break. Don't forget to email me any pictures of what you get up to in the holidays. moortowneyfs@spherefederation.org
I look forward to seeing you all again on Monday 17 April.
York Railway Museum
Last Friday, Reception enjoyed a day out to York Railway Museum.
When we first arrived, the children were amazed at the size of the trains.

In the morning, we enjoyed looking at all of the different trains. We jumped on board the high-speed Japanese bullet train – the world's fastest passenger rail network. When lunchtime arrived, they were so excited to sit with their friends and show off their packed lunches!  After lunch, we continued to explored the museum. We found the replica version of Stephenson's Rocket.
From getting on the coach to arriving back at school, their behaviour was impeccable. It was a pleasure taking them all on their first school trip.
Barney had a good time, too!

Smart Money Award 2023
Today, we welcomed Nicola and Linda from HSBC to our whole school assembly to present us with our Smart Money Award 2023.
This is awarded for financial education lessons which took place in school for all classes last summer as part of our Living and Learning curriculum.
Nicola combined this visit with some more financial education for the children.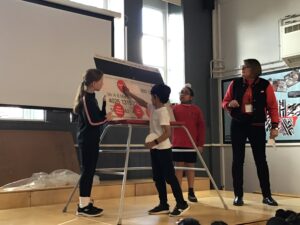 Big Walk and Wheel – getting active on the way to school
It's been a great start to Sustrans Big Walk and Wheel walking, scooting and cycling challenge this week.
After the first five days, we are currently in 14th place (out of 514 schools) in the small primary category with an average of 90.36% of our journeys to school being active. This is a great achievement and we want to thank families for supporting this challenge.
To keep up with the leader board for the rest of the challenge, it can be viewed here.
Thank you to those families who brought along bikes to the bike register event too. Nineteen bikes were registered at school.
By walking, cycling and scooting to school, you are helping us make a positive change to the school run. With less cars close to the school gates, this is a safer and healthier way to start the day.
The Big Walk and Wheel challenge continues until Friday 31st March so we look forward to seeing our progress over the upcoming week.
Spring 2: Week 5
It's been another busy week in Reception!
Literacy
This week, we've been reading the traditional tale Jack and the Beanstalk. We had lots of fun using prosody when saying the Giant's famous line…
FEE FI FO FUM!

On Tuesday, we all planted our own (magic) beans. We talked about what a bean needs in order to grow and the life cycle of a bean.
What's a life cycle?
HA – Something that grows and grows.
AT – Something that goes round.
FlM – Something that grows day by day by day.
HM – A life cycle is like us.
After planting our beans, we wrote instructions to explain to others how they could plant a bean.

Maths
We've been learning about doubles!
The children are super quick at showing doubles on their fingers.
We used this stem sentence…
_____ is made of _____ and _____ ; double _____ is _____
when explaining double patterns.
We made doubles patterns on ladybirds, butterflies and with paint!
Help at home: Can you make a double pattern at home?
Challenges
This week, the chilli challenges were based on our focus story.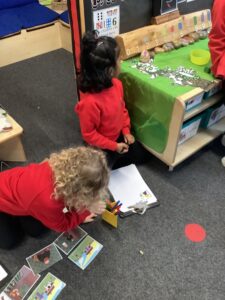 PE
Next half-term, PE will be changing to a Monday and Thursday. A coach from Foot-Tech is coming to teach us some football skills .
E-books
Your child will have an extra e-book on their account for you to read at home.
Poetry Picnic
This week's was called Hungry Birdies. We used our gentle voices when saying the poem. Click here to watch our careful hand actions.

Reminders!

PTA egg competition
Please bring your decorated egg to school on Thursday 30 March.
Reception coffee morning – Monday 27 March – 9am – 10am
Learning journey drop ins – Monday 27, Tuesday 28 and Thursday 30 March
Spring 2: Week 4
Maths
This week, we consolidated our understanding of the composition of numbers by investigating the numbers within 7. We investigated the whole number using the part–part–whole model, e.g. 5 is a part. 2 is a part. 7 is the whole. 
A key focus was partitioning 7 (splitting it into parts) and thinking about the missing part. We used cubes and Numicon to explore this.

Phonics
This week, we continued to read and write longer words including words ending in -ing.
Help at home: Can your child use their phonemes fingers to write these words: looking, marching, farming, waiting, morning, winking, singing.

Every morning, after doing their morning jobs, the children do a morning activity. This week, they've been writing sentences about interesting pictures. We've been very impressed with their independent writing!

RE
On Tuesday, we learnt about another spring festival called Vaisakhi. Sikhs celebrate Vaisakhi. It usually takes place each year on either the 13th or the 14th of April. After watching some videos about how Sikhs prepare and celebrate Vaisakhi, we created some saffron (orange) kites, as saffron or orange play a large part in Vaisakhi celebrations.
Next week, we'll be learning about Eid and how this festival is celebrated.
Outdoor fun!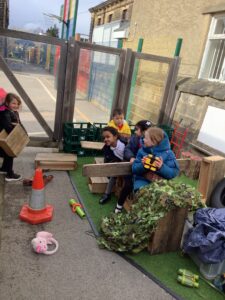 Reminders
School trip – Friday 24 March
Reception coffee morning – Monday 27 March – 9am – 10am
Learning journey drop ins – Monday 27, Tuesday 28 and Thursday 30 March
Every Monday, we share  photos from home. If your child has any new interests or has a 'WOW' moment at home, please email  moortowneyfs@spherefederation.org.
We love to share these moments!
Active Travel
Next week sees the start of Sustrans Big Walk and Wheel walking, scooting and cycling challenge. It inspires pupils to make active journeys to school, improve air quality in their neighbourhood and discover how these changes benefit their world.
Join us to take part in this challenge by walking, scooting, biking or park and stride from Marks and Spencers to school from Monday 20th March – Friday 31st March.
As part of this active travel event, we will be hosting a bike register session on Tuesday 21st March. Pupils, parents and family are invited to bring along their bikes to be registered at this bike security marking event at school.
Staying safe online
As a follow up to the recent Safer Internet Day, PCSO Louise delivered an assembly for all classes to reinforce the key online safety messages.
Help at home by asking your child/children how the 4Cs relate to them when they are online.
Spring 2: Week 3
As always, it's been a very busy (cold!) week in the Reception classroom. From making ramps in the construction area to creating our own junk-model vehicles, we've had another fun-filled transport week.
Literacy
This week, we continued our transport theme by reading The Hundred Decker Bus by Mike Smith.

After reading the story, we created our own Moortown bus. We had some fab ideas: a deck with a ice cream shop, a chocolate factory deck and a deck with a gym to keep us strong! Our bus doesn't have one hundred decks (31 to be precise) but there is one deck created by each member of Reception.
Click here to view our bus.
DT
This week, the creative area has been a very popular area. We've had lots of fun joining materials to create junk-model vehicles.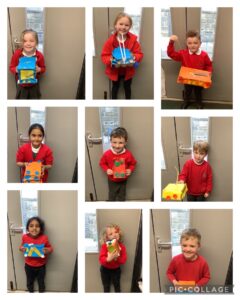 Science
In the construction area, we've been making ramps and watching how far the vehicles travel.

PE
This week, we continued to learn all about throwing at a target. We practised aiming at targets of different heights and distances. At the end of our sessions, we applied our throwing skills when playing partner games.
Snow, snow, snow!
This afternoon, we had lots of fun in the snow. We enjoyed making snow angels and snow people.

Reminders
York Railway Museum – Friday 24 March
We are really looking forward to our first school trip!
Reception parents' coffee morning
Monday 27 March – 9.00am-10.00am
Learning Journey Drop In's
Monday 27th March – 3.15pm – 3.45pm

Tuesday 28th March – 9.00am – 9.30am & 3.15pm – 3.45pm

Thursday 30th March – 9.00am – 9.30am 
Spring 2: Week 2
For World Book Day 2023, we enjoyed reading with the Year 3 children and doing some drama. The children were put into small groups and given a traditional tale book. They amazed us with their team work and acting skills!

We were also lucky to have some of our parents and grandparents join us for a stay and read session this morning- thank you to those who could make it.
Literacy
We continued our transport topic by reading The Hundred Decker Rocket by Mike Smith. We designed our own deck and wrote a sentence about our design. We also watched a video of first moon landing and looked at some rockets from the past. Ask your child if they can remember the names of:
The first person in space.
The first dog in space.
The first man to land on the moon.
Maths
This week, we continued to engage with activities that focussed on the purpose of counting – to find out 'how many' objects there are. We revisited the concept of cardinality – the idea that the last number in the count tells us how many things there are altogether.  We also looked at the staircase pattern. This pattern has helped us develop a clear understanding that each number has a value of 1 more than the previous number, and 1 less than the following number. We used the below image of the Numberblocks, alongside the our fingers, to represent '5 and a bit' quantities, which will help to embed this key understanding.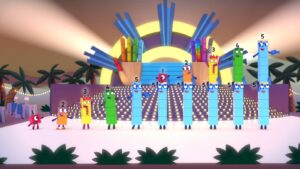 On Monday, the children enjoyed their music session with Miss Gaunt. They listened carefully to a song called Golden and responded with rhythm, gesture and emotion. Click here to watch them sing the song.
Poetry Picnic
This week's poem has gone down with a BAM! Click here to POP away with us.
RE
This half-term, we're learning about different religious and cultural celebrations. Last week, we learnt about a carnival that happens in places like Brazil and other South American countries.
This morning, we learnt about a Hindu festival called the Holi Festival. After watching a video about how Hindus celebrate this festival, we had to have a go at getting (a bit) messy ourselves! Click here to watch some snapshots.
Take a look at some of this week's chilli challenges:
Reminders 
Learning Journey Drop Ins –
We've had to slightly change the dates/times for some of these. Here are the new dates/times:
Monday 27th March – 3.15pm – 3.45pm
Tuesday 28th March – 9.00am – 9.30am & 3.15pm – 3.45pm
Thursday 30th March – 9.00am – 9.30am
Please make sure you are writing in your child's reading record book every week.
Library books must be returned every Friday.
Please continue to bring in recyclable packaging for us to use in our creative area.