Week 14: 13 July 2020: Home learning
Hello Year 1
The final week is upon us!
A huge well done to you all for how amazing you have been during these strange times. You should be extremely proud of yourselves! 🙂 The learning you have done at home has been fantastic and  at the end of the week, everyone (including parents) gets a well earned break.
Onto today's tasks:
Maths 
Watch this short video about the days of the week.
Writing
Help yourself prepare for summer by writing a summer acrostic poem.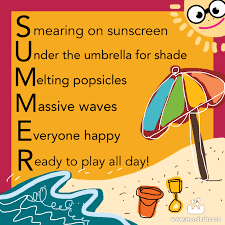 It would be great if you could record yourself reading out your poems!