Summer of sport
It's just 7 days to go until the Commonwealth Games begin in Birmingham. Watch this introductory video to find out more.
To keep active over the summer holidays, why not try these commonwealth personal best challenges at home. My Commonwealth PB incorporates skills that are used in 7 of the sports which will be taking place at the B2022
Commonwealth Games.
Use the QR codes below to see each challenge.
We'd love to hear how you get on!
Roundhegians
Thank you to Roundhegians who recently hosted our sports day events.
Roundhegians
run mini rugby sessions for girls and boys in Year 1 to Year 6.
The sessions take place on Sunday mornings at the club and they will restart on 4th September.
Information about individual age group teams can be found
here.
Living and Learning: RSE
This half term, we've been enjoying our RSE Living and Learning sessions.
RSE is relationships and sex education.
Each week, we have a different L&L statement. During our RSE learning, these were all about relationships and being a good friend. Our sessions included learning about:
the names of male, female and baby animals such as a bull, cow and calf
the biological differences between male and female humans
the names of body parts that males and females have
The children in Y3 had lots of relevant, thoughtful questions during our learning and were able to show maturity, too! Well done, Y3!
Pupil health questionnaire homework
This week, our whole school homework is I can share my views about health.
We're proud to be a happy and healthy school.
Each year, we ask you to complete a short health questionnaire. Your views can help us to become even happier and healthier.
Parents/carers: please complete this survey with your child, to find out their views on some of our key health issues at school, and comment at the end.
Please submit before Friday 15 July 2022 and as an extra incentive the class that submit the most responses will earn an extra playtime next week!
Roundhay Park Visit
Hi everyone!
The weather forecast for the day of our trip is that it's going to be hot.
Your child will need to bring:
– sun cream (apply this before school and bring it with you)
– a hat
– a water bottle
– a packed lunch and a snack
– come to school in P.E. kit (shorts and a t shirt)
– comfortable shoes
Any questions, please ask.
Thanks!
Mr Wain
Super Sports Day
What an amazing day yesterday! Our first full sports day since the pandemic and we came back with an amazing bang! Mrs Taylor did a grand job of organising everything, as always, and all the helpers that made it run smoothly were brilliant. Mr Roundtree is a little croaky today after his commentating but I'm sure you'll agree, it was well worth it. You will see a photo of Mrs Burke completing her final egg and spoon race as a member of staff but you never know, she might be guest of honour next year. Thank you to everyone who came along to watch!
Living and learning: drug education
This half term, part of our Living and Learning focus includes drug education. We have arranged for visitors to come into school to help to deliver this key aspect of education. 
We have been working with d:side for many years and they will be visiting school to deliver sessions to all classes based around drug education on Monday 11 July and Wednesday 13 July.
 d:side is a comprehensive drug & alcohol education programme that encourages children to make positive & healthy life-choices whilst promoting a pro-active attitude to life. They focus on developing the children's knowledge, skills & attitude, whilst equipping them with the appropriate life skills to successfully manage sensitive situations with peers & encourage a positive approach to life.
As part of this visit, Dave Hill, from d:side, will be available in the playground after school on Monday 11 July 3:05-3:30pm to answer any questions about this learning. 
Parallel and Perpendicular!
In today's maths lesson, our learning objective was:
What are parallel and perpendicular lines?
We learnt that…
parallel = lines that are opposite, equal distance apart and will never meet
perpendicular = lines that are at a right angle to each other
Part of our learning involved finding parallel and perpendicular lines in the playground.
Here's what we found: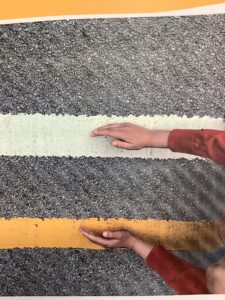 Can your child identify all the parallel and perpendicular lines in the photos above? Can they find any at home?
PE days this half term
Hi everyone,
Sadly, our gymnastic sessions on a Monday afternoon came to an end last half term.
Therefore, this half term, our PE days will be Wednesday and Thursday.
We will be swimming on a Wednesday, like usual. On Thursdays, we will be practising a range of different events in preparation for Sports Day!
Thanks!
Mr Wain
Drop-down morning: History
Each half term, we have a drop down morning where we revisit previous learning from previous half terms, terms and years!
On Wednesday, we had our History drop down morning.
Our first session was about chronology: we ordered periods of British history in chronological order.
Later on in the morning, we revisited recent learning about The Romans. This is what we were able to remember:
We ended the morning by playing a Kahoot about the Great Fire of London.
Well done to our winners Alasdair and Maya who got 9/10 correct and answered the questions the quickest!
Well done to everybody for their awesome remembering!