Big Walk and Wheel final results
Posted on 17 April 2023 by Mrs Taylor
After the two week Sustrans Big Walk and Wheel walking, scooting and cycling challenge, we now have the final results.
In our category of small primary schools, we finished in 24th place out of 514 schools with an average of 91.14% of our journeys to school being active. We achieved the highest national (24th) and Northern England (5th) ranking out of those schools in Leeds taking part.
This is a great achievement and we want to thank families for supporting this challenge.
We hope these active journeys continue as by walking, cycling and scooting to school, you are helping us make a positive change to the school run. With less cars close to the school gates, this is a safer and healthier way to start the day.
An 'egg-cellent' way to finish Spring term
Posted on 03 April 2023 by Mrs Weekes
Well done to everyone who entered the PTA egg decorating competition. There were some fantastic entries – I'm very glad that I didn't have to judge them and decide the winners. Look at the amazing entries…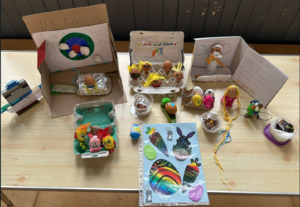 …and a very special mention to this entry from Huey in Reception (I'm very pleased with his version of me!).
Here are our lucky winners – I wonder if they've eaten their prize yet?
Thanks to the PTA who organised the event.
Enjoy the Spring break.
This week's message (Friday 31 March 2023)
Posted on 31 March 2023 by Mr Roundtree
We've reached the end of the Spring term – the longer evenings are so welcome!
Fun and fundraising
Here at Moortown Primary, it's been a very busy week to end the term.
There was a very tricky job for Mr Shine: he judged the egg decorating competition! It took him a long time but finally he decided on winners from each class… Awais (YR); Joshan (Y1); Jemima (Y2); Daniyal (Y3); Harjas (Y4); Evie (Y5); and Isla (Y6). Well done to everybody who entered!
The children in Years 3 and 4 performed Go for Gold – they were amazing! From the talented technical assistant to the perfect performances, everybody did a brilliant job. Here are some of your comments:
'Out of the many primary performances I've seen, that had to be the best.'
'The singing was fabulous, the costumes were amazing and the kids were slick, funny and so confident. You must be extremely proud.'
Well done to all of the children and a massive thank you to all of the staff who were involved. The performances raised £140.00 for our current school charity, St Gemma's Hospice.
Talking of fund-raising, last week's non-uniform day for Comic Relief raised £238.30.
And our recent sponsored event to test our number facts and times tables recall raised a whopping £1686.10. This money will be split across St Gemma's Hospice and school (we'll put the money into our pot to invest in The Green, our new grassed area at the back of school).
A big thank you for all the money raised recently.
Positive Relationships
A few months ago, we asked you for feedback about our current Positive Relationships Policy. A big thanks to those of you who sent in your comments. Since then, we've also consulted with our Junior Leadership Team, governors and staff. All the views have been carefully considered.
Our updated policy has various changes, the main one being new school rules – shorter and more positive. We'll launch the new rules in the Summer 2 term – a gradual change to allow staff and pupils to get used to them ready for the new school year in September.
Check out the updated policy. We're happy to hear your views and will continue to review and respond.
Special Educational Needs and Disabilities
Leeds SENDIASS (Special Educational Needs and Disabilities Information Advice Support Service) host virtual information sessions which aim to provide parents and carers with information, advice and support on SEND topics. There are three virtual information sessions coming up – check them out and book a place.
I hope you've got some happy and healthy plans for the Easter break – whatever you do, enjoy it! We'll see you on Monday 17 April.
Smart Money Award 2023
Posted on 27 March 2023 by Mrs Taylor
Today, we welcomed Nicola and Linda from HSBC to our whole school assembly to present us with our Smart Money Award 2023.
This is awarded for financial education lessons which took place in school for all classes last summer as part of our Living and Learning curriculum.
Nicola combined this visit with some more financial education for the children.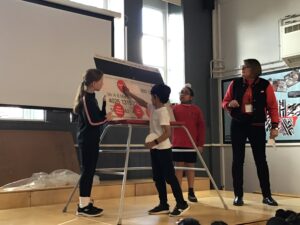 This week's message (Friday 24 March 2023)
Posted on 24 March 2023 by Mr Roundtree
This week's message is from Mrs Weekes…
Isn't it great to walk to school in daylight and see the evenings getting much lighter!
It's been a whirlwind of a term but there have been many things crammed in so we feel that we've taken every learning opportunity available! There have been many highlights for me, one of them being the Year 1 children going to give out parking tickets to drivers on Moortown corner – they wanted to make the drivers aware of dangerous parking and they did a great job.
It's going to be a busy week before we finish this term…
Children in Y3 and Y4 will perform 'Go for Gold' for their parents and families on Tuesday and Wednesday.
There's also an egg-citing competition organised by PTA -thank you to them – so get decorating those eggs and bring them in on Thursday for a chance to win.
Learning Updates will be coming home to update you on your child's progress.
The Computing topic has been a great success. It's been impressive to hear children from Year 1 upwards talking about algorithms, coding and programming.
Our Book Fair has been very busy but don't worry – you still have chance to buy some great reads today and on Monday.
Finally, I would just like to wish one of our Y6 pupils, Ewan, the best of luck for Saturday – he's qualified to compete in the cross-country national finals in Leicestershire. Go for it, Ewan!
Finally, thanks to everyone who responded to the survey about class trips which closed at 12 noon today – we had over 260 responses from the three Sphere Federation schools. We'll be reviewing the responses which will help inform how we develop a long-term plan for the trips.
Have a happy and healthy weekend.
Let's get reading!
Posted on 20 March 2023 by Mrs Weekes
A you know, we have arranged a

book

 

fair

 to be at Moortown Primary from Wednesday 22 March until Monday 27 March.
It will be open (in the dining room next to Y2) after school every evening for these four days and any money you spend will earn commission for school; this commission will then buy new

books

 for the school library.
 We look forward to seeing you buying some books to refresh those shelves!
This week's message (Friday 17 March 2023)
Posted on 17 March 2023 by Mr Roundtree
This week's message is a short one, kicking off with a reminder…
Class trips
We want to put a long-term plan in place for class trips.
There are lots of benefits of class trips (a chance to make learning more real or practical, a memorable, exciting change from the typical day…), but we know they're expensive.
To help us, we'd be very grateful if you spend just five minutes completing this short survey.
Attendance matters
We've been sent by Leeds City Council an attendance summary for 2021-22.
We're really pleased to see that Moortown Primary attendance was in the top 10% of Leeds primary schools (it ranked 21 out of 226 schools). It's also great to see that we had around a third of the cases of persistent absenteeism (6.0% compared to the Leeds average of 17.6%)
About two thirds of the absences were due to illness. One in five absences were not authorised, mainly due to holidays.
Special visitors
Today at Scholes (Elmet) Primary, we've been delighted to welcome people from the National Centre for Excellence in the Teaching of Mathematics (NCETM). Alongside lots of teachers, they visited Mrs Allaway (the Sphere Federation Maths Leader) and a class of Year 4 children to review good practice in Maths teaching. We're fortunate that Mrs Allaway is a lead teacher for NCETM, regularly supporting teachers in other schools as well as supporting our very own teachers.
As well as Comic Relief, it's another special day – happy St Patrick's Day if you're celebrating!
Have a great weekend.
New police officers on the beat!
Posted on 15 March 2023 by Mrs Weekes
If you were at Moortown Corner yesterday, you may have seen some mini police officers handing out tickets to drivers. Over the past few weeks, a lot of our children have been writing letters about issues that concern them; Year 1 children wrote to the local councillors about the parking on Moortown Corner and that they felt, at times, it wasn't safe.
One or our local councillors, Mahalia France Mir, responded to the letters and visited the children with some local police officers. They designed their own 'parking tickets' and, dressed as mini police officers, gave them out to local residents who use the parking in front of the shops.
It was fantastic for the children to get a response to their letters and then to be able to go out and share their concerns with the community.
School and snow day all in one
Posted on 10 March 2023 by Mrs Weekes
After a very hard decision this morning, we managed to open school and the majority of staff made it too – thank you to them for their efforts in quite severe conditions.
It may have been a shorter day and different in many ways but we're really glad we made the decision to open. These photos show one of the reasons why – a school day combined with a snow day.
This week's message (Friday 10 March 2023)
Posted on 10 March 2023 by Mr Roundtree
Moortown Primary is a happy and healthy place to learn. We want to keep getting better and better and a key part of this is to hear your views…
I can't fault this school. My kids love it and the teachers are amazing. Always willing to help and keep us up to date with progress and anything we can help the kids with at home.
That's one of the comments from a recent survey of Reception parents – thank you to the 17 parents who took the time to let us know their views. We'll spend some time now reviewing what was said and seeing if we can act on some of the points raised.
We need your help again – this time for all parents and carers to let us know about class trips.
We're currently reviewing our curriculum plans. We're keen to put a long-term plan in place for class trips. Class trips are a highlight for children:
they're a chance to get out and about, making learning more real or practical
after the trip, children enjoy reviewing and remembering what they did
the writing done after the trip is often really rich in terms of description
they're a memorable, exciting change from the typical day
The downside of trips is the expense – we're very aware that trips aren't cheap (often due to transport costs). We ask you to make a voluntary contribution to cover the cost, but even then, trips can be expensive for those who contribute and for school. Whilst the contributions are voluntary, we can't go ahead with a planned trip if we don't receive enough contributions.
We want to plan a schedule of trips from Reception to Year 6. This is to make sure we plan trips better, so we can closely match the trips with the learning that's happening in school and to make sure that teachers are clear on our expectations (so that trips are spread out across the years).
To help us, we'd be very grateful if you spend just five minutes completing this short survey.
In the Summer term, look out for the annual survey for all parents and carers, too.
And now a change of subject…
Industrial action
As you know, the National Education Union is currently taking industrial action. The next two days of strikes are next week: Wednesday 15 and Thursday 16 March.
We were fortunate to stay open on the first two days of industrial action. However, a number of teachers at Moortown have informed us that they plan to strike on these days.
Because of this, Moortown Primary will be closed to pupils in all classes except Year 6 on Wednesday 15 and Thursday 16 March.
We apologise for the inconvenience that this may cause. We hope you understand that this is an unavoidable decision that we've had to take.
Thank you for your cooperation and support.
Big Walk and Wheel
Get set… we're taking part in Sustrans Big Walk and Wheel 2023.
We want your child to walk, scooter or cycle to school, even more so during the Big Walk and Wheel challenge which runs from 20-31 March.
The challenge is a great way to build physical activity in your child's daily routine – so important for physical health and mental wellbeing. Active school runs also help to reduce congestion and air pollution outside the school gate. A 2021 YouGov study showed nearly half of UK children worry about air pollution near their school and that children thought active travel was the best away to bring down these pollution levels.
There are some great prizes to be won every day if enough children taking part!
Download your free family guide.
We'll end this week's message with another great comment from a Reception parent…
Reception at Moortown is an incredible start for a child's learning journey. They learn to read in an amazingly short space of time, and the classroom is very impressive and changes regularly to ensure children are engaged and challenged, all whilst making good friendships and having fun.