This week's message (Friday 23 April 2021)
Posted on 23 April 2021 by Mr Roundtree
We hope you had a happy and healthy holiday over the Easter period. Hopefully, it helped that lockdown eased a little in the second week of the holidays.
Reading, reading, reading
Every child should be reading on a daily basis at home. Please help your child to build in a routine to make sure this happens. Your child might read a book, a website, a comic… It doesn't matter, as long as they're reading.
In the lockdown period, we provided two daily sessions to support reading: reading fluency and reading skills. A recent blog post from Ofsted backs up this importance: 'The primary schools we inspected had rightly prioritised developing the teaching of reading'.
We assess reading skills in various ways. If your child is in Year 2, we measure how many words per minute they're able to read – ideally about 90 words per minute of an age-appropriate book. If your child is in Year 2, ask us to let you know how well they're doing.
Attendance matters
You might be reassured to read in the same Ofsted blog post that inspectors noted: 'Keeping motivated has been a struggle for almost every child. Schools told us that even children who had been motivated at first, had 'switched off' completely by the end of the third lockdown.' This means that with all the home learning provision that schools provided, there is still missed learning – and that means attendance at school is even more important.
We're really pleased to see that our attendance so far this year (from the start of the school year up to the Thursday before Easter) is 97.8%. Thank you for supporting your child to be a happy and healthy learner!
The Big Ask
Led by the Children's Commissioner, The Big Ask is the largest ever survey of children in England, designed to find out what their concerns and aspirations about the future are. Watch this You Tube clip with your child and then please support / encourage your child to take part. There are different versions of the survey depending on the age of the child.
The results from the survey will help identify the barriers preventing children from reaching their potential, put forward solutions and set ambitious goals for the country to achieve. The more children who respond, the stronger the results will be.
Staying safe in the sun
We've been really lucky since Easter period and have seen the sun on more than one occasion!
As we enter the summer term at school, we'd like to remind you about keeping your child safe in the sun.
NHS guidance makes it clear that most people do not apply enough sunscreen. If sunscreen is applied too thinly, the amount of protection is reduced. It should be applied to all exposed skin, including the face, neck and ears. The SPF should be at least 30.
It's really important that children come to school wearing sunscreen and that this is applied just before leaving home.
If you choose an 'all day sunscreen', it's important that it is used according to the manufacturer's instructions. For sunscreen that needs to be reapplied, children can bring a named bottle into school which they will be able to reapply at lunchtime. Please teach your child how to do this independently. Staff in school will help/guide if needed but as you can imagine a vast amount of teaching and learning time could be lost if staff are applying cream to a full class.
A hat and plenty of water is essential. Please ensure that your child comes to school with a full bottle of drinking water each day. Water can be replenished throughout the day.
Staying safe online
Over the Easter holiday, we published five news articles about staying safe online. In case you missed them, the content from all five posts comes from a Thinkuknow newsletter.
Our new school charity
As you know, we want our schools to be happy and healthy places to learn. There's link here with charities. It might be said that donating money and raising money for charities helps to create a place which is happy and healthy, and can support a sense of wellbeing.
Each year, as part of teaching and learning about democracy, we nominate a charity to support for the year ahead. The selection process is as follows:
Talk Time homework today: At home, your child should discuss charities in general, and specifically consider different charities and which one to support.
Talk Time review in class: In class, children discuss the different charities and finally vote for one, which the junior leaders for each class then take to the Junior Leadership Team.
The Head of School reviews the shortlist of charities: We'll check that they're all appropriate (eg in terms of inclusion, and that they are all registered charities).
Junior Leadership Team decision: Next Friday, in a Junior Leadership Team meeting, the shortlist is considered and finally councillors vote for one.
On the same Friday (30 April), or Tuesday 04 April (the day after May Day bank holiday), we invite your child to donate 100 pence to take part in some fund-raising to coincide with the Captain Tom 100 initiative – the money raised will go towards the new school charity.
And finally, just when you thought we'd got through a whole message without mentioning Covid…
Home testing
Home test kits for Covid are now widely available. Adults (18+) can now collect two packs of home test kits at a pharmacy, for example. Each pack contains seven tests. The tests have proved useful in identifying children in school who have Covid but weren't showing symptoms. It's a good idea to think of the tests as useful in showing a red light (a positive case). They shouldn't be used as a green light to prove someone doesn't have Covid.
As always, please speak with us if you've any questions, comments or concerns. Have a good weekend – and don't forget to make sure your child reads daily!
Well worth the wait!
Posted on 19 April 2021 by Mrs Weekes
As staff came in to school this morning, the first thing they did was go to the back of school. Yes, that's right, we have finally completed the first stage of developing the land at the back of school. The tarmac has been laid which has caused great excitement with staff and children. It is great to have more space and even better knowing that there is even more space waiting to be developed. It is so much bigger than any of us expected and has so much potential for all sorts.
It's finally happening...
Posted on 16 April 2021 by Mrs Weekes
…the tarmac at the back of school is about to be laid! Over the last couple of weeks, while school has been closed, there has been lots of digging and preparing and the tarmac is being laid. It has been a long journey and we're not there yet but it is a massive step. A big thank you to Mrs O'Malley who has been the driving force in getting this first step completed. Here are some photos – just to prove it has actually happened!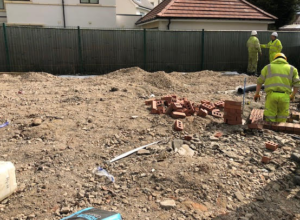 Staying safe online 5: Sharing information, pictures and videos
Posted on 10 April 2021 by Mr Roundtree
This is the last in a series of articles. Check out Thinkuknow for more ways to promote staying safe online.
It's harder to stay connected with our friends and family right now, so you may be sharing more images and videos of our children online via social media. But before you do, there are some important things to consider.
Read sharing pictures of your children for info on how to protect your child whilst staying social.
Using devices like phones and tablets to share pictures and videos can be a fun way for children to have fun and stay in touch with friends and family online. It's really important your child knows what's ok to share online and what they should check with you first.
Read younger children sharing pictures or videos online for more information on the risks and how to support safer sharing.
Personal information is any information that can be used to identify your child. Sharing personal information online is easy and sometimes children, like adults, might share more online than they would offline, which can be risky.
Read your child's personal information and how to protect it online for information and advice.
Staying safe online 4: Chatting, being kind and making friends online
Posted on 09 April 2021 by Mr Roundtree
Our fourth short article to help you support your child to stay safe online is about chatting, being kind and making friends online. As with the three previous articles this week, the content is from Thinkuknow.
Primary-age children may not have previously had much experience with video chatting apps such as Zoom, FaceTime and Skype, but may well be using them now to keep in touch with family and friends.
To make sure your child has a positive experience video chatting online, read this guide for parents and carers.
The internet has many positive opportunities for children to learn and play, but it can also be used in negative and unkind ways.
It's really important to speak to your child about being kind online, and how they can get help if they see or hear anything that makes them feel worried, scared or sad. Use these conversation starters to help your child understand the importance of being kind online.
The term 'online friend' can be used to describe people you only know through the internet, or those that you also know offline. Some children make friends online by meeting new people through online platforms such as gaming sites.
To help children have positive online friendships, read this handy guide.
Staying safe online 3: Online gaming
Posted on 08 April 2021 by Mr Roundtree
Each day this week, we're posting a short article about staying safe online – the advice comes from Thinkuknow.
Online games are social activities, and most have features that allow children to chat with others whilst they play.
For information about the positives of gaming, the risks of in-game chat and measures you can take to help protect them, watch this short video: In-game chat: a guide for parents and carers.
The PEGI (Pan European Game Information) rating system can be a useful tool to help you decide what online games are appropriate for your child.
For more information on the PEGI system and other factors to consider before deciding what's suitable, read Gaming: what's appropriate for your child.
Gaming is popular with both children and adults and can help to cure that lockdown boredom! If your child is gaming, you Gaming: what parents need to know.
For a guide on the apps, sites and games your child might enjoy, visit: Net Aware.
Staying safe online 2: Watching videos
Posted on 07 April 2021 by Mr Roundtree
This is the second in a series of five website posts about staying safe online. The content comes from Thinkuknow.
From animals doing funny things, to slime-making and game-tutorials, the internet has lots of fun videos for children to enjoy. But the amount and availability of content online means that children may see something inappropriate.
To understand what type of content might not be suitable and advice on how to help your child  watch safely, watch this short video guide.
The internet is a public and open space where anyone can post and share content. This can be fun and entertaining for children, but it does mean your child may see something that is intended for adults.
Find out what to do if you're worried your child might see something inappropriate online or what to do if they already have.
Children love to watch videos and YouTube is always a firm favourite! But sometimes children can be exposed to videos that are not meant for them. YouTube Kids is a safer way for children to explore their interests. You can find more information about this on YouTube: what parents need to know .
Remember, primary-age children should be supervised at all times when online.
Staying safe online 1: Steps you can take to help keep your child safer online
Posted on 06 April 2021 by Mr Roundtree
This is the first of five website news posts to help you to make sure your child is safe online. The content from all five posts comes from a Thinkuknow newsletter.
Parental controls: Parental controls have been designed to help you manage your child's online activities. There are various types, some of which are free but others which can be bought. However, nothing is totally fool proof so they shouldn't replace the need for you to support and advise your child using the internet. For more information and step by step instructions on setting up parental controls, visit Parental Controls & Privacy Settings Guides – Internet Matters.
Supervise their online activity: Keep the devices your child uses in communal areas of the house such as the living room or kitchen, where an adult is able to supervise. Primary-age children should not access the internet in private spaces alone, such as in a bedroom or bathroom.
Explore together and chat little and often: Ask your child to show you their favourite apps, games and sites and encourage them to teach you how to use these. Ask them if anything ever worries them online. Make sure they know they won't be in trouble and can get help by talking to you or another adult they trust if anything happens online that makes them feel worried, sad or scared.
Make sure they know where to go for support: Remind your child they can always speak to you or an adult they trust if anything happens online that makes them feel worried or upset. For a breakdown of report services, visit Supporting your child with reporting unwanted content online.
Take a look at Thinkuknow: Thinkuknow is the national online safety education programme from the National Crime Agency. Thinkuknow offers learning activities, advice and support for children and young people aged 4-18 and their families. The Jessie & Friends animations for 4 to 7s will help you start a conversation about online safety and for 8-10's, there's  the Play Like Share animations and the Band Runner game and advice website.
Help your child identify trusted adults who can help them if they are worried: This includes you and other adults at home, as well as adults from wider family, school or other support services who they are able to contact at this time. Encourage them to draw a picture or write a list of their trusted adults.
Talk about how their online actions affect others: If your child is engaging with others online, remind them to consider how someone else might feel before they post or share something. If they are considering sharing a photo/video of somebody else, they should always ask permission first.
Use 'SafeSearch':  Most web search engines will have a 'SafeSearch' function, which will allow you to limit the content your child can access whilst online. Look out for the 'Settings' button on your web browser homepage, which is often shaped like a small cog.
Visit Thinkuknow for more information on keeping your child safer online.
Tennis opportunities
Posted on 03 April 2021 by Mrs Taylor
As tennis restarts, here are details of some local clubs offering camps and lessons.
Alwoodley Tennis Club are hosting tennis camps for both weeks of Easter.
Roundhay Tennis Club have spaces on the 12th, 13th, and 16th April 9am-12pm for ages 3-10. Click
here
to book.
Junior Leadership Team
Posted on 01 April 2021 by Mrs Weekes
Speeches have been made, votes have been cast and we now have a Junior Leadership Team. This team of children from Reception to Year 6 will replace the existing School Council. They have already had a quick meeting and made their first decision as a group; they have decided that we should lay turf in the new green space instead of sowing grass seed. They based their decision on the fact that turf is useable after a short space of time whereas sowing grass seed would mean a long wait for a useable space.
So, massive congratulations to our successful candidates:
Reception: Ralph & Aaniyah
Year 1: Sophie & Charlie
Year 2: Ryan & Talya
Year 3: Javier & Kian
Year 4: Isla & Olivia
Year 5: Billy & Christina
Year 6: Yusayrah & Will
Well done to everyone who had a go and made a speech; there were some very close results.
Happy Holidays everyone!