Go For Gold!
As I'm sure you are aware, Year 3 and 4 having been working their socks off preparing and rehearsing for their Easter production for the last 5 weeks. Today was their first official dress rehearsal in front of their first audience and Miss Needham and I (plus everyone else!) were just blown away by how well they did.
The 3 key points that we practised the most were:
Projecting our voices so that even people at the back of the hall can hear us.
Using the stage to our advantage and standing in the correct places.
Facing the audience even though we might be having a conversation with someone else across the stage.
Every single person remembered all of these points and went above and beyond by adding actions and expression into their voices. The audience loved it, especially the songs.
A huge thank you to all the help with costumes and props – we couldn't have done this without everyones help!
We look forward to our next two performances… let's break a leg!
Miss Birch
Making Pizza!
Recently, Y6 spent the morning in groups making pizza!
We followed a recipe and created our own pizzas from scratch!
Firstly, we made the dough and kneaded it into shape.
Then, we made our tomato sauce for our base.
After that, we prepared our toppings before placing them onto our tomato base.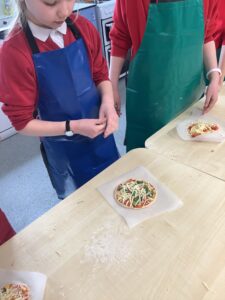 Once we'd cooked our pizzas, it was time to enjoy!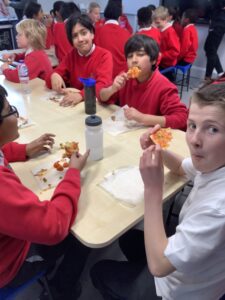 Well done, Y6!
Spring 2: Week 5
It's been another busy week in Reception!
Literacy
This week, we've been reading the traditional tale Jack and the Beanstalk. We had lots of fun using prosody when saying the Giant's famous line…
FEE FI FO FUM!

On Tuesday, we all planted our own (magic) beans. We talked about what a bean needs in order to grow and the life cycle of a bean.
What's a life cycle?
HA – Something that grows and grows.
AT – Something that goes round.
FlM – Something that grows day by day by day.
HM – A life cycle is like us.
After planting our beans, we wrote instructions to explain to others how they could plant a bean.

Maths
We've been learning about doubles!
The children are super quick at showing doubles on their fingers.
We used this stem sentence…
_____ is made of _____ and _____ ; double _____ is _____
when explaining double patterns.
We made doubles patterns on ladybirds, butterflies and with paint!
Help at home: Can you make a double pattern at home?
Challenges
This week, the chilli challenges were based on our focus story.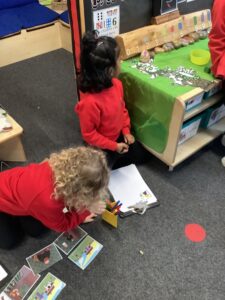 PE
Next half-term, PE will be changing to a Monday and Thursday. A coach from Foot-Tech is coming to teach us some football skills .
E-books
Your child will have an extra e-book on their account for you to read at home.
Poetry Picnic
This week's was called Hungry Birdies. We used our gentle voices when saying the poem. Click here to watch our careful hand actions.

Reminders!

PTA egg competition
Please bring your decorated egg to school on Thursday 30 March.
Reception coffee morning – Monday 27 March – 9am – 10am
Learning journey drop ins – Monday 27, Tuesday 28 and Thursday 30 March
A special visitor!
Today, Year 1 had a special visitor come into class. Our local councillor, Mahalia France Mir, came to talk to us about the letters we sent to her before half term. She was very impressed with our writing and our arguments for improving safety around the shops near school. She explained what her job entails and how she helps the local community solve problems. We asked some great questions!
This followed on from our trip to the shops with the police last Tuesday to hand out warning tickets to local drivers. We are very proud of ourselves for making a difference in our locality.
Well done Year 1!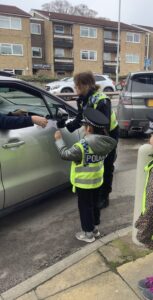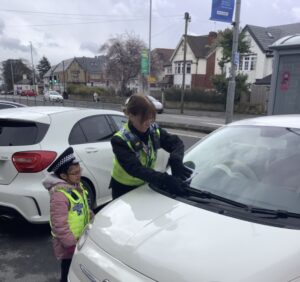 Putting our views across
Today, Councillor Mahalia France-Mir came into school to hear about the concerns the children had about litter in our locality.
The children clearly put across their views about the litter they had seen as part of a local walk during our geography 'streets around our school' topic.
Councillor Mahalia was very interested to hear from the children. We were pleased to hear she is going put forward their views with the hope that a recycling bin will be added to Moortown Park and for some of the existing bins to be moved to better positions.
The children felt proud to have their views heard and fingers crossed some actions will be taken to help improve our local area.
Calling all Greek gods and goddesses!
You will love our 'Ancient Greek' themed production about an ambitious Olympic hopeful, Suzie Swift, and her quest for money and fame at the upcoming Olympic Games. Be prepared to meet savage Spartans, articulate Athenians and a gaggle of Greek gods and goddesses.
There are two performances to choose from but tickets are limited to 2x per family due to logistics and space. If you would like to book tickets, please follow this link:
Looking forward to seeing you all next week.
Spring 2: Week 4
Maths
This week, we consolidated our understanding of the composition of numbers by investigating the numbers within 7. We investigated the whole number using the part–part–whole model, e.g. 5 is a part. 2 is a part. 7 is the whole. 
A key focus was partitioning 7 (splitting it into parts) and thinking about the missing part. We used cubes and Numicon to explore this.

Phonics
This week, we continued to read and write longer words including words ending in -ing.
Help at home: Can your child use their phonemes fingers to write these words: looking, marching, farming, waiting, morning, winking, singing.

Every morning, after doing their morning jobs, the children do a morning activity. This week, they've been writing sentences about interesting pictures. We've been very impressed with their independent writing!

RE
On Tuesday, we learnt about another spring festival called Vaisakhi. Sikhs celebrate Vaisakhi. It usually takes place each year on either the 13th or the 14th of April. After watching some videos about how Sikhs prepare and celebrate Vaisakhi, we created some saffron (orange) kites, as saffron or orange play a large part in Vaisakhi celebrations.
Next week, we'll be learning about Eid and how this festival is celebrated.
Outdoor fun!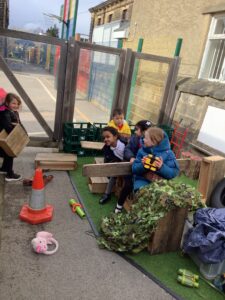 Reminders
School trip – Friday 24 March
Reception coffee morning – Monday 27 March – 9am – 10am
Learning journey drop ins – Monday 27, Tuesday 28 and Thursday 30 March
Every Monday, we share  photos from home. If your child has any new interests or has a 'WOW' moment at home, please email  moortowneyfs@spherefederation.org.
We love to share these moments!
Guided Reading
Here are the target pages for this week's guided reading. These need to be read by Friday 24th March.
How to train your dragon: up to chapter 15/page 191.
Rooftoppers: up to chapter 21/page 212.
The London Eye Mystery: up to chapter 27/page 213.
Extra Time: up to chapter 35/page 166.
Kensuke's Kingdom: finish the book.
Active Travel
Next week sees the start of Sustrans Big Walk and Wheel walking, scooting and cycling challenge. It inspires pupils to make active journeys to school, improve air quality in their neighbourhood and discover how these changes benefit their world.
Join us to take part in this challenge by walking, scooting, biking or park and stride from Marks and Spencers to school from Monday 20th March – Friday 31st March.
As part of this active travel event, we will be hosting a bike register session on Tuesday 21st March. Pupils, parents and family are invited to bring along their bikes to be registered at this bike security marking event at school.
Girls Dynamos Cricket
Dynamos Cricket provides girls from 8-11 years old with sessions of non-stop fun. Each week there will be a focus on a different cricket skill to build their confidence and ability, before they take part in a 60-ball countdown cricket match.
Locally, there's a girls only Dynamos Cricket eight week programme at Meanwood Cricket Club starting on Saturday 6th May.
Use this
link
 for more information and to sign up.