Reading for pleasure, for life
Posted on 05 March 2020 by Mr Roundtree
Today is World Book Day – it's a great time to celebrate the powers of reading. We all agree that reading is important, but do you realise just how many great benefits regular reading for pleasure has?
The Reading Agency outlines the powerful impact reading can have for your child, for you and for society.
The benefits of reading for pleasure for your child (and you!):
Reading for pleasure is more important for children's cognitive development – their brain power – than their parents' level of education.
Reading for pleasure is a more powerful factor in life achievement than socio-economic background.
16-year-olds who choose to read books for pleasure outside of school are more likely to secure managerial or professional jobs in later life.
Having books in the home is associated with both reading enjoyment and confidence. Of children who report having fewer than 10 books in their homes, 42% say they do not like reading and only 32% say they are 'very confident' readers. For children who report having over 200 books at home, only 12% say they do not like reading and 73% consider themselves 'very confident' readers.
Children who read books often at age 10, and more than once a week at age 16, gain higher results in maths, vocabulary and spelling tests at age 16 than those who read less regularly.
Reading extensively and for pleasure at home can increase literacy skills at a greater rate than through formal lessons at school.
Incomes are higher in countries where more adults reach the highest levels of literacy proficiency and fewer adults are at the lowest levels of literacy.
An online poll reveals that regular readers for pleasure report fewer feelings of stress and depression than non-readers, and stronger feelings of relaxation from reading than from watching television or engaging with technology intensive activities.
Studies have shown that those who read for pleasure have higher levels of self-esteem and a greater ability to cope with difficult situations.
Reading for pleasure is associated with better sleeping patterns.
Adults who read for just 30 minutes a week are 20% more likely to report greater life satisfaction.
We're often asked how you can support your child more at home. We think one of the best ways to help is to make sure you build into the daily routine some time for reading. For many families, this is a bedtime story every night just before lights out.
Happy reading!
The new, national multiplication tables check
Posted on 04 March 2020 by Mr Roundtree
The government is introducing a new, statutory multiplication tables 'check' (MTC) for the first time, in June this year. Children in Year 4 will take this check.
The purpose of the check is to determine whether pupils can fluently recall their times tables up to 12, which is essential for future success in mathematics. It will also help your child's school to identify pupils who may need additional support.
Read more about the check in this leaflet from the Standards and Testing Agency.
Coronavirus - update
Posted on 04 March 2020 by Mr Roundtree
The government's coronavirus action plan has been launched. This document sets out what the UK as a whole has done to tackle the Coronavirus (COVID-19), and what it plans to do next.
Current advice remains in place: No school should close in response to a suspected (or confirmed) COVID-19 case unless advised to do so by Public Health England.
Personal hygiene is the most important way to tackle COVID-19, especially washing hands more; and the catch it, bin it, kill it strategy for those with coughs and sneezes.
Supporting your child to stay safe
Posted on 03 March 2020 by Mr Roundtree
We continue to try and keep you updated as much as possible with how you can keep your child safe in many situations.
The posts and information about Fortnite and screen time have proved popular for parents – it seems online safety is an area that parents would like lots of support.
Here is our next factsheet with some hints and tips about how you can support your child stay safe during using WhatsApp. The guidance around WhatsApp recommends that users should be 16 years old. We know that a lot of our children use WhatsApp so decided it would be helpful to support you in monitoring your child's use of the app.
As always, if you've any questions, comments or concerns, please chat to someone in school.
Coronavirus - an update
Posted on 02 March 2020 by Mr Roundtree
Today, the Department for Education has sent another email to schools with updated advice to support schools in dealing with coronavirus and any concerns around this.
They have set up a helpline to answer questions about COVID-19 related to education. Staff, parents and young people can contact the helpline as follows:
Phone: 0800 046 8687
Email: DfE.coronavirushelpline@education.gov.uk
Opening hours: 8am to 6pm (Monday to Friday)
The advice remains that no school should close in response to a suspected (or confirmed) COVID-19 case unless directed to do so by Public Health England. We will continue to follow this advice.
The email also stresses the importance of hygiene: personal hygiene is the most important way we can tackle COVID-19. We've done lots in school to promote this message – please do the same at home. For example, before you eat this evening, make sure your child washes their hands for at least 20 seconds.
COVID-19 Update
Posted on 26 February 2020 by Mrs Quirk
Latest advice from the NHS is that you should call 111 if you've been to the following countries recently. If this applies to your child, please do also contact school to tell us.
Call 111 now if you've been:
to Hubei province in China in the last 14 days
to Iran, areas of northern Italy in lockdown or "special care zone" areas in South Korea since 19 February
to other parts of mainland China or South Korea, Thailand, Japan, Hong Kong, Taiwan, Singapore, Malaysia or Macau in the last 14 days and have a cough, high temperature or shortness of breath
to other parts of northern Italy (anywhere north of Pisa, Florence and Rimini), Vietnam, Cambodia, Laos or Myanmar since 19 February and have a cough, high temperature or shortness of breath
in close contact with someone with confirmed coronavirus
Do not go to a GP surgery, pharmacy or hospital. Call 111, stay indoors and avoid close contact with other people.
The link to the NHS page is:
Living and Learning: manners
Posted on 25 February 2020 by Mrs Taylor
Our manners focus this week, in Living and Learning, is all about covering our mouth to prevent the spread of germs.
You're just about to sneeze or cough but, oh dear, you don't have a tissue. What should you do? Cover your mouth and nose with your hands? Surely that's what polite people do.
But hold it! If you sneeze or cough into your hands (and then fail to wash your hands straight away), you'll only be spreading colds and flu germs on everything you touch.
And that's because germs (as long as they stay moist) can live for HOURS on hard surfaces such as tables, phones and door handles. And not just on objects – everybody you touch will be contaminated, too.
And of course, vice versa – if somebody else has sneezed or coughed on their hands, they're leaving a germ-trail for you to pick up.
So what's it best to do?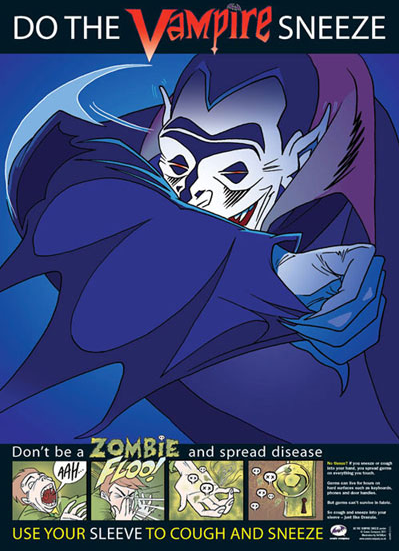 Here it is in action.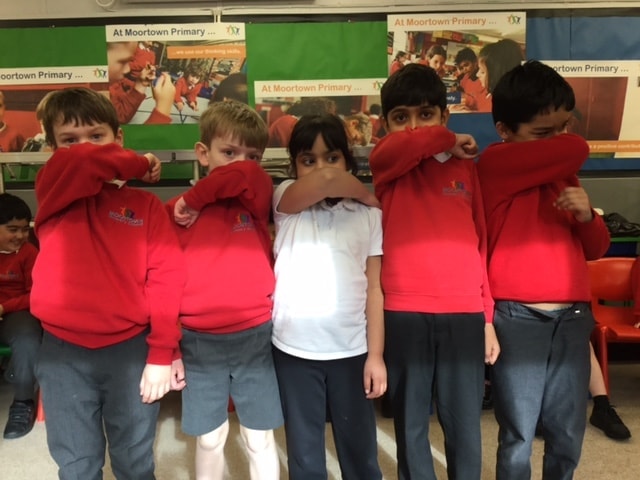 Are you interested in losing weight? Would you like to improve your family's health?
Posted on 25 February 2020 by Mr Roundtree
If so, and you feel that you and your child would benefit from becoming a healthier weight, you might be eligible to take part in an interesting study.
World Book Day themed menu
Posted on 24 February 2020 by Mrs Taylor
Catering Agency, our school meal provider, will be running a special themed menu on Thursday 5th March. Please contact the office, in the next few days, if your child would like a school dinner on this day (no action needed if your child normally has a school meal on this day).
Attendance matters
Posted on 24 February 2020 by Mr Roundtree
Our whole-school attendance figure up until February half-term is just short of 96.8%.
Here are the figures for each year group:
Reception: 96.86% That's brilliant – keep it up!
Year 1: 96.61%
Year 2: 97.52% The best in school – well done!
Year 3: 97.45% A close second – good stuff!
Year 4: 96.13%
Year 5: 96.15%
Year 6: 96.79% Good stuff
Let's aim for the whole-school average to be even higher by Easter!
If you'd like to know the up-to-date score for your child, please ask at the office.