Health fair
Posted on 04 July 2018 by Mrs Taylor
Thank you to all parents, carers and pupils who came along to our first health fair at the start of our Being Healthy themed week.  Our goal was to promote the many great organisations that are in our community and to raise awareness amongst parents, carers and children about the range of activities and health opportunities available to them locally.
We hope that parents, carers and children will build on the contacts made at the fair.
A big thank you to all the organisations who attended.
It was great to see more children buying skipping ropes -hopefully to practise their skipping challenge at home.
Skipping ropes will be available for sale next Monday and Tuesday after school, outside the Year 2 classroom, for a subsidised price of £2.
Look out for a guide to local physical activity opportunities coming home in book bags soon.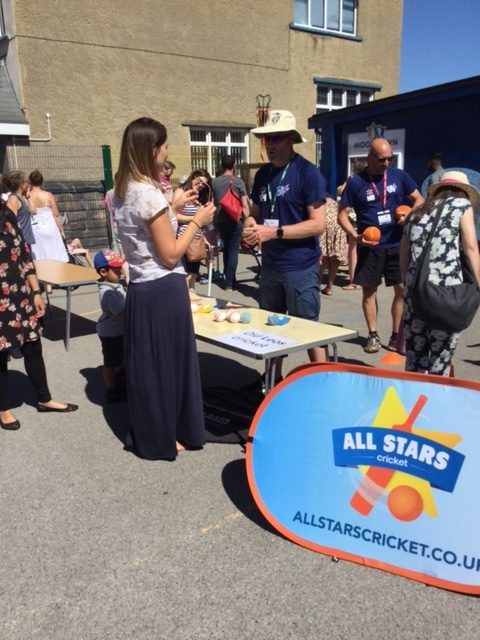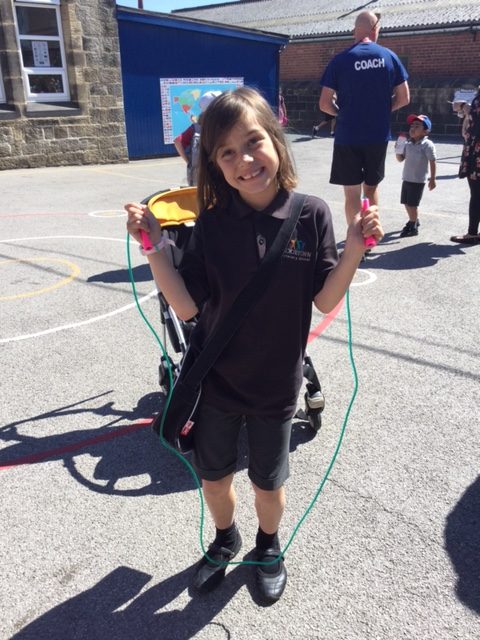 Keepy Uppy
Posted on 04 July 2018 by Mrs Taylor
'Being Healthy' themed week continues today as we welcome Tutti Frutti and their football themed production, 'Keepy Uppy' – perfectly timed after England's World Cup win last night.
Sports day access
Posted on 28 June 2018 by Mrs Taylor
Roundhegians have confirmed we will be using their main pitch, closest to the club house, for our sports day next Tuesday.  Access is via Chelwood Drive, off Street Lane.
As in previous years, we would be grateful to any parents who are able to lend and assemble gazebos for the children to sit under during the day.  
Make-A-Wish skipping challenge day
Posted on 28 June 2018 by Mrs Taylor
We will conclude our Being Healthy themed week with an opportunity to raise money for our school charity, Make-A-Wish, and a chance for all children to try to beat their own personal skipping challenge set at the start of the week.
Being healthy themed week
Posted on 28 June 2018 by Mrs Taylor
Do you want to find out more about what your child is taught in our drug education lessons?  This learning forms part of our Living and Learning curriculum but is supplemented by visitors, in particular d:side, during our themed week.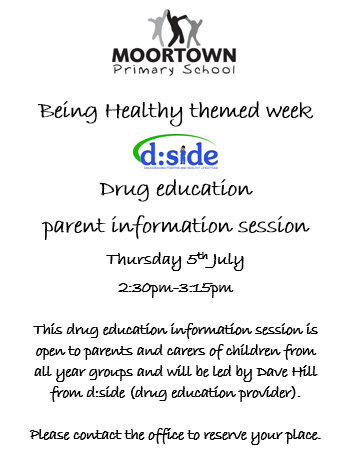 Being healthy themed week
Posted on 28 June 2018 by Mrs Taylor
We're gearing up for a busy, active Being Healthy themed week, next week.
With lots of activities and visitors planned for the children, there are also some ways for you to get involved.  Firstly we have our health fair on Monday after school, open to all children and parent/carers.
Roundhegians Open Day
Posted on 24 June 2018 by Mrs Taylor
Roundhegians Rugby Club, who kindly host our annual sports day and other sporting fixtures, are having an open day on Saturday 7th July.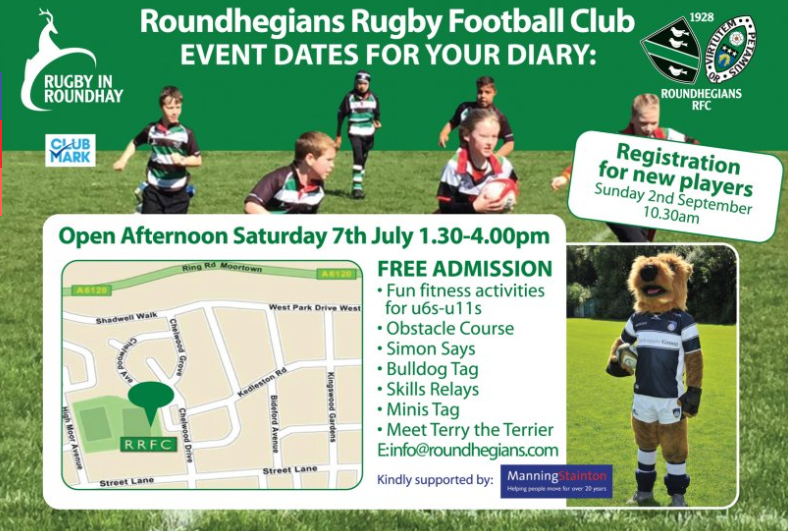 Being Healthy themed week 2 July
Posted on 22 June 2018 by Mrs Taylor
Our next whole school themed week, based around Being Healthy, will be taking place from Monday 2 July 2018.  Our key message will be how to be healthy; both physically and emotionally.  A variety of events and visitors are planned to help us deliver this key aspect of education.  We are looking forward to a very busy, healthy week!
Our School Council have been considering ways to support our school charity, Make-A-Wish, and as skipping has been taking off at school, we will be running a beat your personal best skipping challenge.  On Friday 6 July, this will culminate in a Make-A-Wish day with all children invited to wear blue and bring a £1 donation to support our charity while trying to beat our personal bests.
There are also some opportunities for parents and carers to get involved in the week.
Monday 02 July 3:15pm – 4:15pm Health fair
Our Health and Sports Fair in the hall is to promote health and sport opportunities and services in the local area.
Come along with your child/children after-school to find out more.
Tuesday 03 July Sports day Key Stage 2 9:30am Reception/Key Stage 2 1:30pm
You are welcome to come along to support our annual sports day at Roundhegians RUFC.  We require adults to help walk the children to Roundhegians so please contact the office if you can help with this.
Thursday 05 July 2:30pm – 3:15pm d:side drug education parent information session
Dave Hill from d:side, a health education provider, will be running an information session about drug education following his sessions with all classes during our themed week.  Parents and carers from all year groups are welcome to attend.  Please contact  the office if you would like to reserve a place.
Following our recent walk to school week and the Big Pedal scooter and bike week, this themed week is a good opportunity to continue to think about healthy, active ways to travel to school.  We will be encouraging children to use a sustainable method of transport, maybe parking further away from school, scooting, biking or walking to school.
 Finally, can you help? Does your job involve an aspect of health?  If you are able to support our Being Healthy themed week by coming into school, please contact your child's class teacher directly or the office to arrange this.
Thank you for your support to keep Moortown a happy and healthy school.
Assessing
Posted on 22 June 2018 by Mr Roundtree
At the end of the Early Years Foundation Stage each year, schools must report how each child has achieved across 17 different areas. Whilst the government plans to introduce a statutory assessment on a screen, at the moment this assessment is based on teachers' (and other adults') observations of what a child can do, and anything the child might do on paper and in books.
Because it's teachers assessing, there's obviously room for different judgements and interpretations. That's why Mrs Burke and her team attend lots of meetings across the year to share assessments with other schools – we call this 'moderation'.
Every four years, Leeds City Council also carries out some moderation, and it was Moortown's turn this year. The meeting went well – teacher assessments were agreed. Here are the conclusions of the report:
The provision in the setting was well thought out and provided a variety of challenges for a range of abilities. The wood work station was a particular strength and gave the moderator some solid evidence around moving and handling [one of the 17 strands] and shape, space and measure [another strand].
Floor books were used to encourage children to contribute their ideas in the construction area.
Practitioners that participated in moderation had a sound knowledge of all the children discussed and could identify the next steps in their learning.
The profile of [a child with Special Educational Needs or Disabilities] included some effective examples showcasing the learning journey of that child and how provision is planned for his specific needs.
From a floor book based around 'the world', it was clear that practitioners plan a wide range of experiences to move learning forward such as hatching chicks and potion making.
There are two 'next steps', neither of which relates to the quality of our provision: to gather greater evidence for children in a particular strand, and to continue to involve parents / carers:
It was agreed it would be useful to capture more responses and comments from children to add in to the maths floor book together with more of their mathematical graphics. This would provide useful additional evidence for both strands of maths throughout the year. The moderator suggested keeping a note, for example, on a class list of which children had contributed so that the book provides evidence for all learners over time.
The reception teacher is considering other ways to involve parents and gather additional evidence from home.
Well done to Mrs Burke and all her team – and to our wonderful 2017-18 Reception children.
And more... Fab feedback!
Posted on 17 June 2018 by Mr Roundtree
Just a day after a lovely email from a parent, we've received another. This one (also anonymised, so 'they' instead of 'he' or 'she') is from a Y5/6 parent commenting on the rich curriculum at Moortown Primary:
I just wanted to say a huge thank you to you and your team for making [my child] so happy at school.  This month in particular they are buzzing about the fantastic opportunities they and their class are experiencing.  What a fabulous curriculum!! …Sailing at Yeadon Tarn where they laid across the bow of the boat and touched the water, being selected for [a competitive event] and then finally to cap it all off a day at…Headingley cricket ground.

It is so joyful when your child gushes to tell you about their school day and the things they are looking forward to. Thank you!