More marvellous comments about Moortown
Posted on 18 January 2019 by Mr Roundtree
On Tuesday, a Local Authority advisor (who happens to also be an Ofsted inspector) visited Moortown. We invited him in because we're always keen to get a second opinion on our practice and to be offered any suggestions to keep getting more and more effective. The visit involved visiting four classes in school (Y1, Y2, Y3 and Y5) and looking at Writing and Maths books in Y2, Y4 and Y6. The advisor's report is really positive. Here are some comments from it.
The lesson observations evidence that without exception, teachers have high expectations of the children in their care. They each demonstrated good subject knowledge and an age appropriate awareness. Subsequently, children across the four observed year groups behave well and were attentive and responsive to the teacher.
Teacher pupil relationships in this classroom are secure. Children responded to the '3,2,1 stop' command with immediacy and it is clear that the children are happy and comfortable in the teacher's care.
…the… teacher's enthusiasm was infectious… The [reading] lesson, led from the hall… was managed well… All pupils engaged with the activity well and competent questioning from the teacher enabled pupils to demonstrate their understanding. At a later visit to the classroom where children were completing a summary paragraph about a web page, the same teacher zest was evident. The children were entirely focused on the learning and when challenged could explain the purpose of the exercise and the learning. The use of an 'erm' game engendered a great deal of controlled exuberance from the children who are clearly enjoying this style of teaching.
Outcomes had been clearly modelled and when asked, the children were able to explain their learning. The use of mood photographs had been neatly aligned with the school's current Living and Learning statement and was effective in providing the children with a purpose to write.
Looking at books from alternate years clearly evidenced the impact of teaching on progress with work becoming more sophisticated as they advance through the school. Without exception and in both English and maths books, the work is aligned to the age related requirements of the national curriculum.
In each year group, high demands in productivity and neatness are evident in English books. Opportunities to write at length are particularly impressive in Y4 and Y6. In Y4 for example, pupils are given the freedom to change characters or settings based on their reading, researching and planning from high quality texts. These opportunities allow the most able to demonstrate their flair for language whilst even the lowest ability perform well in advance of what would have been expected… Such challenge is ensuring this group in particular are making excellent progress. The same can be echoed in Y6 where exercises are planned to add value to learning. The complexity of sentence structure and use of evocative vocabulary for the middle and higher ability Y6 pupils is extremely impressive. Meanwhile, through the demand and expectation to keep up with their peers, the progress of the lower ability pupil was equally impressive.
Without being overly demanding of teacher's time, marking and feedback is of the highest quality. The use of symbols to indicate where pupils should edit or improve their work is met with purple pen action that clearly has an impact on learning over time.
In Maths, the pace of teaching is effective in embedding learning. Positively, the demand for even the least able to access the same body of learning as their more able peers is having a definite impact on their progress over time.
…there is evidence to show that even the most able are challenged to their limits. And without exception, the requirement for pupils to correct errors or respond via same day intervention is another positive driver for accelerating the progress of the many rather than the few.
The report also contains three useful, but quite specific, recommendations which we'll work on.
Fantastic Foundation Stage!
Posted on 15 January 2019 by Mr Roundtree
We want to keep getting better and better. One of the ways we sustain great outcomes for our children is that we work closely with LA advisors so we benefit from 'an extra pair of eyes' and their specific skills and expertise.
Just before Christmas, an Early Years expert visited our Foundation Stage classes. Here are just a couple of extracts from her report:
A rich range of provision to promote mathematical learning was clear across different areas of the setting both inside and out.
Children were seen this morning displaying high levels of engagement in self-chosen activities.
Following the visit, it was also a privilege to be asked to share some good practice in our schools with other teachers at a Leeds maths conference.
Themed menu
Posted on 08 January 2019 by Mrs Taylor
Catering Agency, our school meal provider, will be running a special themed menu on Friday 18 January.  Please contact the office, by Friday 11 January, if your child would like a school meal on this day (no action needed if your child normally has a school meal on this day).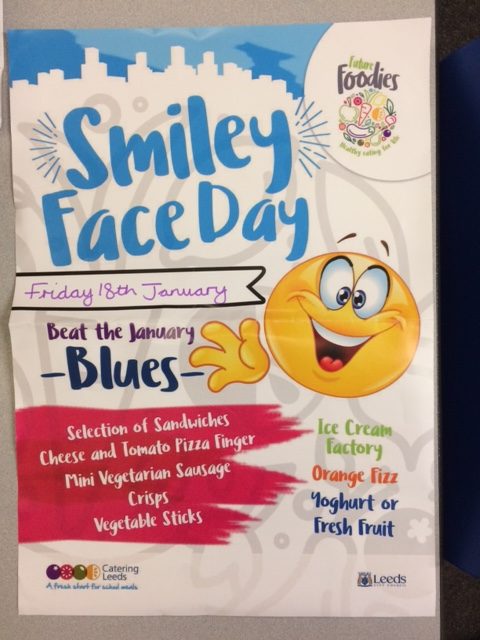 Living and Learning
Posted on 24 December 2018 by Mrs Taylor
Living and Learning sessions
 are held weekly, in class, to promote social and emotional aspects of learning and other areas of Personal, Social and Health Education (PSHE).  This half term we have two main themes, from our
long-term plan
.
Drug, alcohol and tobacco education (DATE) 
 Keeping safe and managing risk
Our
Staying Safe themed week
(w/c 04 February 2019), including
Safer Internet Day
,  will be part of this learning.  More information will follow about this.
We begin the half term with a focus on manners and in particular interruptions.  Children will consider what is a valid interruption, for example an emergency and what alternatives are there to interrupting?  Children across school are encouraged to use our brain, buddy, boss system to try to avoid interruptions.  This means they would first think themselves.  Then, they could try asking a friend and the final option would be to ask the adult.  This encourages the children to become independent and take responsibility.
Here are the weekly Living and Learning statements, for this half term, to support this learning.
I don't interrupt (with my mouth or my hand).
I can make things better.
I know what a drug is.
I know how to seek help.
I make safe choices, including online.
I can assess my own risks.
Keeping active
Posted on 24 December 2018 by Mrs Taylor
As part of our commitment to being a happy and healthy school, we're always looking at ways to increase our pupils' physical activity both in and out of school.
The government's childhood obesity plan has set out the ambition for all children to achieve 60 minutes, or more, of physical activity every day (30 minutes in school and 30 minutes outside of school).
In response to this aim, we've compiled a physical activity guide suggesting out-of-school physical activities available to families in our local area.
The information on the guide is correct as of November 2018.  Keep an eye out on our news and class news pages where will promote any new activities throughout the year.
We'd love to hear feedback about any activities you or your child try based on this guide.
Learning updates
Posted on 19 December 2018 by Mr Roundtree
Going home with your child (Year 1 to Year 6 only) today are the end-of-term Learning Updates. These 'mini-reports' aren't new – we've used these before during parent-teacher meetings.
This year, we've listened to what you said in the annual surveys: you asked for more frequent updates on your child's learning. As a result, we've tweaked when we do things a little so you now get an update at the end of most half terms:
Autumn 1 (the parent-teacher meeting)
Autumn 2 (the Learning Update)
Spring 1 (the parent-teacher meeting)
Spring 2 (the Learning Update)
Summer 2 (the end of year report)
If you've any questions, comments or concerns about the report, please contact your child's class teacher.
Wake up Shake up leaders
Posted on 19 December 2018 by Mrs Taylor
Thank you to our KS2 WuSu leaders who have led our daily WuSu physical activity this term and taught us lots of new routines.
Thank you to Mrs Charlesworth who has helped to run our WuSu after-school club where they have created all of the routines.
Next term, we will be running a KS1 and KS2 dance /WuSu club which will lead into a dance festival after Easter.
Living Streets update
Posted on 12 December 2018 by Mrs Taylor
We are pleased to work alongside the Living Streets local Moortown group to support our aim for children to make healthy, active and safe journeys to school.  Here is an update from the group.
A BIG THANK YOU!
Both Living Streets UK and Living Streets Moortown would like to say a big thank you for all the noticeable improvements you have helped to bring about on journeys to and from school this year:
• Reduction in parking in Allerton Avenue (which is access only for residents) and on the double yellow or zig-zag lines adjacent to the school
• Reduction in vehicles mounting the pavement near to the school
• Reduction in vehicles parked with engines idling
• Increase in the number of families opting to Park & Stride from M&S* when driving is unavoidable
* M&S has 200 free 2-hour spaces available and the short walk to school is much safer and more enjoyable with fewer cars passing through key crossing points on the routes to school (such as Allerton Avenue and the
shopping parade entrance & exits).
This is fantastic progress and with continued support from all the families at Moortown we'll see further improvements in air quality, safer 'vehicle-free' pavements and more families choosing to make and enjoy active trips to school.
OUR CURRENT PRIORITIES
While all the improvements we have seen around the school gates are encouraging, there is still a lot to be done. Cars, vans and HGVs continue to be driven up footpaths and recently there appears to be an increase in drivers passing through the main M&S lights while the green man is on so please be mindful of this when crossing.
We are already campaigning to deal with issues like these and the great response we had to our recent survey of parents and carers has helped us to submit a feedback document to the 'Connecting Leeds' consultation – a proposal to improve bus and other sustainable travel options in Moortown. We recently met with a representative from the project and are hopeful that some of the suggested pedestrian improvements will be incorporated into the scheme which is due to be delivered next year.
THE YEAR AHEAD…
The Moortown Living Streets Group is still in its first year, but we already have some exciting plans for 2019, including a project to monitor local air quality as well as some great ideas to get Moortown moving!
➢ Register to get involved or receive news here
➢ Access info on walking to school here
Thank you once again for you support to date – it's making a real difference and we're keen for that to continue throughout the year ahead.
Season's Greetings!
From everyone at Moortown Living Streets Group
E: moortowngroup@livingstreets.org.uk T: @moortownlsg
Living and learning: New Childline website - Speak out Stay safe
Posted on 10 December 2018 by Mrs Taylor
Staying Safe is one of our Living and Learning related themed weeks this year, taking place in February.
As part of the NSPCC's Speak out Stay safe programme, Childline has launched a Speak out Stay safe website aimed at children under the age of 12.  This provides age appropriate content on topics including: bullying, family, friends, feelings, school, abuse and staying safe. It also includes games and therapeutic tools for young visitors to play and express how they are feeling.
School Savings Club
Posted on 09 December 2018 by Mrs Taylor
The next School Savings Club paying in date is 13 December 2018 at 3.15-3.45pm.
If you're unable to attend in person, please hand in any money to be deposited to the office in a sealed envelope addressed to Mrs Tiffany.
Paying in dates fall on the penultimate Thursday of each half term.
If your child would like to open account, please ask at the office.  This is a great opportunity for children to begin to manage their own money and understand the importance of saving.