Money Matters
Posted on 05 May 2016 by Mrs Taylor
Our next whole school themed week Money Matters, based around money and financial education, will be taking place from Monday 23 May 2016.  A variety of events and visitors are planned to help us deliver this key aspect of education.
During the week, we will look at questions including:
What is money?
Where does money come from?
How do we spend money?
How do we manage money?
If your job involves an aspect of finance and/or money and you can support our themed week by coming into school, please contact the office.
Do we have an author in the making?
Posted on 04 May 2016 by Mrs Weekes
A big well done to Emre who entered a writing competition and made it all the way to the final six writers! Tom Palmer, from Leeds, released a chapter a day of his own adventure story all set in Leeds. Year 5 followed the story and then had the opportunity over the Easter holidays to write their own Leeds-based story for the competition. Emre's story was great and, as a finalist, his story was sent to Tom to be judged for the winner. Unfortunately, he didn't win but fantastic to get so far out of thousands of budding authors. Emre will receive a book of Tom Palmer's and a letter from the man himself. Check out Emre's story on Year 5's class news.
Triathlon volunteers
Posted on 23 April 2016 by Mrs Taylor
Organisers for the Columbia Threadneedle World Triathlon Leeds have officially launched the search for 750 volunteers, to help ensure the event  is one of UK sporting highlights of the year.
From experienced volunteers to complete beginners, organisers hope to encourage people of all ages to get involved in a world-class sporting event by becoming a Leeds City Ambassador. There will be a variety of roles for volunteers at the UK leg of the ITU World Triathlon Series including: race officials, supporting participants along the course, handing out drinks, or giving medals  to finishers in the mass-participation races, to name just a few. Volunteers can provide their time for three days from Friday 10th to Sunday 12th June, including the GO TRI event on the Saturday, or for just one day, by applying online at the official 2016 Columbia Threadneedle World Triathlon Leeds website: http://leeds.triathlon.org/volunteer/ and completing the application form.  Once potential volunteers have completed the online application form, they will be assigned a role, dependent on experience, and informed of their responsibilities via email. Prior to June 12th, there will also be an exclusive pre-event briefing for volunteers that will include: training, logistics, and a chance to meet the organisers. All volunteers will receive an event t-shirt, refreshments and a huge thank you from the organising team and those taking part for their hard work.
What do children learn through cooking?
Posted on 19 April 2016 by Mrs Taylor
Pupils always enjoy cooking at school.  Here is an article about its benefits.
Super Sporting Success
Posted on 18 April 2016 by Mrs Weekes
Fantastic news for the first day of the Summer term.
Mrs Taylor submitted an application for the Yorkshire Primary PE and Sport Premium Awards and I am delighted to tell you that our application has been chosen as the West Yorkshire winner in the Broader Sporting Experience category.
Your application fulfilled criteria for creativity, sustainability and creating a measurable impact on pupils and will now be put forward as the West Yorkshire representative at the Yorkshire finals in Harrogate in June. All county winners are invited to the Yorkshire finals to accept their West Yorkshire award and be in the running to win one of the regional awards.
West Yorkshire Sport will be coming in to school to do some filming with some of our children and this will be used in the award ceremony.
Well done and thank you to Mrs Taylor for all her efforts in putting this application together.
Free tennis
Posted on 16 April 2016 by Mrs Taylor
Tennis For Kids is a free 6-week coaching course packed full of action packed games and activities designed as the perfect introduction to tennis for kids aged 5-8.
Courses are available locally at Roundhay Park tennis courts and Alwoodley tennis club.
In addition, free family open days will be running locally, at David Lloyd and Roundhay Park, over the next few months.
Bored in the car?
Posted on 08 April 2016 by Mr Roundtree
Next time your on a car journey, challenge your child (and you, and anyone else in the car!) with this number plate word power puzzle!
Look at the three letters on the car in front.
Use those letters, in that order, to create a word (it doesn't need to start with the first letter).
For example, LS54TXS… Using TXS, you could come up with taxes.
Another (tougher) example: YK64EWV… Using EWV, the word could be screwdriver.
Goodbye
Posted on 04 April 2016 by Mr Roundtree
David Roundtree writes:
Moortown Primary is a happy and healthy place to learn, and also to work.
I was appointed as Headteacher around about this time of year, but way back in 2007. This has been my seventh teaching job. Having spent a year in a village school in Warwickshire, three years in a York school, a year working in a university, two years in Wetherby, three years in Harrogate and a year in a rural school as Acting Headteacher, it might have been predicted that I might stay at Moortown for maybe three or four years. The eight years and two terms proves how much I've loved my time here.
One of the first big changes we made was the logo. We went from this…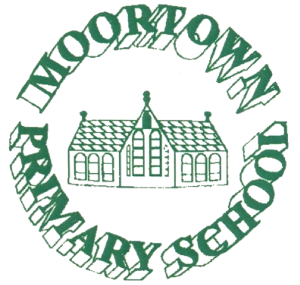 …to the familar orange, green and blue blobby people we see today.
The school councillors liked the different colours in the new logo, which they decided represented our different cultures, plus the jumping and dancing which represented energy and happiness, plus the connection of the characters as a symbol for friendships. (At the same time as this, we changed the uniform colour from dark green to red – another decision made entirely by pupils. I seem to remember this went down badly with the 2007-08 Year 6 pupils who wanted black tops – but the decision was a whole-school democratic one!)
This change might seem a bit shallow – just a cosmetic change? Not so. It helped to shift the culture of the school. It became a more dynamic, more modern, more forward-thinking place to be. And it led to our slogan: a happy and healthy place to learn – more than a slogan, really: something deep-rooted in what we do.
Following this came a new website. I hope you agree this gives you loads of information: 'need to know' facts along with 'nice to know' snapshots about all the great learning and activities that take place. Don't forget the website offers lots of advice and suggestions about how to support your child at home, including lists of learning expectations for each year, for each subject. It's a website that's often copied by other schools – even in recent weeks, I've noticed content on websites in Leeds and London that seems really quite familiar!
The front playground used to be barren wasteland. A bleak and unused space is now a popular play destination, both during school and at the end of the day. Also implemented with the help of the school council, it's another change which has proved really successful.
Not all the changes have been by choice, but we've always tried to approach everything we do with optimism and determination to be the best. When the government introduced changes in the curriculum, for example, this was an opportunity to overhaul ours: introduced more whole-school topics to reinforce the strong community culture we have, and we increased the amount of flexibility we have so we can adapt what we're doing to match children's interests. When the government increased the importance of grammar in schools, we were already ahead of the game but we took the opportunity to develop staff and children's grammar skills even further. And when the government abandoned levels, we took the opportunity to implement a simpler, but more powerful, way to assess children's learning and identify next steps for children. …mmm…lots of change introduced by those 'experts' in government (!).
Since 2007, there have been lots of changes amongst the teaching staff, too. Before actually starting, I was fortunate enough to be part of the recruitment of three teachers: Mrs Weekes as Inclusion Leader, and two newly-qualified teachers, Miss Kieran and Mr O'Leary (now teaching in Sweden and Dubai, respectively). Miss Hewson and Miss Beatson came first (now teaching in York and London). In 2010, a record four new teachers joined: Mr Owen, Mr Wilks, Mr Redfearn (known as the boyband!) and Miss Hazell. (Mr Redfearn enjoys teaching success in Manchester and Miss Hazell in Harrogate.) Mrs Maver as Assistant Headteacher came and went around this time, too. In 2013, we had another round of big change when Miss Rushbrooke, Miss Valentine and Mrs Keating joined us, and most recently we've welcomed Mr McKeon, Mrs Wells and Mr Catherall. In all this, Mrs Burke and Mrs Taylor have stood the test of time!
There have been some challenges. For example, our Ofsted inspection of 2011 was tough; despite being judged outstanding, it was hard to accept comments about the Reception class because we'd made lots of improvements. (I'm really proud about the wonderful things that happen here these days, and lots of experts from the local authority agree.) Sadly right now, we're experiencing another challenge: we are missing the care and guidance of Mrs Wilson. (Mrs Weekes and I visited just yesterday, and she's doing well, and was keen to hear about all the goings on.)
Nevertheless, I'm proud of so many things here at Moortown Primary.
I'm proud that amongst all this teacher turnover, we've seen some brilliant teaching, and we continue to do so – the teaching team we have now is quite probably the best we've ever had, and that includes our great teaching assistants. I don't have space to list them all here, but they do a wonderful job. The office team and site staff, too, are quite probably the best we've ever had, too. Mrs O'Malley and Mrs Russell are the face of Moortown Primary and we're all lucky to have such a friendly face!
Equally, I'm proud of our children. They are polite, pleasant and positive, always great ambassadors for our school. I've loved seeing children in Reception grow in confidence and skills over the years. It's such a privilege to be able to observe so many different characters approach their learning, their friendships, in fact, their lives, in different ways.
School leaders are another reason to be proud. Mrs Weekes has done a fantastic job in supporting me as Deputy Headteacher; she, combined with the passion and commitment of Mr Owen and Mr Wilks, have been great colleagues to lead Moortown Primary in the last few years. Talking of school leaders, the governing body has grown in skills and effectiveness over the years. When I joined Moortown Primary, Janice Rush was new to the role of Chair; she was replaced my Becky Lawrence. Both have been fantastic Chairs. In the autumn, there will be a vacancy for a new Chair as Becky steps down. Whoever this may be, I'm confident the governing body will continue to provide a powerful balance of support and challenge, and remain committed to making the best strategic decisions for the school. Whilst you might not have direct experience of the governors, be assured we're all privileged to have such an effective team.
Finally, I'm proud of you, our parents, too, and thank you for all your support over the years. This might be as parents who talk to us and tell us their thoughts, whether in person or in surveys or such like (we do listen, and we do try to respond), or simply as parents who take the time to say hello or goodbye each day.
Thank you to all pupils, staff, parents, school leaders. You've all helped to make this the happy and healthy place it is today.
New SEAL theme
Posted on 03 April 2016 by Mrs Taylor
At Moortown Primary, we're dedicated to the value of SEAL in promoting a happy and healthy place to learn.  However, we're always thinking about other ways to meet our children's needs and interests.  That's one of the reasons we choose to sometimes break away from the national SEAL themes to do something different.
This half term, we'll think about our rights and responsibilities and, importantly, that if we have rights, we also have responsibilities. Children will consider their rights and responsibilities at home, at school and in other places.  These may include:
Their right to eat food, their responsibility to eat healthily.
Their right to a good education, their responsibility to listen to the teacher.
Their right to use the internet, their responsibility to go on appropriate websites.
Each week this half-term, we'll concentrate on a different area:
Week beginning 18 April: learning
Week beginning 25 April: playing
Week beginning 02 May: expressing an opinion
Week beginning 09 May: staying safe
Week beginning 16 May: being healthy 
Week beginning 23 May: general
Perhaps you can support your child's learning by discussing and promoting rights and responsibilities at home, too.
Matheletics has changed...
Posted on 01 April 2016 by Mr Roundtree
…to Spellodrome!
Two years ago, we entered into a three year contract for the whole school. We've incorporated Mathletics sessions into the weekly routine in school, and classes have sometimes been given Mathletics Practice Makes Perfect homework. Of course, we also hoped that you would encourage your child to log-in regularly at home, too.
As a school, we've been really happy with Matheletics. However, with one year left in our current contract, we thought it was time for a change. Spellodrome is created by the same people, so we've decided to swap to this for the final year.
Why?
Well, put simply, our children's spellings need to be better. Despite being one of the top performing schools in the country in the phonics screening check which Year 1 children do (we received a letter from the Department of Education congratulating us for having 100% of children pass in 2015), our children's spelling accuracy isn't good enough.
We're finding many children use their phonics knowledge to spell words which are phonetically readable, but not accurate. By this we mean, for example, Moortown might be Moretown, English might be Inglish, phonics might be fonicks. (I'll include a couple of other examples below.) All these words can be read, but there are so many ways to make sounds in our language, and children are choosing the wrong ways (not weighs!).
Also, many children aren't applying some common spelling rules which would really help – and which teachers practise a lot with their classes:
double up for a short vowel sound (think of the difference between h

op

ing and h

opp

ing; 

ab

le and

app

le; d

in

er and d

inn

er)
drop the 'e' for 'ing' (take becomes taking – no 'e'; like becomes liking; accommodate becomes accommodating)
drop the 'y' for an 'i' (so try becomes tries; party becomes parties; quality becomes qualities)
So, for the next year at least, the whole school is using Spellodrome. Please, please make sure (not shoor!) your child is regularly logging in.
Also, and probably more importantly, they should be reading. Reading will help to familiarise children with correct spellings in the correct contexts – and has so many other benefits, too (studies have found that children who read fiction for pleasure have increased empathy and better mental health in years to come).