The Big Pedal is back!
Posted on 20 April 2018 by Mrs Taylor
Get set… we're taking part in Sustrans Big Pedal 2018, the UK's largest inter-school cycling and scooting challenge, that inspires pupils, staff and parents to choose two (or three) wheels for their journey to school.
The Big Pedal will run alongside our year round Living Streets WOW sustainable travel initiative where the children record how they travel to school on our daily travel tracker.
The Big Pedal challenge focuses on journeys made by bike and scooter and runs from 23 April to 04 May.  We would love everyone to be involved.
The details
On each day of the challenge, schools compete to see who can record the greatest number of pupils, staff and parents cycling or scooting to school. Our best five days will determine our final position in the challenge. We'll be competing against other schools right across the UK, and if we clock up the most bike and scooter journeys, we'll win!
 Why we're taking part
It's a great way to get more of our pupils travelling to school on their bikes and scooters. We will be competing to become one of the UK's top schools for two-wheeled journeys and will be in with a chance to win prizes including bike and scooter stunt shows and fantastic cycle and scooter storage.
What's next?
All you need to do is encourage your child(ren) to cycle or scoot to school every day during the event, and join them on their way.
If you do need the car to bring your child(ren) to school, you could park further away from school and bike or scoot the last part.
Our best sporting achievement to date
Posted on 27 March 2018 by Mrs Taylor
Today, at the West Yorkshire School Games, our Year 6 orienteering team have successfully won bronze medals competing against over 20 of the best teams from across West Yorkshire.  A fantastic achievement!  Well done to the whole team.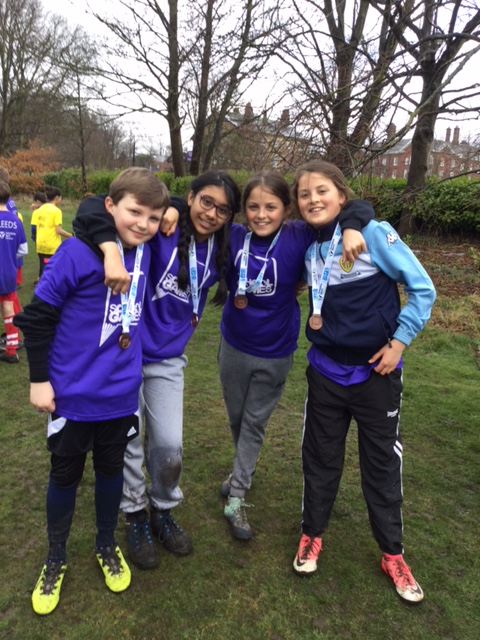 Moortown Park consultation
Posted on 21 March 2018 by Mrs Taylor
Thank you to those parents and carers who came to view the proposed plans for Moortown Park.
As part of the pupil consultation, Helen Forman, Senior Design Officer at Leeds City Council, met with our School Council and spoke to all children in a whole school assembly.  She commented the children had lots of intelligent questions and comments.
The feedback will be considered and they feel hopeful to incorporate the changes that were suggested including the monkey bars that quite a few children asked for.
The equipment will be ordered soon, ready for installation at the play park so thank you for your input.
School Savings Club
Posted on 18 March 2018 by Mrs Taylor
The next School Saving Club paying in date is Thursday 22 March 2018 at 3.15-3.45pm.
If you're unable to attend in person, please hand in any money to be deposited to the office in a sealed envelope addressed to Mrs Tiffany.
The paying in dates are the penultimate Thursday of each half term and for the summer term, these dates are Thursday 17 May and Thursday 12 July at 3.15-3.45pm.
Finally, if your child would like to open account, please ask at the office.
Marvellous Maths facts
Posted on 18 March 2018 by Mr Roundtree
At Moortown Primary, we want to be a happy and healthy place to learn. That includes making sure our younger children, in Year 1 and Year 2, know the key number facts that will help to secure fluency in Maths now and in the future – facts like 3+4=?, 2+?=10 and 17+?=20.
Our Addition Facts guide provides a guide to what addition facts we expect pupils in Year 1 and Year 2 to know (the table might look confusing – please ask us if you're unsure).
In a recent assessment, we can see some great progress made by our children in securing these facts.
For our Year 1 children in the Autumn term, the average score was 11.1 and now it's 15.5 out of 20. 24% of children scored 15+ in Autumn – this has now increased to 66%.
(It's important to remember the aim is for children to be secure by the end of Key Stage 1 – that's the end of Year 2.)
Our Year 2 children continue this progress. The average score is now 17.9 with 89% of children scoring 15+ out of 20.
Well done, everyone! And thank you for supporting your child at home.
Tremendous times tables
Posted on 17 March 2018 by Mr Roundtree
You may have read recently about government plans to introduce a times tables assessment for children in Year 4 – the 'check' will be compulsory in 2020. The cost of this new test is estimated to exceed £5.2million. Whether you think the new test to be necessary or useful, it goes without saying that children knowing their times tables can really help not only in Maths lessons but in everyday life.
We've been carrying out our own assessment of our pupils' times tables recall for some time now, in the form of a short test of 25 questions each term. Pupils have recently done the Spring test – with great results!
Year 2
We only tested x2, x5 and x10, in-line with national age-related expectations for children in Year 2. The average score was 20.4 and 80% of children got 20 or more of the questions correctly.
Year 4
By the end of Year 4, children are expected to be able to recall all multiplication and division facts up to 12 x 12 and our test checked 25 random facts.
Children scored an average of 21.9 out of 25 with 77% of children getting 20+ questions correct. Last year, the same children scored  only 16.2 as a class average, with only 13% reaching 20 or more. We've still got one more term to improve further.
Year 5:
Our Year 5 children scored an average of 23.4 out of 25 and 93% got 20+ questions correct. This is a significant improvement on their performance in a similar test at the end of Year 4, when the average score was 21.0 and only 69% had a score of 20 or more.
Year 6:
As you might expect, our Year 6 children did even better. The average score in the recent test was 24.5 out of 25 and 100% of children scored 20 or more in the test – a really impressive result.
We'll need to work harder to ensure our Year 4 children in 2020 are fully prepared for the times table assessment that is planned. However, it's reassuring to know that our children in Year 5 and Year 6 keep improving their performance (possibly raising the question why not assess the tables facts in a later year group). All our Year 6 children leave primary school with a thorough grasp of their times table facts.
This spreadsheet can help your child test themselves – but before they do, practise together:
count in things that link, like 2p coins for x2 and 5p coins for x5, and 4 wheels on a car so 4 wheels (1 car), 8 wheels (2 cars), 12 wheels (three cars) etc
count forwards, backwards in 3s, 4s or whatever
look for patterns in the times tables (like the digits all add up to 9 when you multiply by 9)
West Yorkshire Cross Country Championship
Posted on 16 March 2018 by Mrs Taylor
This week, Grace, one of our Year 6 pupils, took part in the West Yorkshire Cross Country Championships, competing against pupils from Calderdale, Bradford, Kirklees, Leeds and Wakefield.
Grace qualified for the finals by coming 14th in the Leeds championships.
She faced the finest runners in the county and out of a field of nearly 150 runners, Grace came a fantastic 32nd place – the 12th Leeds finisher.
Well done to Grace on her great performance!
Moortown play park consultation
Posted on 15 March 2018 by Mrs Taylor
Would you like to find out more about the proposed play park on the land at the rear of school?
Would you like to comment on the proposed play equipment suggested in the design?
Maybe you've seen equipment in other parks that you'd like to recommend.
Helen Forman, a design officer from Leeds City Council, will be visiting school tomorrow to consult with our School Council.  After that, all children will have chance to see the proposals in an assembly.  Helen is keen to hear their views as the future users!
From 3pm, there will be chance for parents and carers to see and comment on the proposed designs.
We hope to see you there.
Helping with homework...?
Posted on 11 March 2018 by Mr Roundtree
You might have heard about this news story this: UK parents help less with homework.
Parents in the UK are much less likely to spend more than an hour per day helping with their children's homework compared with parents in other countries, a survey suggests.

A survey of 27,830 parents in 29 countries found only 11% of UK parents spent an hour per day helping their children, far behind 62% in India.
Our Homework Policy is designed to best meet the needs of our pupils and their parents / carers. To help, we refer to research on how effective homework is.
Our Talk Time homework is intended to promote good speaking and listening skills, and quite often to raise awareness of moral issues such as whether or not animals should be kept in captivity. To get the most from Talk Time homework, turn the telly off and have a conversation around the table whilst eating your evening meal – you don't need to spend extra, separate time to support your child! Encourage your child to use ambitious words, useful phrases and full sentences. Some sentence structures that can work well are:
What are your views on …?
I hear what you're saying. However, …
That's a good point, but …
Furthemore, …
In conclusion, …
I believe that … because…
Another reason is …
Creative homework is an opportunity for your child to choose whatever they want to demonstrate some learning. For example, I can show what I know about food chains. Your child could present all their learning in so many different ways, from a diagram with notes to a story or comic strip. Parents' and carers' role is to support, encourage, help… but never to take over and do the homework! So, there's no need to sit down and do the homework with your child – you could be getting on with some other household task. The fact that your child and you and both actively doing something can be a really good way to promote positive attitudes.
The other type of homework is Practice makes perfect. The work should be fairly straightforward for the child as there should be no need for new learning, so just some encouragement from you is needed. However, it would be a great time to get your child to teach you – they should be able to explain the key points or processes! Also, you might want to check what your child has done – not a big job.
Don't forget that the most important things you can do at home to support learning are to be positive and encourage your child, and to make sure they read regularly, practise their spellings and practise some simple Maths – counting, number bonds (to start with, two numbers that make 10, like 3+7) and their times tables.
Living and Learning - a body image guide for parents and carers
Posted on 09 March 2018 by Mrs Taylor
This term, our Living and Learning theme is Being me.  Part of this learning is all about body image.  This parent and carer guide has been designed to give practical ideas to support your child in building their emotional resilience in this area.