Helping with homework...?
Posted on 11 March 2018 by Mr Roundtree
You might have heard about this news story this: UK parents help less with homework.
Parents in the UK are much less likely to spend more than an hour per day helping with their children's homework compared with parents in other countries, a survey suggests.

A survey of 27,830 parents in 29 countries found only 11% of UK parents spent an hour per day helping their children, far behind 62% in India.
Our Homework Policy is designed to best meet the needs of our pupils and their parents / carers. To help, we refer to research on how effective homework is.
Our Talk Time homework is intended to promote good speaking and listening skills, and quite often to raise awareness of moral issues such as whether or not animals should be kept in captivity. To get the most from Talk Time homework, turn the telly off and have a conversation around the table whilst eating your evening meal – you don't need to spend extra, separate time to support your child! Encourage your child to use ambitious words, useful phrases and full sentences. Some sentence structures that can work well are:
What are your views on …?
I hear what you're saying. However, …
That's a good point, but …
Furthemore, …
In conclusion, …
I believe that … because…
Another reason is …
Creative homework is an opportunity for your child to choose whatever they want to demonstrate some learning. For example, I can show what I know about food chains. Your child could present all their learning in so many different ways, from a diagram with notes to a story or comic strip. Parents' and carers' role is to support, encourage, help… but never to take over and do the homework! So, there's no need to sit down and do the homework with your child – you could be getting on with some other household task. The fact that your child and you and both actively doing something can be a really good way to promote positive attitudes.
The other type of homework is Practice makes perfect. The work should be fairly straightforward for the child as there should be no need for new learning, so just some encouragement from you is needed. However, it would be a great time to get your child to teach you – they should be able to explain the key points or processes! Also, you might want to check what your child has done – not a big job.
Don't forget that the most important things you can do at home to support learning are to be positive and encourage your child, and to make sure they read regularly, practise their spellings and practise some simple Maths – counting, number bonds (to start with, two numbers that make 10, like 3+7) and their times tables.
Living and Learning - a body image guide for parents and carers
Posted on 09 March 2018 by Mrs Taylor
This term, our Living and Learning theme is Being me.  Part of this learning is all about body image.  This parent and carer guide has been designed to give practical ideas to support your child in building their emotional resilience in this area.
Dodgeball winners
Posted on 09 March 2018 by Mrs Taylor
Congratulations to the Year 5 dodgeball team who won the PE Partner North Leeds cup heat and have successfully gone through to the Leeds dodgeball final.
We are closed.
Posted on 28 February 2018 by Mr Roundtree
Due to treacherous driving conditions and forecast for the entire day, we have decided to close school.
You 'watched us while we work'...
Posted on 27 February 2018 by Mr Roundtree
Thank you to the parents who came to school today for the second of our Watch Us While We Work sessions of the year. This is an opportunity for you to get a flavour of what goes on in school – you might pick up ideas on how to support your child at home, you might be more aware of the high expectations around reading, writing or maths, or you might even notice how we react to minor behaviour problems.
Here are some of the comments:
'Really interesting to see the relationship between teacher, teaching assistant and children – all children really engaged.'
'Loved the way the teachers delivered the lessons; keep up the good teaching.'
'Fantastic to see what happens – the progress from Y2 to Y3 is amazing.'
That's great feedback – thank you very much.
Sometimes, parents tell us it would be even better if they were able to visit their own child's class. We appreciate this might nice, but we do know it often disrupts learning. However, do look out for a chance to visit the class: on Monday 12 March at 2.40pm, we'll have a Topic Book Review session. Classes will be reaching the end of their second Big Topic – Life Forces. This is a chance to come in and find out more about the learning that's gone on during topic lessons.
In case of snow...
Posted on 26 February 2018 by Mr Roundtree
It's been many years since Moortown Primary needed to close due to extreme snow – and we don't intend to close this week, either, despite the weather warnings for parts of the UK which you'll have heard.
If snow is bad, we have to make decisions based on various factors, including how safe it is for our staff to travel to school.
We will communicate if school is closed by text, email, Twitter and a news post on the website (which then uploads to Facebook, too).
We won't take this decision lightly. However, if we do, we'll aim to make the decision by 08.15 am at the latest. Until that point, please assume school will be open.
Cross Country finalist
Posted on 21 February 2018 by Mrs Taylor
Well done to Grace for finishing 14th in the Year 6 girls Leeds Cross Country Final at Temple Newsam.
A great achievement!
World Book Day themed menu
Posted on 21 February 2018 by Mrs Taylor
Catering Agency, our school meal provider, will be running a special themed menu on Thursday 01 March.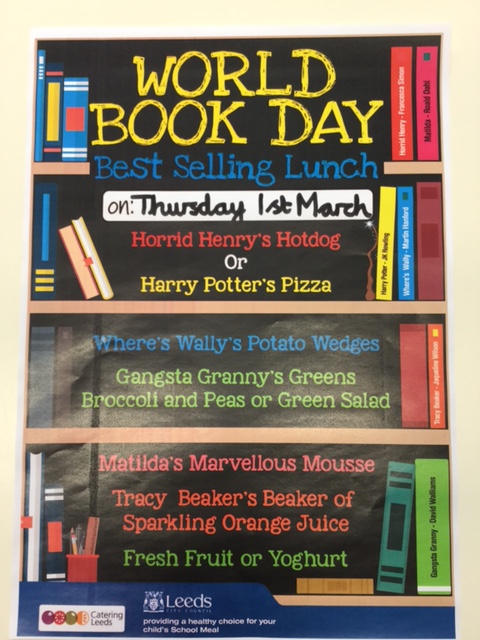 Happy and healthy learning at home
Posted on 20 February 2018 by Mr Roundtree
Thank you to everyone who attended parent-teacher meetings recently. It's great to see that almost all parents / carers took the time to hear how their child is progressing and to find out more about how to support their child at home.
Talking of support at home, the Learn More section of our website has lots of different top tips. Go to Help Your Child.
Of course, there are loads of games and activities online, too. Perhaps there's too much – going on-line can be overwhelming. Here are two sites we suggest – useful for children of any age.
We really like IXL. Here, you'll find pages for every year group, with activities to practise English and Maths skills. There are usually well over 100 pages for each subject. This could be overwhelming, but each subject is then broken down into helpful sub-categories. (For example, in Year 6 Maths, these are sections on Numbers and Comparing, Place Value, Addition, Understanding Fractions etc.)
This site is especially good to explain – and avoid – a common mistake in writing: 'run-on' sentences, which we call 'squashed' sentences in school. These are two (or more) sentences that are squashed together. For example:
In half-term, I went to the cinema I saw Early Man it was great!
In this example, there are actually three 'chunks' (clauses) that all make sense and need to be split up (using a full stop or a dash or a semi-colon):
In half-term, I went to the cinema. I saw Early Man – it was great!
The sentences could also be joined with a conjunction:
In the half-term, I went to the cinema and I saw Early Man – it was great!
On IXL, there's at least one activity to practise this in Y3-Y6 – start with the Year 3 one, even if your child is older.
The BBC Bitesize website has recently been updated – it's probably best you avoid the old archived one, so use this link. The site contains pages on most National Curriculum subjects and it's definitely worth checking it out.
Speak with us about other ways to support your child at home.
Living and Learning this half term
Posted on 15 February 2018 by Mrs Taylor
Living and Learning sessions
 are held weekly in class to promote social and emotional aspects of learning and other areas of Personal, Social and Health Education (PSHE). This half term our main theme, from our
long-term plan
, is
Being me 
and is all around building self-image and self-esteem
. 
We begin the half term with a focus on manners and in particular covering our mouth when we cough, sneeze or yawn. To promote good hygiene we refer to the
vampire technique
. By coughing or sneezing into our elbow, germs are not spread into the air or on our hands which may contaminate other things. Don't forget to 'use your sleeve to cough and sneeze'.
Here are the weekly Living and Learning statements, to support this learning.
I cover my mouth (when I yawn, cough, sneeze).  Get your child to demonstrate the 'vampire' method to family members at home.
I can say something good about myself.  It's important that your child can confidently talk about themselves in a positive way.
I pay compliments in a sensible way.  Try paying compliments each day to each other!
I receive compliments in a sensible way.  Some children struggle to hear positive words about themselves, but this is important for self-esteem. Try paying (and listening) to praise and compliments.
I know the difference between being proud and showing off.  We encourage compliments to be paid – but encourage your children to know the balance between being having self-esteem and showing off.
I recognise my talents.  Talk to your child about talents, whether academic, physical, social or emotional.