Tag rugby success
Posted on 28 March 2017 by Mrs Taylor
Our Year 5/6 Tag Rugby team took part in the Leeds North East tag rugby competition today and topped their group to qualify for the Leeds City Tag Rugby Finals in May.
Well done to all the children involved – a great team effort!
National pupil absence data 2016/17
Posted on 27 March 2017 by Mr Roundtree
Latest national pupil absence data shows that the overall absence rate across state funded primary, secondary and special schools has remained at the same rate of 4.6% in 2015/16 as in the previous year. The overall absence rate has remained broadly stable since 2013/14. Illness remains the most common reason for absence, accounting for 57.3% of all absences.
In 2015/16, persistent absentees accounted for 36.6% of all absence compared to 37.4% in 2014/15. Longer term, there has been a decrease in the proportion of absence that persistent absentees account for – down from 43.3% in 2011/12.
Family holidays (authorised and unauthorised) accounted for 8.2% of all absences in 2015/16 compared to 7.5% in 2014/15.
Among ethnic groups, the lowest overall absence rates were seen for pupils of Chinese and Black African heritage, at 2.4% and 3.0% respectively, a substantially lower rate than the national average of 4.6%.
Read more about national absence rates here.
Talking to children about terrorism
Posted on 27 March 2017 by Mr Roundtree
The horrific attack in Westminster last week is a shocking reminder to all of us how dangerous the world can be. It's hard to avoid the blanket global media coverage of the event or the social media saturation – and hard to protect your child from becoming aware and anxious.
As sad as situations like this can be for adults, it can be especially difficult to know that our children are aware of such hateful attacks and it is natural to fear a loss of innocence when such events unfold before their eyes.
Here's some advice for talking to children about terrorism (taken from Social Work Tutor).
Try to focus on the positives
When wrapping up these difficult conversations where you'll be talking to children about terrorism, try to focus on the positives you can find. Whether it's the fact that people all pull together to help overcome such awful attacks, or how many people from all over the world show compassion for their fellow humans, always look for the light at the end of the tunnel. The Social Work Tutor article ends with a good summary of this point:  'When I was a boy and I would see scary things in the news, my mother would say to me, "Look for the helpers. You will always find people who are helping.'
Be honest and answer the questions that children pose to you
Children are quick to pick up on lies and can identify when adults are trying to hush them up or change the subject. If your child asks you a question, answer it directly and in a manner that acknowledges their curiosity, as well as praises them for seeking out information.
Reassure your child and let them know that they are safe
Given that terrorist attacks can occur in places that seem so familiar to children- places where Mummy or Daddy work, public transport systems and places of celebration- seeing such attacks unfurl on television can make children feel unsafe in their daily surroundings. Try to frame the perspective of what has happened and then point out how emergency services and Governments work hard to keep us all safe.
Frame your answers to their questions based on the child's prior knowledge
If your child has come to you having seen information elsewhere, try to respond in a manner that is proportionate to what they already know. When talking to children about terrorism, we may inadvertently cause greater anxiety by over-sharing. This may cause them to feel as if we were intentionally hiding bad things from them and raise natural fears about what other unknown threats might scare them.
Accept their feelings and explain that anxiety and worry are normal emotions                         
As well as praising children for wanting to find out more about tragic events, we should also let them know that sad feelings about the loss of innocent lives are normal. It is important that children understand worrying about others is a sign of empathy and is a natural human emotion in caring people.
Consider monitoring the media your children are exposed to
Modern technology means that any child with a mobile phone or tablet connected to the internet is exposed to the whole world. Combined with rolling 24/7 news stations, it can be very hard to protect our children from all the evil of the world. However, trying to reduce this exposure is a good way to limit the loss of innocence children will experience should they become over-exposed to tragic events.
Be a positive role model and show them proportional responses
As well as talking to your children about terrorism, you can model positive responses to tragic events by keeping calm and demonstrating realistic responses of your own. Although such events occur far too frequently and naturally shake us up, the chances of being caught up in such an attack are still slim.
Sensitively challenge any discriminatory views your child may have picked up
In a society that feels increasingly divided, children may pick up discriminatory views that are shared in response to acts of terrorism. If your child starts to share oppressive views that they've heard, try and challenge these in an age-appropriate manner and explain why it's wrong to feel that way about other people.
Help others take part in the Big Pedal
Posted on 14 March 2017 by Mrs Taylor
Do you have any bikes or scooters that you no longer use?
If you'd like to donate them, please bring them to school any morning this week and provided they are in a working condition, we'll offer them to people who don't have one to use in the upcoming Big Pedal event. Please hand them to Dom Jacques who will be in the playground to take receipt.
Any that aren't roadworthy or are unwanted will be donated to local recycling charities such as the Yorkshire Bank Bike Library. The nearest Bike Library is at Moor Allerton Library (near Sainsburys) and they offer loan bikes to families for up to 14 days for free.
Three days to go
Posted on 14 March 2017 by Mrs Taylor
The Big Pedal starts on Monday 20th March for two weeks and we're looking forward to seeing as many people as possible take to two wheels for their journey (or final part of their journey) to school. There are two lots of prizes up for grabs:
Big Pedal national prizes for all participating schools
Drawn daily for schools who achieve a minimum 15% participation (roughly 31 children for Moortown Primary) each day.
Details of the national prizes on offer are shown below.
DAY 1 – BMX World Champ Visit & Show
DAY 2 – Bespoke Travel Map For School
DAY 3 – Three Brand New Islabikes
DAY 4 – Superheroes/Moves Sample Pack
DAY 5 – Alastair Humphreys Visit + Books
DAY 6 – Three Brand New Islabikes
DAY 7 – £100 Sustrans Voucher
DAY 8 – Cyclepods Cycle Storage
DAY 9 – Three Brand New Islabikes
DAY 10 – Extreme Mountain Bike Show Visit
Individual prizes for pupils and supporters (parents/carers) at Moortown Primary
The more days you take part, the more entry tickets you'll have in the prize draw.
Pupil prizes include two stunt scooters, an action camera, a bike pump, a copy of 'The Boy who Biked the World' by Alastair Humphreys and a Gruffalo Easter egg. Supporter prizes include two £5 M&S vouchers, a 'hot drink and cake for two' at Filmore & Union and a Lindt chocolate bunny.
Winners will be drawn during assembly on 31 March, the final Big Pedal day and last day of term.
How to win – pupils
Please fill in the tickets on the letter sent home, cut them out and put them in your school bag.  Each morning you scoot or cycle, put your ticket in THE BIG PEDAL CONTAINER in your classroom.
How to win – parents/carers/supporters
Wherever possible, please take part and join your children on their rides to school.  It's a bit of fun, helps to reduce congestion and you could even win a prize.  Each day you scoot or cycle, simply pick up a ticket from the school playground, write your name on it and pop it into the Big Pedal container.  The more days you join in, the more chances you have of winning a prize.
Thank you in advance for your support.  Please get in touch if you have any questions. Enjoy the ride!
Share your photos or stories: moortownoffice@spherefederation.org
Big Pedal
Posted on 12 March 2017 by Mrs Taylor
Get set… we're taking part in The Big Pedal 2017, the UK's largest inter-school cycling and scooting challenge that inspires pupils, staff and parents to choose two wheels for their journey to school. The challenge runs from 20th to 31st March. It's free to enter and we would love everyone to be involved.
Why we're taking part and prizes available
Active travel to school is proven to improve the health of children by preventing obesity, reducing congestion and carbon emissions around schools and increasing concentration in the classroom.
By taking part, the school will compete for a national Big Pedal 2017 Trophy and will be in with a chance to win some fantastic national prizes including world champion BMX and mountain bike stunt shows, a visit from world famous explorer Alastair Humphreys, 9 brand new Islabikes and much more!
We also have prizes just for pupils (and parents and carers) at Moortown Primary School including two new stunt scooters, a scooter action camera, a track pump (donated by Edinburgh Bicycle Cooperative), M&S and Filmore & Union vouchers (both donated).
How you can help to increase our chances of winning?
On each day of the challenge schools compete to see who can record the greatest number of pupils, staff and parents cycling or scooting to school. Each day that at least 15% of pupils at Moortown Primary register a bike or scooter journey, the school will go into a daily draw for fantastic national prizes. Our best 5 days (based on % participation) will determine our final position in the challenge and if we clock up the most bike and scooter journeys nationally we'll win a Big Pedal 2017 Trophy! Moortown Primary School prizes will be drawn separately by the school.
What's next?
All you need to do is encourage your child(ren) to cycle or scoot to school every day during the event, and join them on their way – parent/carer and sibling journeys are counted too and you might even win a prize!
Some children tell us they can't take part in these events because they live too far away from school and have to come by car.  We encourage these families to park further away and complete the final part of the journey by scooter or bike. These journeys can be included in our school total.
Bikes and scooters should be stored as safely as possible in our storage area beside the Year 3 and 4 classrooms.
Finally, if you have any Big Pedal success stories or photos to share, please send them to moortownoffice@spherefederation.org so we can use them to encourage others.
Well done, Mary Poppins aka Mrs Valentine!
Posted on 03 March 2017 by Mr Roundtree
Thanks to the parent who emailed this:
"I just wanted to let you know how very impressed myself and [my daughter] are with Mrs Valentine's efforts dressing up and acting out Mary Poppins. She is an inspiration to us all…she showed everyone how to have fun and be part of an event.
[We] are very proud to have her as a teacher at Moortown and hope you all are too.

Very well done, Mrs Valentine."
We certainly are proud to have Mrs Valentine in our school – as we are with all our great teachers. (We're proud of our wonderfully supportive parents / carers, too!)
Great feedback about Moortown
Posted on 23 February 2017 by Mrs Weekes
There were some visitors in school on Monday talking to Year 5 and 6 about opening a University Technical College in the area, specialising in digital careers. They were very impressed by all our pupils and staff but particularly with the children they worked with. Here is some of their feedback:
"From the moment of arrival and being buzzed through the front gate and signed in, to our escort to the classroom, the level of professionalism would not have been out of place in a professional office environment.  The whole class's willingness to engage with two strangers, their enthusiasm and excitement and their well posed, pertinent and erudite questions are a credit to you, the teaching staff and the students themselves."
Fantastic feedback – well done to all involved.
Our new SEAL theme - Getting On
Posted on 18 February 2017 by Mrs Taylor
For this half term, our SEAL (Social and Emotional Aspects of Learning) theme Getting On covers four main aspects:
developing the social skills of friendship
working well together in a group
managing anger
resolving conflict
A key resource for children to refer to during this theme, and at other times, is Peaceful Problem Solving.  This encourages children to sort out their own problems.  You may wish to talk through this with your child(ren).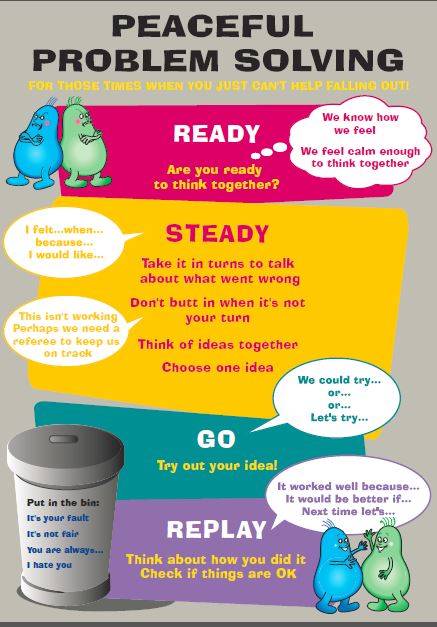 When group work takes place in school, some questions for children to consider are:
Did everyone take turns?

Did everyone listen to what other people thought?

Did each person have chance to tell the group what they thought?

If people had different ideas could the group reach a compromise?
The key areas of learning throughout this theme are empathy, managing feelings and social skills.
We start our weekly SEAL statements with a focus on manners, I don't interrupt (with my mouth or with my hand).
Meet our new School Council
Posted on 17 February 2017 by Mrs Taylor
Congratulations to our new school councillors who were elected by their class in our whole school elections.  Their first meeting will be held after half term.