An eighth continent...?
Posted on 17 February 2017 by Mr Roundtree
Our age-related expectations set out what children in each year group should know by the end of the year. The expectations are based on the National Curriculum.
In Geography, for Year 2, one of the expectations is to name the seven continents of the world and find them using an atlas, map or globe.
This might need to be changed based on a story in today's news!
School Council election
Posted on 08 February 2017 by Mrs Taylor
In an assembly this week, our current school councillors told us what characteristics are needed to be an effective school councillor. These included being responsive, fair, confident, resilient, a good listener, have good suggestions and accept the views of others.
Following in-class election speeches this week, our School Council elections will take place tomorrow, Thursday, 09 February. All children have the opportunity to vote at our polling station using the following instructions.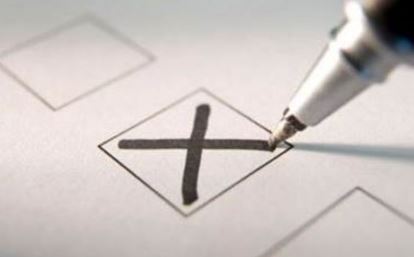 Before voting, please read the following:
Vote once for one person.
Place one X only on this ballot paper beside the name of the candidate you have chosen.
Do not write or mark anything else on the ballot paper; if you do, your paper will be invalid and your vote will not be counted.
When you have marked the ballot paper, fold the paper and place it in the box provided.
Votes will be counted tomorrow and our new School Council will be announced at the end of the day. This will be made up of two children from each class with the highest number of votes.
Good luck to all our candidates.
Testing times
Posted on 31 January 2017 by Mr Roundtree
Forgive the pun… When we say 'testing times', we're not talking about Trump or any other tricky 'T' word. Instead, we're talking about the tests children in Year 2 (the end of Key Stage 1) and Year 6 (the end of Key Stage 2) will do in May.
For children in Year 6, the tests are in the week beginning 08 May. For children in Year 2, the tests – which we often call 'special work' – don't need to be on specific days, but will be around the same time.
To help familiarise yourself with the tests, check out these videos:
Upcoming elections
Posted on 29 January 2017 by Mrs Taylor
Our current school councillors recently held their final meeting as we prepare to elect our new School Council.
This year's election date is Thursday 09 February.
Children from every class, including Reception, are encouraged to prepare a speech to present to their class as part of the election process.  Our whole school homework before the election date (03 February) will give children the chance to plan their speech.
Thank you to our existing school council who have been involved with many decisions and discussions throughout the year.
They are welcome to stand again at the elections.
Girl power? And how to promote it, for boys and girls.
Posted on 28 January 2017 by Mr Roundtree
We're sad to read the research that came out this week indicating that girls begin to lose confidence in their talents at an early age:
Girls start to see themselves as less innately talented than boys do when they are only six years old, a group of US researchers has said. They said the "disheartening" results suggested the problem could snowball to affect future careers.

The study on 400 children, in the journal Science, initially found both five-year-old boys and girls thought their own gender was "brilliant". But then only one year later, gender differences had emerged.

The study put sets of five, six and seven-year-olds through different experiments.

In one, the children were read a story about someone who is "really, really smart" but it is not clear who the story is about.

They then had to guess the protagonist from four pictures – two of men and two of women.

At age five, boys pick men and girls pick women around 75% of the time. But fast-forward a year to age six and boys are still picking men while girls are now slightly more likely to pick men too.
You can help!
Whether you have a daughter or a son, it's important to combat gender stereotypes. Check out this list of great books that challenge traditional assumptions and perceptions. (Princess Smartypants is a great book, by the way!)
It's also a good idea to emphasise hard work and effort with children, rather than some 'natural gift':
Fellow researcher Dr Lin Bian advised parents and teachers to emphasise the importance of hard work. She told the BBC: "[Studies suggest] that everyone does better when hard work is believed as the key to success.

"In our studies, girls might be particularly impacted by the messages focusing on 'hard work' – they became equally interested in playing the game as boys.

"Thus conveying the importance of hard work to success could protect and even promote young girls' interests."
Be Food Smart
Posted on 25 January 2017 by Mrs Taylor
Be Food Smart is the latest health campaign from Change4life. Our everyday food and drink can contain surprisingly high amounts of sugar, saturated fat and salt, meaning most of us are eating more than we realise. National Child Measurement Programme data shows that one fifth of Reception and one third of Year 6 children are overweight or obese.
Public Health England has launched a free app, which families can use together to uncover how healthy their food choices are. The Be Food Smart app allows you to easily scan the bar codes of branded products, as well as supermarket favourites, to see how much sugar, saturated fat and salt is lurking inside.
This week, on a Good to be me theme, one of our parents spoke at a whole school assembly. She talked about changes she made to her diet and physical activity levels to become healthier.
One change she made was to have a healthy breakfast. We need this to give us a good start to the day.
Breakfast can have surprising amounts of sugar, saturated fat and salt. In fact, research has shown that children are eating nearly half their maximum daily amount of sugar before they get to school. See how sugar stacks up at breakfast time.
Having read this research, one family in school have recently made a change from sugary cereals to low sugar alternatives such as porridge and shredded wheat. Interestingly, at this same time, I commented to the parent that the particular child had become more focused in lessons.
Change4life provides lots of ideas for eating well and getting active, including ideas for packed lunches. The new lunchbox section has lots of simple, tasty and healthy tips for hassle-free lunches.
E-safety - an important message from the Leeds Safeguarding Children Board
Posted on 25 January 2017 by Mr Roundtree
The Director of Leeds Children's Services has encouraged us to share the following, which comes from Leeds Safeguarding Children Board:
There are reports in the media today about an e-safety incident involving primary age children from Leeds. Just to be clear, the incident did not take place in school or through an 'app' approved by school, but was reported to the school by concerned parents.  The incident is now being investigated by West Yorkshire Police.
This incident has highlighted a number of safeguarding issues raised recently about smartphone 'apps' including Live.ly, ooVoo, and music.ly amongst others.  These apps are supposed to only be able to access contacts on the user's phone, but it appears that quite quickly unknown individuals are able to join group chats. Therefore, these apps are not safe for children to use as there is a significant risk of inappropriate contact by unknown individuals.
Our advice to parents is to ensure that their children do not have access to such apps on their phone and to check that all appropriate privacy settings are switched on, to make sure that children are protected when using any internet site. If a child experiences or expresses concerns about online activity, it must be reported to the police using 101 and CEOP. Wherever possible, a screen shot or a mobile phone picture of the concern should be taken for reporting purposes.
There is some useful information on the LSCB website about online safety with some useful tips for parents.
After-school club availability
Posted on 25 January 2017 by Mrs Taylor
Some of our after-school clubs, starting from next week, are now open to other year groups.
Monday
Dance (Mr Lynch) – This club is now open to Years 1-3.
Wednesday
Gymnastics (run by Leeds Gymnastics) – This club is now open to Years 1-3.
Thursday
Dance (Miss Marsden) – This club is now open to Reception.
Please contact the office, by Thursday 26 January, if your child would like a place on these clubs.
Internet safety: understanding terms and conditions
Posted on 23 January 2017 by Mr Roundtree
Many of us, maybe even all of us, ignore what is written in the terms and conditions of the internet and software services that we use on a daily basis. We really should, but who has time to do that? And don't we trust those companies to look after our data properly?
We tell children to be careful online, but as adults we ignore many of the rules, so why would children be any different?
The Children's Commissioner published a report recently called 'Growing Up Digital'. The report makes interesting reading, but one aspect particularly caught media attention…
Around half of 8 – 15 year olds use Instagram. The 'Growing Up Digital' report authors asked legal firm, Schillings, to look over the 17 pages of Instagram's Terms and Conditions, written at a level that could only be understood by a graduate. Schillings' own lawyers simplified the T&Cs to help children (and the rest of us, probably) understand what they mean.
Here are two of the reader-friendly clauses:
"Officially you own any original pictures and videos you post, but we are allowed to use them, and we can let others use them as well, anywhere around the world. Other people might pay us to use them and we will not pay you for that." (Or, put more simply: we can sell the stuff you upload without asking you or paying you.)
"We might send you adverts connected to your interests which we are monitoring. You cannot stop us doing this and it will not always be obvious that it is an advert." (Or, put more simply: we can send you stuff and you won't know it's an advert.)
In their simplest form, these clauses are really quite thought-provoking. We all have a right to know about this, and children need educating about it. It would be worth talking to your child about Instagram's simplified Terms and Conditions, or another social networking site.
(Incidentally, it's worth remembering that most sites have guidance around age restrictions – like most, Facebook specifies users should be 13 years old or older.)
Leeds Let's Get Active
Posted on 18 January 2017 by Mrs Taylor
Leeds Let's Get Active is a programme to encourage people to do at least 30 minutes of physical activity, once a week.
Based at Leeds City Council leisure centres, the timetable for Jan to March 2017 is now available.