Skipping ropes
Following the skipping workshop with Jodi from Skipping School last week and in preparation for an upcoming skipping competition, we do have some skipping ropes available to buy at a subsidised price of £2.
If your child would like to buy a rope to keep learning their new skills at home, please come to the classroom at the end of the day or send £2 in a sealed labelled envelope with your child.
New school dinner menu
Our new spring/summer school meal menu, starting after February half term, is now available on our Meals page. It continues to follow a three week cycle.
The menu has been created in liaison with Catering Leeds to ensure it meets the School Food Standards.  We have also incorporated feedback from our school cook, pupils and parents/carers. We will continue to offer a meat free day every week. This will be every Tuesday.
Pupils will continue to make their daily food choices at the start of the day to ensure they receive their first choice of main meal.
If you would like a paper copy of the menu, please ask at the office.
Remember, children in Reception, Year 1 and Year 2 continue to receive free school meals and we encourage pupils to take up this offer.  For families in other year groups, please check if you are eligible to receive free school meals for your child/children.
We welcome feedback on the school dinner menu from pupils and parents/carers.
Storm Ciara
To finish our science seasons topic this week, we researched about the events of Storm Ciara over the weekend. We've been learning about how the weather can change across the seasons and that storms can even happen in summer.
This gave us the opportunity to look at safe internet searching and to consider the websites, images and videos that our search revealed.
And relax ……….
For their homework, Year 2 were asked learn a new relaxation technique.  During our review, the children demonstrated a variety of techniques that help to calm the mind.
Living and Learning: Staying safe online
Our current Living and Learning theme is keeping safe and with Safer Internet Day coming up next week, we learnt a very important message when d:side visited yesterday.
Here's some of the learning we covered.
How to keep ourselves safe when we are on the internet (online) and using websites.
To know what we can use the internet for.
To know what information is safe and not safe to share on the internet.
To know what to do if we are not sure.
This session reinforced a lot of the e-safety work we have been covering this half term in our computing topic and Dave from d:side was impressed with our responses and our overall knowledge of this important safety issue. Well done, Year 2!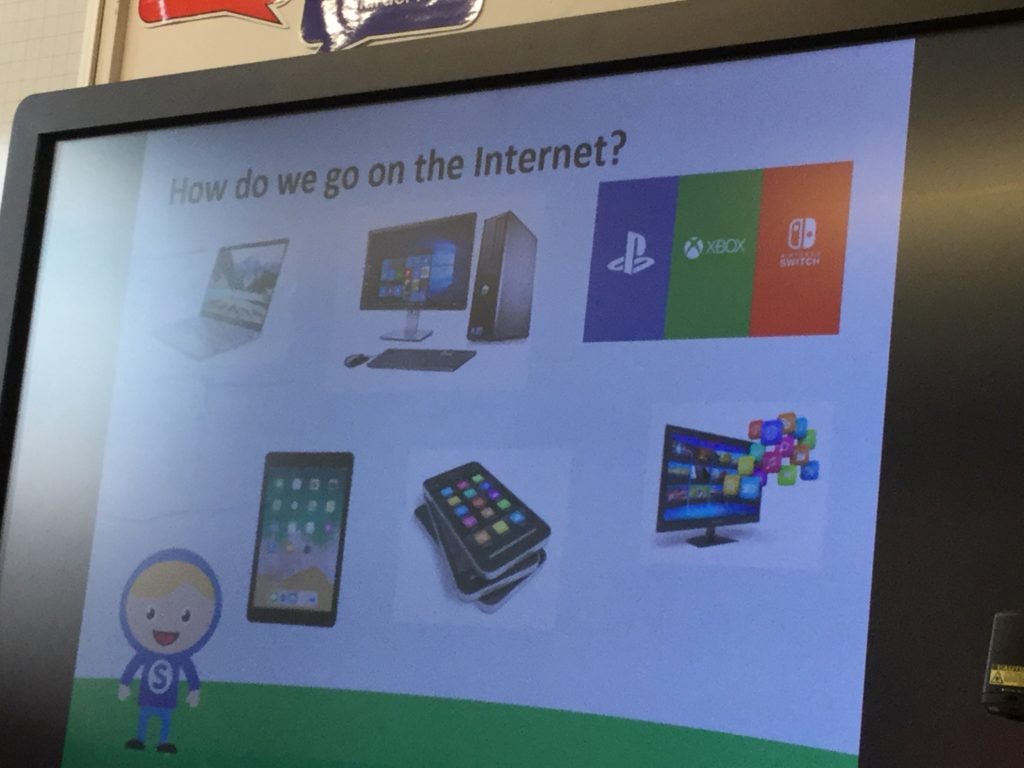 Rufus impressed us with his knowledge of the PEGI games rating system.
Finally, we had to decide what to do in different situations and explain our decision.
Living and Learning: Children's Mental Health Week
Set up by children's mental health charity Place2Be, Children's Mental Health Week shines a spotlight on the importance of children and young people's mental health. 
Young Minds is also a great source of information and support about young people's mental health.
Mental health forms part of our Living and Learning long term plan and we encourage pupils to look after their mental health as well as their physical health. This maybe through the use of mindfulness and calming down techniques, recognising their own and others' emotions and knowing how to seek help if needed. This guide shares some of the techniques we use.
In addition to Children's Mental Health Week, Every Mind Matters is a national mental health campaign from Public Health England.
It's snowing!
We couldn't resist the chance to get out in the brief snow shower this morning. A great opportunity to talk about weather in the different seasons (part of our current science topic).
School Savings Club
The next School Savings Club paying in date is 03 February 2020 at 3.15-3.45pm.
The account is open to all children and it is free to set up. As there is not minimum deposit requirement, it is a great way for your child/children to begin to manage their own money and understand the importance of saving. We offer paying in sessions every half term where you can bring along any savings to be paid into your child's account.
As an extra incentive, Year 3 pupils who open an account, or who currently have an account, will be credited with £10.
If you're unable to attend in person, please hand in any money to be deposited to the office in a sealed envelope addressed to Mrs Tiffany.
Here are the remaining paying in dates for this year (the penultimate Monday of each half term).
To find out more about the accounts or if your child would like to open account, please enquire at the office.
Algorithms in PE
As part of their PE lesson, Year 2 created games.  How to play the game was written as an algorithm. The children then tested their instructions. Some of the class realised that the easiest way to test their algorithm was to walk it through.
Forward 3, turn right, forward 2 – Oh no that's wrong! It is supposed to say turn left. We need to debug!

We need to draw straight lines.

We gave our friend the instructions and pretended he was a robot.
Slice, cut, segment…
As we come to the end of our instruction writing in english, and to prepare the children to write their own instructions, we followed instructions to make fruit kebabs.
As we were making the fruit kebabs, we talked about the adverbs (safely, carefully, slowly), time connectives (first of all, next, finally) and imperative verbs (peel, slice, thread) needed for the instructions.
We also developed our food technology skills including peeling, cutting (using claw hold and bridge hold) and naming and using different equipment. Hopefully the children will want to try out these skills at home too!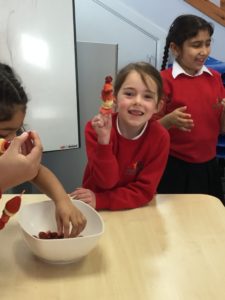 We even thought about our maths learning by creating an array!