Living and Learning: Rights and Responsibilities
This Living and Learning statement is a really important one for helping us to live in a respectful, responsible way.  It can relate to lots of different aspects of life.  Having rights links well with British Values (Individual liberties).
In our Living and Learning session this week, we considered the rights we have but also the associated responsibilities.
Responsibility is one of our 8Rs for learning that we have been learning about this half term.
For example, we have the right to think and believe what we wish to so we have the responsibility to respect other people's thoughts and beliefs.
We have the right to food, and the responsibility to make our own healthy choices.
We have the right to play, and we have the responsibility to play safely and sensibly with our friends.
We have the right to learn, and we have the responsibility to follow our school rules.
We also heard about the inspirational young woman from Pakistan, Malala Yusafzai, who claimed her right to an education.
Help at home by encouraging your child to think about their rights and responsibilities outside of school.
Raising money for WWF
In Year 2, we are supporting our school charity, WWF, by adopting a polar bear (as voted for by the children). The adoption costs £30 for the year and so we have been thinking about how to raise this money.
After only deciding yesterday that we would bring in any spare 1ps and 2ps, we were amazed this morning to see how many children had remembered this and started to fill our tube.  Thank you for your support!
Here is the latest update from WWF on the polar bears we are supporting.
'WWF is pleased to announce that the collaborative polar bear patrol model is successfully reducing the number of conflicts between people and polar bears.
Since introducing the programme in 2010, WWF and the Hamlet of Arviat, Nunavut, Canada, have dramatically reduced the number of polar bears killed by people protecting themselves and their property. An average of eight bears were killed each year before 2010, but that's now dropped to one per year, despite an increasing frequency of encounters between people and polar bears. 
Polar bear patrols have also advanced in Russia and Greenland. Your support helps to provide funding to reduce instances of conflict between polar bears and communities, including hiring guards to patrol communities and scare away bears. '
Bonfire night themed menu
Catering Leeds, our school meal provider, will be running a special themed menu on Tuesday 5th November.  Please contact the office, as soon as possible, if your child would like a school meal on this day (no action needed if your child normally has a school meal on this day).
We are constructing.
Last week, Years 1 and 2 joined forces to begin their work on constructing boats. The children chose from a range of materials and were able to use these appropriately.
The children were supportive to one another offering help if needed.
My boat is not very secure. I'm going to add more tape.

How can I make the mast more stable?

I wonder if this material is waterproof?
The finished products were amazing!
Supporting your child's learning
Thanks to everyone who attended the learning workshop last week.  We hope that we were able to answer any questions that you had and that you feel able to support your child's learning at home.
Remember, short chunks of time will work best to keep your child focused and interested.  Try learning a few spellings or times table facts a night rather than looking at them all at the same time; listen to your child read for 10 minutes but then read to them too; and make sure they see you read for pleasure, even if it is a newspaper or magazine.
Here is the powerpoint that was used for the workshop.  Please come and ask if you have any questions.
School Savings Club paying in dates 2019/2020
Did you know we offer a School Savings Club in association with Leeds Credit Union?
The account is open to all children and it is free to set up. As there is not minimum deposit requirement, it is a great way for your child/children to learn the importance of money.
As an extra incentive, Year 3 pupils who open an account, or who currently have an account, will be credited with £10.
We offer paying in sessions every half term where you can bring along any savings to be paid into your child's account.
The paying in dates for this year are at 3.15-3.45pm on the following dates (the penultimate Monday of each half term).
14 October
09 December
03 February
23 March
11 May
06 July
If you're unable to attend in person, please hand in any money to be deposited to the office in a sealed envelope addressed to Mrs Tiffany.
To find out more about the accounts or if your child would like to open account, please enquire at the office.
Living and Learning: 8Rs for learning
This week is our final week of 8Rs learning (responsible, risk taking, resilience, resourceful, ready, responsive, remember and reflect) as part of our weekly Living and Learning sessions. Of course, these characteristics are referred to throughout the year across all subjects to promote good learning behaviour. The parent's guide to the 8Rs can help to reinforce this at home.
After covering all the 8Rs over the past few weeks, Year 2 worked in their groups to discuss which of these characteristics are most important. There were no right or wrong answers and the children were able to talk through their choices with a good understanding and reasoning.
'You need to be responsible for your own learning because it is your job.'
'If you are not ready, you can't learn.'
'If you don't remember your learning, you can't learn more.'
Class assembly
We look forward to welcoming you to our first class assembly tomorrow. The children are looking forward to sharing their learning with you.
Thank you for your support to help to learn their lines at home.
The assembly starts at 2:40pm.
Maths is all around us homework.
Thank you to all the parents that joined us today for a homework review. The children had been very creative and imaginative with their ideas. From a car journey to baking a blueberry cake, Year 2 had really looked out for maths both in and out of the home. Well done all!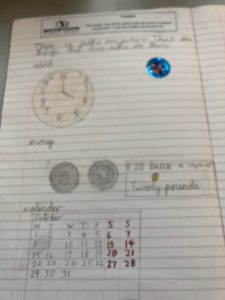 Healthy Schools revalidation
We are proud to continue to be a happy and healthy school.
'Congratulations on re-validating your Healthy Schools Status using the School Health Check tool, indicating that your school has self-evaluated whole school health. This demonstrates that your school is continuing to embed and improve provision against the four core areas of Healthy Schools.'
Health and Wellbeing service, Leeds City Council
Our re-validation was based on the four core areas of Healthy Schools –
Personal Social Health Education (PSHE)
Healthy Eating
Physical Activity
Emotional Wellbeing and Mental Health
A visit will be arranged later this year to externally reassess this self-validation.
This status is valid for three years before re-validation is necessary (August 2019 – August 2022). During this period, a visit will be arranged to externally reassess your self-validation. Once the school has had a successful reassessment, you will then receive a Healthy Schools plaque and feedback report. In the meantime, we do recommend that you update the School Health Check on an annual basis.