Science and dance
Monday afternoon is when Year 2 become scientists. With the help of our materials monster, we've been busy learning lots about everyday materials.
This week, the children were provided with a selection of objects and they were asked to generate some questions of what they wanted to find out.
We decided to test whether we could change the shape of the objects by squashing, bending, twisting and stretching (one of the science objectives for Year 2).
Here are some of the working scientifically objectives we covered as well.
I can ask simple questions and recognise that they can be answered in different ways.
I can observe carefully, using simple equipment.
I can perform simple tests.
I can identify and classify.
I can use my observations and ideas to suggest answers to questions.
I can gather and record data to help in answering questions.
Following on from this learning, Year 2 used their bodies in dance to show some of these properties. Can you guess which of the poses show 'stretch', 'bend', 'squash' and 'twist'?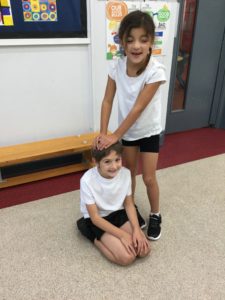 DT skills in action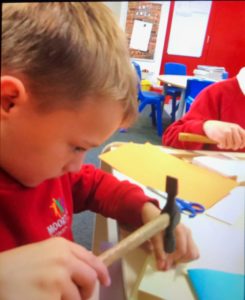 Design Technology
Our current topic, 'Where the Wild Things Are,' is primarily driven by design and technology. This is our main focus but we also incorporate many other subject areas into our learning.
The age related expectations for Year 2 children is to be able to:
Skills
generate, develop and communicate ideas in different ways (eg by talking, drawing)
design purposeful, functional, appealing products based on given design criteria
select from and use a range of tools and equipment to perform practical tasks [eg cutting, shaping, joining and finishing]
 select from and use a wide range of materials and components, including construction materials and textiles
explore and evaluate a range of existing products
evaluate my ideas and products against given design criteria.
Knowledge
know that products are designed
know, through exploration, how products can be made stronger, stiffer or more stable
In the story, Max sails away in a boat to where the wild things are. The image below has inspired us to make our own boats.
We have looked at existing boats, made shapes for the bottom and sides using playdough, completed some observational drawing and created Lego boats.
Today, the children thought about different joining, fixing and attaching methods. After experimenting with joining techniques, Year 2 were asked to note down the strongest and weakest ways of joining materials.
I thought the blu tack was the weakest because the materials didn't stick together. It was too soft.

I'm going to use the tacks for my boat. They held the materials together and were solid.

The pins would help my boat to be stable.

Cello tape might go soggy when it gets wet. My boat wouldn't float.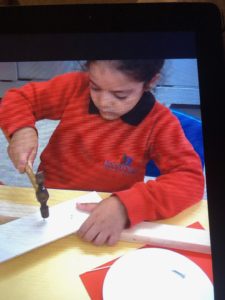 Having explored all of the above, Year 2 are now ready to design and construct their own boats.
Finally, the children decided a design criteria for their own models.
• The boat can float.
• The boat has a triangular sail.
• The boat is sturdy and stable.
• The boat can hold one Lego person.
Aldi Kit for Schools
Aldi's Kit for Schools promotion is giving twenty primary schools the chance to win £20,000 to kick-start a health legacy for their school.
What's more, every school who enters by completing their Aldi's Kit for Schools poster will also receive an exclusive school sports kit! Help us collect stickers with every £30 you spend in store and fill up our school's poster to give us a chance to win. Please bring your stickers to the school office before the promotion ends on the 3rd November. Thank you for your support.
New after school club
This term, we will be running a new yoga and mindfulness after school club open to Years 1 – 3.
Led by yoga teacher, Heather Marshall, the sessions will run after school on a Tuesday.
Heather provided a session for Year 2 this week to give them a taster of what to expect at the club.
'I enjoyed the relaxation.'
'It was good to use our body to make the animal shapes.'
'The games we played were fun.'
Please contact the office if your child would like to attend this club as we do have a few places left. Relaxation is definitely guaranteed.
Themed menu
Catering Leeds, our school meal provider, will be running a special themed menu on Thursday 3rd October.  Please contact the office, as soon as possible, if your child would like a school meal on this day (no action needed if your child normally has a school meal on this day).
Bike to School Week
This week, it is Bike to School Week. Bike to School Week is a week long event designed to showcase the benefits of cycling to school.
Have you been inspired by the current UCI Road World Championships to get on your bike? Could you make biking to school one of your active methods of travelling to school this week?
To link with Bike to School week, our Year 1 class will be completing their Balance, Pedal, Go bike training this week.
If you are wanting to explore the area further by bike, this West Yorkshire Cycle map can help to find recommended routes.
Finally, have you visited the local Brownlee Centre? Take a look at some of their Let's Ride sessions.
Drama to inspire writing
On Thursday, Year 2  brought their class novel 'Where the Wild Things Are' to life with a drama session led by Sam from Leeds Playhouse. The children took part in lots of fun games and loved becoming some of the characters from the story. Each child got to act out being a 'Wild Thing' just like Max in the story. All the children were extremely imaginative in their acting skills and we plan to use this creativity to inspire our writing.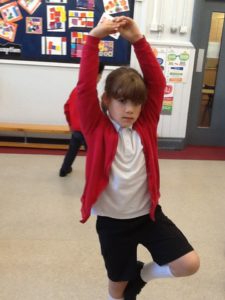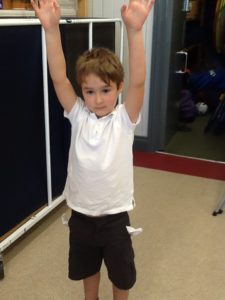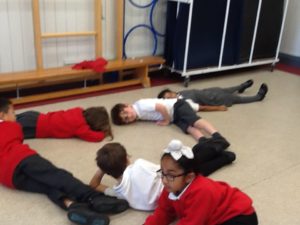 Tennis for Kids
Chapel Allerton Tennis and Squash Club are launching their Tennis For Kids courses at the club from this week (Thursdays and Saturdays).
These sessions are aimed at children between 4 and 11 years old. and both members and non-members are welcome to attend.
Tennis For Kids is a great way for kids to learn the basics of the game whilst having fun and interacting with other children at an affordable price.
Somebody swallowed Stanley
Somebody Swallowed Stanley is a brilliant picture book telling about the tale of Stanley – a jellyfish unlike other jellyfish, because he is a plastic bag – and what happens to him when creatures of the sea try to eat him. Some manage to spit him back out, but one of the creatures isn't so lucky, until a brilliant young man comes along and saves the day. The book has provided a great link to our current materials science topic.
This week, we brought the story to life with a drama session led by Sam and his team from Leeds Playhouse. We enjoyed fun games and we became the characters from the story. It was great to see the creativity of the children and how they were taking 'safe risks' with their learning.
If your child enjoyed the session, Leeds Playhouse run drama classes for children on a Saturday (details will be coming home in book bags). They have asked us to pass on the following message.
If any of the young people who would like to join Playhouse Youth are from low income households they can apply for a bursary by contacting Ellie Manners (playhouseyouth@leedsplayhouse.org.uk).