Go For Gold!
As I'm sure you are aware, Year 3 and 4 having been working their socks off preparing and rehearsing for their Easter production for the last 5 weeks. Today was their first official dress rehearsal in front of their first audience and Miss Needham and I (plus everyone else!) were just blown away by how well they did.
The 3 key points that we practised the most were:
Projecting our voices so that even people at the back of the hall can hear us.
Using the stage to our advantage and standing in the correct places.
Facing the audience even though we might be having a conversation with someone else across the stage.
Every single person remembered all of these points and went above and beyond by adding actions and expression into their voices. The audience loved it, especially the songs.
A huge thank you to all the help with costumes and props – we couldn't have done this without everyones help!
We look forward to our next two performances… let's break a leg!
Miss Birch
Calling all Greek gods and goddesses!
You will love our 'Ancient Greek' themed production about an ambitious Olympic hopeful, Suzie Swift, and her quest for money and fame at the upcoming Olympic Games. Be prepared to meet savage Spartans, articulate Athenians and a gaggle of Greek gods and goddesses.
There are two performances to choose from but tickets are limited to 2x per family due to logistics and space. If you would like to book tickets, please follow this link:
Looking forward to seeing you all next week.
Active Travel
Next week sees the start of Sustrans Big Walk and Wheel walking, scooting and cycling challenge. It inspires pupils to make active journeys to school, improve air quality in their neighbourhood and discover how these changes benefit their world.
Join us to take part in this challenge by walking, scooting, biking or park and stride from Marks and Spencers to school from Monday 20th March – Friday 31st March.
As part of this active travel event, we will be hosting a bike register session on Tuesday 21st March. Pupils, parents and family are invited to bring along their bikes to be registered at this bike security marking event at school.
Girls Dynamos Cricket
Dynamos Cricket provides girls from 8-11 years old with sessions of non-stop fun. Each week there will be a focus on a different cricket skill to build their confidence and ability, before they take part in a 60-ball countdown cricket match.
Locally, there's a girls only Dynamos Cricket eight week programme at Meanwood Cricket Club starting on Saturday 6th May.
Use this
link
 for more information and to sign up.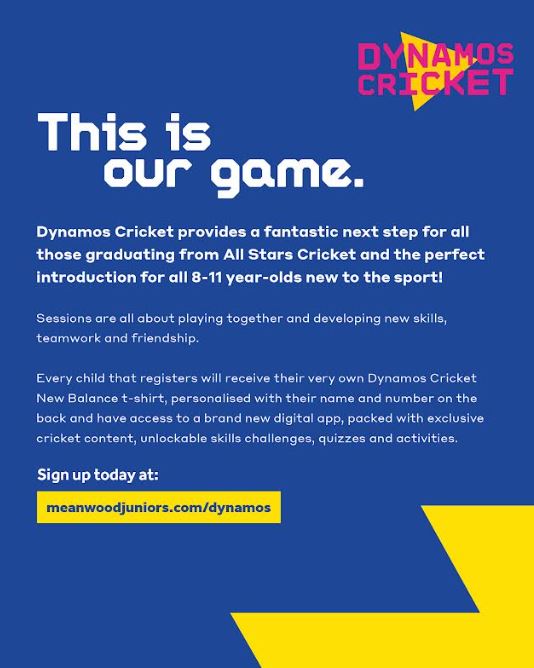 Staying safe online
As a follow up to the recent Safer Internet Day, PCSO Louise delivered an assembly for all classes to reinforce the key online safety messages.
Help at home by asking your child/children how the 4Cs relate to them when they are online.
Food Technology – Bruschetta!
This morning, Year 4 have been cooking and making Bruschetta. We were so impressed with their knowledge and skills at each stage of the recipe.
The main skill we were practising was chopping with a knife. The two different techniques that we used were the bridge and the claw. We used the bridge to safely and securely cut the tomatoes into big chunks. We used the claw to dice the tomatoes and basil up into smaller pieces.
We then used a garlic crusher to squeeze the garlic into our tomato and basil mixture. It's safe to say the room smelt very strong!
The final challenge was to spoon the mixture onto the sliced and toasted baguette without making a mess and then to dig in… some of them gave it a 10/10!
A big well done to everyone for being sensible and engaged with the learning!
Snow Day!
Friday was a slightly different day to normal as it was a snow day!
After school started at 10:30am, we got on with the usual: spellings, rehearsals and reading.
At 2:30, Mrs Weekes kindly let us go outside and play in the untouched snow! We even had a class snowman competition. Year 4s was definitely the most creative!
Leeds Rhinos!
Over the last two weeks, Leeds Rhinos have been into school to work with Year 4. They have been delivering some fantastic sessions where they are teaching the children lots of rugby skills.
These skills include:
The ball looks like a face with two ears and we hold it by the face.
When waiting to catch the ball, we hold our hands out in a 'W' shape to show we are ready.
We throw the ball from our hip forwards with our hands pointing towards the person catching it.
As well as this, the children have been practising their team work skills by supporting and encouraging  one another during team games!
Thank you Leeds Rhinos!
World Book Day!
Happy world book day to everyone! This morning Year 4 and Year 1 got together to share our love of reading. Every child in Year 1 chose a book and the Year 4 children sat down and read it to them beautifully. The atmosphere in both classrooms was so calm and peaceful and the children loved it!
This is what some of the Year 1 children thought.
I loved that they read the story to us but also let us have a go at reading!

I thought my book was very funny!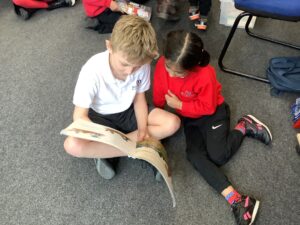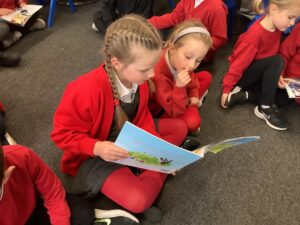 Well done everyone! Make sure you carry on your excellent reading at home!
Supporting our school charity
St Gemma's Hospice is our current school charity chosen democratically by the children.
Today, we welcomed Steph and Stewart from St Gemma's Hospice for an assembly to find out more about the fantastic work they do in our local community.
Here, two of our junior leaders are presenting them with a cheque for £377 for the money we have raised so far.
Steph and Stewart commented on the impressive behaviour of the children and the intelligent questions they asked.
Our junior leaders are planning a visit to the hospice over the next few weeks to continue this partnership.