First week back!
Hello!
Year 4 have just left school for the weekend after our first week of the Spring Term. I want to say a huge well done to all the children for settling straight back into school after a well deserved Christmas break. They've remembered their manners, speaking and listening skills and have been ready to learn. This tied in well with our Living and Learning statement –  I don't interrupt (with my voice or my hand) – in which they demonstrated perfectly!
We also began our new Topic, which is History – Romans and the Anglo-Saxons. The class were really engaged and were overflowing with facts and information that they already know about these time periods. Some of these had come from our Latin lessons too!
You can help at home by visiting BBC Bitesize and looking at the history surrounding the Romans.
I hope we have carry on to have a fantastic Spring Term!
Thanks,
Miss Birch
City of Leeds Basketball
The City of Leeds community basketball sessions will be restarting this weekend and can be booked
here
.  Sessions are available for children age 5-8 and age 9-11.
Merry Christmas!
Hello all!
I just wanted to say a massive thank you to all the Year 4 children and their families for an amazing autumn term.  Myself, Mrs Maqbool, the children and now Mrs Stewart have become a great team and I can't believe it's already Christmas!
Here is just a few memories from this term that are worth celebrating:
A big congratulations again to the children who participated in the cross country races. You did Moortown Primary School proud and you really tried your best!
In science, we were learning about light and to finish off the unit, the class spent some time creating their own shadow puppets. They had the freedom to create whatever they liked and they all turned out fab! Have a look to see them in action…
After learning about Kandinsky and Napaltjarri since the beginning of November, Year 4 became artists themselves! They got stuck in with experimenting with collage. The outcomes are great and the best thing about them is that they are all different.
A big well done to all the Year 4s in swimming. They have all really improved since the start of the year and I can see their confidence growing with each lesson – keep it up!
I hope you all have a Merry Christmas and a Happy New Year!
Miss Birch
Skipping ropes for sale
This year we are continuing to work with Skipping School to develop the children's skipping skills. Skipping School ropes (KS1 ropes and longer KS2 ropes) are now available to buy from the office.
I make healthy choices.
Our living and learning statement this week is 'I make healthy choices.'
As a school, we promote a happy and healthy lifestyle. In class, we have been discussing how, as individuals, we can maintain this lifestyle ourselves.
This includes eating and drinking healthily and keeping an active body and mind. We realised that if we didn't do these things, we might start to feel a bit low in our body and especially, in our mind.
Eating and drinking healthily doesn't necessarily mean we can ONLY eating broccoli and peas but it means having a balanced diet. This means we can choose to eat lots of healthy things and then sometimes, we can have a treat! We also discussed that we should be drinking 2 litres of water a day to stay hydrated.
Keeping an active body means getting an hour of exercise every day. Whether this is walking to or from school, during Wake-Up Shake-Up or during a PE lesson – this is really important.
Doing both of these things keeps our mind healthy and happy. The more healthy choices we make, the more our bodies will thank us for it later!
Ask your child how many portions of fruit and vegetables they should be eating a day!
Anti-bullying Week
In last week's living and learning session, we spoke about what bullying is and what we can do to prevent or stop it happening. Lots of children were already showing their support of anti-bullying week by wearing odd socks!
"Bullying is when you hurt someone physically or emotionally several times on purpose."
Year 4 were already really knowledgable about bullying and how, as a class, we can continue to prevent this from happening. One of the most important things is: if bullying is happening to us, someone we know, or if we have seen or heard it happening to anyone, we must tell a teacher or a trusted adult.
We are all the same and we are all different.  We discussed this statement and decided that as humans, we all have similarities, we all have differences but the differences are something to be celebrated! As a class, we continue to celebrate each other as we believe this helps to acceptance and eliminate bullying.
Ask your child at home to tell what you what they should do if they are aware of any bullying!
Girls rugby opportunity
Leos Junior Rugby Club are hosting a girls only training session, open to all girls in Reception to Year 6, on Sunday 28th November, with the aim of setting up a girls only rugby team in the area. Please see below for more information.
Cross country results
The results have been checked and we are very pleased to announce that following the Leeds North East Cross Country Festival last week, Ewan (2nd – Year 5 boys) and Ralph (5th – Year 4 boys) are successfully through to the Leeds Cross Country Finals. What a great achievement to match their brilliant performances.
Commiserations to Billy (11th – Year 6 boys race), Zaid (20th – Year 6 boys race), Edris (15th – Year 6 girls race), William (12th – Year 3 boys race) and Zak (17th – Year 3 boys race) who narrowly missed out on qualifying.
Cross country stars
What a great few days of cross country action! On Friday, twenty four Key Stage 2 children took part in the North East School Games Cross Country festival. It was great to be back competing after such a long break.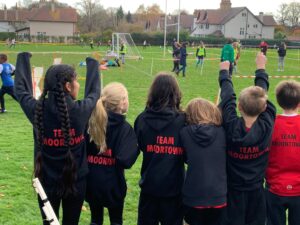 All the children put in 100% effort and we had some fantastic results which will hopefully mean a number of children will qualify for the Leeds finals once we hear the final results.
Thank you to parents who helped to accompany the children, to Allerton Grange for transporting us and lastly to all the children who competed so well and supported and encouraged each other.
I really enjoyed it.

I just enjoy running.

It was my first time but I just kept going.

It was tough but once I'd done it I felt like I'd achieved something.

It was really fun. It didn't really matter where you came. You just tried your best.
On Saturday, a number of children took part in the Leeds Schools Athletics Association cross country race at Prince Henry's, Otley. Well done to all children who took part and represented to school.  Once again, it was great to hear about the team spirit and support for each other.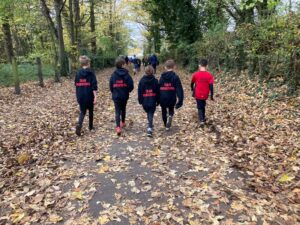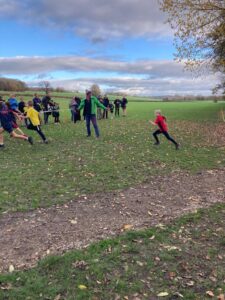 Skipping School
Hello everyone,
Year 4 had a fantastic morning with Skipping School leader's – Jodi and Katie.  They took the children through each step such as how to hold your skipping rope in a smile shape and when to jump after the rope clicks the floor. They then built up to doing complicated straddle jumps and crossing the skipping ropes! The children were great and picked up each skill with ease while working together and encouraging one another.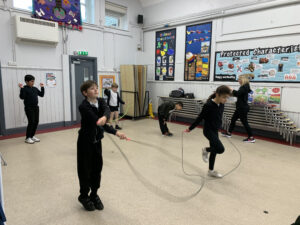 Year 4 will be participating in the Skipping School Competition after Easter which is all about getting moving and having fun while doing so! We will be practicing the skipping skills we learnt today, up until that point.
Help at home by getting the children skipping.