NSPCC Speak out Stay safe
During our recent Staying Safe themed week, all pupils took part in the NSPCC Speak out Stay safe learning featuring Ant and Dec and Buddy.
We are proud to receive our certificate to recognise this.
Big Walk and Wheel
Get set… we're taking part in Sustrans Big Walk and Wheel 2022 (the new name for Big Pedal), the UK's largest inter-school cycling, walking, wheeling and scooting challenge. The challenge runs from 21 March to 1 April. It's free and we would love everyone to be involved.
 What do you need to do?
Encourage your child(ren) to walk, scoot or cycle to school on as many days as possible during the event. Park and stride (parking your car further away from school, for example, Marks and Spencer car park and walking, scooting or biking the final part of the journey) also counts.
Why we are taking part
As a happy and healthy school, Sustrans Big Walk and Wheel is a great way to build physical activity in children's daily routine which is important for their physical health and mental wellbeing.
Active school runs also help to reduce congestion and air pollution outside the school gate. A 2021 YouGov study showed nearly half of UK children worry about air pollution near their school. Children thought active travel was the best away to bring down these pollution levels.
Plus there are some great prizes to be won every day if we get enough children taking part!
Useful resources
To help you prepare, Sustrans has developed a handy free guide packed with advice, games and challenges to help you have hassle-free cycle, walk or scoot to school.
Download your free family guide here.
Times tables
Hello!
Hopefully you have already heard about this from your child but if not, Times Table Rock Stars tournaments are back on! Our focus in Year 4 at the moment are times tables. They're so fundamental in being able to develop in maths.
Year 4 have just beaten Year 6 in the first round, which is amazing, but we need to keep it up to be able to beat Year 3…
Don't worry, you don't need to do anything differently but just make sure your child is logging on to TTRS daily and playing as many games as you can to keep us in the lead. Not only is this fun and exciting for the children but it's going to improve their rapid recall of their times tables which is essential during lesson time.
Bring on the next tournament!
Cross country runners
Well done to pupils who took part in the Leeds Schools Athletics Association Saturday morning race at Middleton Park. These races are open to Key Stage 2 children. This was the final race for the season but we will continue to offer these races next year.
It was great to hear they were encouraging each other at the event. Great work!
Cross country opportunity
We are pleased to invite KS2 children to compete in an upcoming cross country race as part of the Leeds Schools Athletics Association cross country programme of Saturday morning races. Children will compete against pupils from other Leeds schools.
The race will take place at 10am on Saturday 5th March at Middleton Park (next to the John Charles Centre for Sport, Middleton Grove, Leeds, LS11 5DJ).
There are opportunities for Year 3 and 4 girls and boys (under 9) to race 900m and Year 5 and 6 girls and boys (under 11) to race 1500m. Once your child has completed their race, you are free to leave the event.
Please note, parents/carers are responsible for taking and supervising their child/children.
If your child is interested in taking part, please respond to the the message recently sent out.
We look forward to pupils representing our school at this event.
If you are unable to take part in this event, you may want to join the free Sunday morning junior parkruns held locally at Roundhay Park, Temple Newsam and Boddington.
Half term Dog's Trust workshop
Rachael, from the Dog's Trust in Leeds, visited all classes last week in our Staying Safe themed week.
She is holding a half term workshop next week and she would like us to share this with our families.
Contact Rachael, by email, if your child is interested in attending.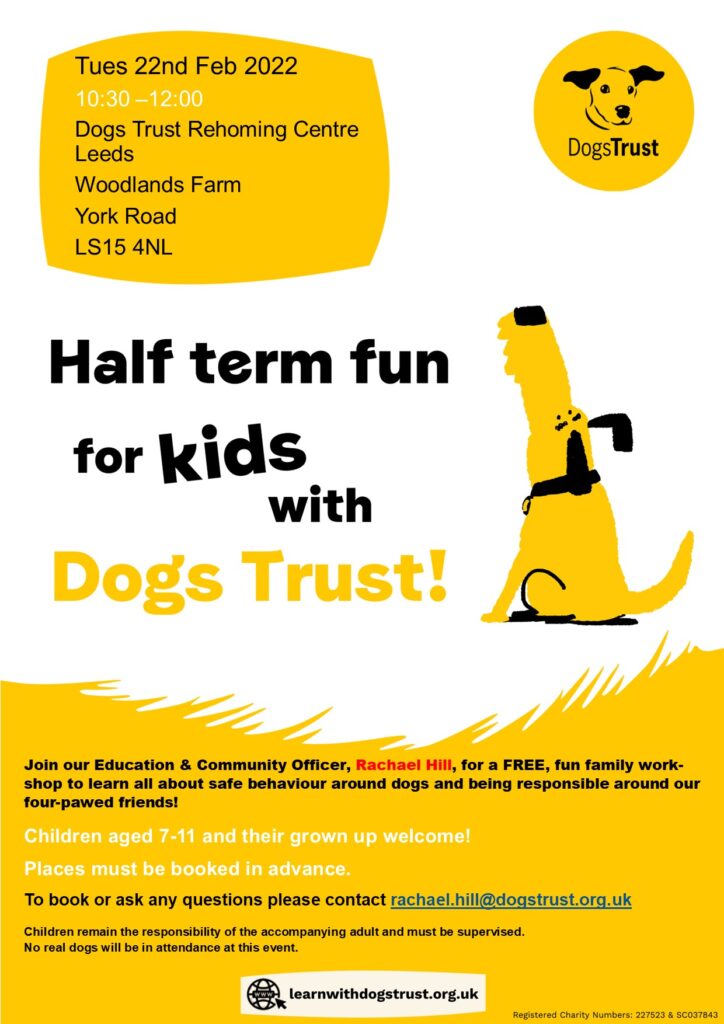 Safety Week!
Hello!
Moortown Primary School are half way through their first themed week of the school year – Safety Week.
Year 4 have been visited by a handful of different experts in being safe and more specifically, being safe on the roads, online and around fire!
Monday focused on road safety and the children learnt this sequence for when walking out and about:
THINK
STOP
LOOK
LISTEN
Each group then ventured out into Moortown to put it to good use!
Tuesday was Safer Internet Day where the children learnt about being safe online. They had a great visitor (a previous police detective!) who talked through all of the must dos and must don'ts when online! The key points included:
the importance of being kind online,
how to keep personal information safe,
being careful to avoid strangers and scams
who to talk to if you experience or see cyber-bullying.
Ask your children at home on how to stay safe online!
Today, we were visited by fire fighters and the police. STOP, DROP and ROLL plus GET OUT, STAY OUT and CALL 999 were a focus. The children were so inquisitive when it came to learning about the visitors day to day lives and especially loved seeing the fire engine!

We're looking forward to the rest of the week… bring it on!
Living and Learning: Identity and Community
Hello!
Over the last two weeks, the Living and Learning statements have been based around identity and community.
We have been talking about our identities and why being proud of our own identities is important. What makes me, me? Everyone in the class was able to identify important parts of themselves that they believe makes them special. Examples of these consisted of certain interests they have, clubs they belong to and religions they follow. The best part about this was that everyone's identities are so different!
We have also discussed different roles that exist in our communities and how they relate to us. We looked at key jobs such as doctors, nurses, emergency services, bus drivers, teachers, club leaders etc. Finally, we decided who, out of all the people we come across in our everyday lives, is in our close inner circle.
As you can see, lots of us chose to have close friends and family in our inner circle and put other people like club leaders and shopkeepers in our outer circle.
It was great to explore this topic with the class and to see how confident they became in expressing their own identities!
Spring term after-school clubs
After-school clubs will be restarting next week and they will run for eight weeks until the Easter break. Places can be booked via Gateway.
Our physical activity clubs continue to be heavily subsidised through the investment of our PE and Sport Premium.
Please contact the office if you have any queries about the clubs or the booking system.
Free White Rose Rugby event for all pupils
Last term, White Rose 
Rugby
 worked with classes for curriculum PE and also delivered the Thursday after-school rugby club.
We hope you can take up this opportunity for a fun morning at Moortown 
Rugby
Club. Click
here
to register for the event.