Three peaks in eight weeks- walking challenge!
The Sphere Year 3/4 Team would absolutely love you to be part of this awesome challenge this February and March. We want to get you walking or running (or scooting!) as much as you can over the next two months.
Every time you do a walk or run, add the distance completed (and your time taken to complete this) in your chart. We will be adding up everyone's distances each week to see how many of us can 'climb' the National three peaks. In topic this week and next, we will be learning about some mountains in the UK, so what could be better than a virtual mountain climbing challenge!
The three mountains in the challenge are the highest in each country in the UK:
Snowdon, in Wales (1085m) Distance: 7 miles / 11.75 km
Ben Nevis, in Scotland (1345m) Distance: 10.75 miles / 17km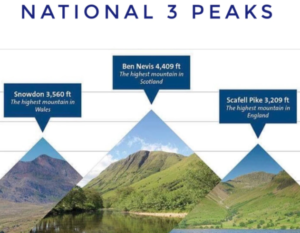 You can record your steps taken (paces). The whole route is 37.75 kilometres long, and the average human step (or pace) is 0.75 metres. So you have to take 50,333 steps in total to complete the Three Peaks. Recording steps (paces) taken is easy – you can use a Fitbit, pedometer or just count your steps. A phone can track how many steps you take and how far you walk all by itself, if you walk with an adult who has a phone.
The idea is to make this as much fun as possible, to motivate you to get outdoors and maybe encourage as many of your family and your friends to do the same thing.
You don't have to do the whole route. Maybe you can choose to 'walk' just one mountain, or two – it's up to you and what you can achieve.
Throughout the month, we will share photos and graphics of the distances you've travelled. From this, we can show who has travelled up the peaks and what location we can reach together. Hopefully, we can find ways to help you during this challenge and through this you can share stories, pictures and videos with those joining in this challenge. All 'Three peaks in eight weeks' challenge walkers will receive certificates for effort and participation:-
Mountain 1 = Bronze; Mountain 2 = Silver; Mountain 3 = Gold.
Welcome back!
Hi everyone,
I've recorded a little welcome back to school message. Hope you're all doing okay and I'll look forward to seeing you either in school or online soon.
Mr W
Reading: class novel
We did it! We finished our class novel: Who let the gods out?
It's a great book which linked to our Ancient Greece topic. It was also very long and quite tricky!
To help us remember and keep track of what was happening in the book and the many characters, we summarised each chapter and stuck it on our reading display.
Here is the finished summary wall:
Music: glockenspiels and Bob Marley
Hello everyone,
Here's another video for you to enjoy. This time, it's a musical few minutes including singing, percussion and glockenspiels.
Hope you enjoy it!
Christmas crafts are coming…..
We've been working hard creating cards and calendars for you!
Spelling help!
Many children in the class had spelling as a target on their Learning Updates. Here's some more information and lists of words to practice with your child.
Things you can do to help:
Practise the spelling list which come home each week before the Friday test.
Look back at lists from previous weeks and test your child on a few of these so that they're revisiting the rules.
Read lots. This exposure to words will have a positive effect on spelling.
Keep talking about and practicing homophones. Click here for the lists.
Be aware of the Y3,4 National Curriculum spelling lists. Many of these will be covered in the lists across Year 3 and 4 but it's good to have them all in one place.
Finally, we still have Lexia which helps with reading and spelling at KS2 as well as KS1.
Also, here is the Spelling Strategies document which gives you some different ways of practicing and learning spellings.
The Year 4 Christmas Assembly
Hello everyone,
Here it is! Our not very Christmassy, Christmas Class Assembly. We hope you enjoy it!
The Year 4s
Santa dash Friday 11 December
During the school day, each class will have a time when they can run, walk, skip, hop around the school grounds to get active.
Children can wear their PE kit and are encouraged to add some festive cheer by bringing a santa/elf hat, some tinsel, antlers or painting their nose red. These should be brought to school and worn for the Santa Dash only.
There is no monetary contribution needed for this event.
History: Ancient Greek legacy
We've been creating mini-project boards to show the lasting legacy that Ancient Greece has given us.
We have already learnt about how the Ancient Greeks have us democracy. In this learning, we've learnt about how they were pioneers in maths, science, philosophy, sport and theatre.
Working as a team has been a great way to work collaboratively, developing social skills. The children have also been creative in how they have presented their learning.
Science: sound travelling through a medium
This afternoon, we've been investigating the way that sound travels. We talked about how sound travels through different mediums.
Sound travels through the air into our ears.
Next, we observed how sound travels through water. We put a tuning fork and into a bowl of water and observed the sound waves rippling across the water from the tuning fork
After that, we investigated of sound travels trough a solid. We made string telephones and found that we could hear each other talking as sound travelled along the string. It even worked with really long string telephones!