More robotics
Some of the robots are now complete and on display in the classroom. The children have worked incredibly hard creating these. There have been many skills on show as well as supporting and suggesting ideas for each other. Mrs Pearson and I would like to say well done to the whole class.
Feel free to pop in and have a look at the fantastic creations.
Recycled Robots
Work began today on our robots. In class, the children have written robot stories and then designed their own automation.
The children were asked to follow a specific design criteria to inform the design of their product. Ideas were generated, developed and communicated through discussion and annotated sketches.
When making their machines, the class selected from a wide range of resources and thought carefully about how to ensure their robot was sturdy and robust.
Showcase of skipping skills
Thank you to all parents, carers and family who came along to see the fantastic skipping skills on display at our recent skipping assembly.
Jodi, from Skipping School, provided skipping sessions for Reception class, Year 1, Year 3, Year 5 and Year 6 throughout the day and it was great to see all the new skills learnt. Year 2 and Year 4 have already been involved in their skipping projects this year and have taken part in festivals representing the school.
Skipping is one of the ways we encourage the children to achieve their 30 active minutes at school by providing short and long ropes at playtime and lunchtime.
If you didn't get chance to buy a skipping rope after the assembly, we do have some available for sale.  Please come to the Year 2 classroom on Monday or Tuesday, after school, if you would like to purchase one.
Wimbledon themed menu
Catering Agency, our school meal provider, will be running a special themed menu on Tuesday 9th July.  Please contact the office, as soon as possible, if your child would like a school meal on this day (no action needed if your child normally has a school meal on this day). Subject to the weather on the day, we hope the children can enjoy this picnic themed meal outside.
Tennis
Each Thursday afternoon, Year 4 have been enjoying some tennis sessions. These are led by coaches from Chapel Allerton Tennis Club.
Please ensure your child has their correct PE kit in school. Quite a few children are regularly missing their kits or have clothing that does not adhere to the School Uniform Policy.  Please see below if you are unsure.
PE kit item description
 indoor: plain white t-shirt (long or short sleeved)
outdoor: as above, plus fleece / warm top – this should be a round-necked top, not a collared polo-shirt (must not be same shirt as that worn in class)
 shorts black shorts / PE skirt tracksuit bottoms black tracksuit bottoms / leggings ideal for outdoor use
footwear indoor: pumps / trainers outdoor: trainers – trainers could be the same as those worn to school
Clean Air Day
Today is Clean Air Day to help tackle air pollution and protect the health of everyone in Leeds.  It is all about making people more aware of the changes they can make to their day-to-day life to support this aim.
We support the aims of Clean Air Day to create a safer, healthier and more enjoyable environment for people around school.
'Improving the air we breathe in Leeds is a huge priority and one we can all play a role in. We can't always see it, but air pollution has serious effects on our health and our environment. As one of the biggest cities outside of London, Leeds has not surprisingly been identified alongside many other UK cities as one which needs to reduce pollution levels as quickly as possible. By working together to improve the air we breathe, we can protect the health of the people of Leeds.'
We promote active travel to school such as walking, biking, scooting and park and stride (using our preferred site at Marks and Spencer) to reduce congestion around the school gates and therefore to improve air quality.
Have you spotted our new banner outside school aimed at reducing engine idling?
Hot Shots total
Thank you for all the sponsor money raised following the Hot Shots event during our Money Matters themed week.
We are pleased to announce that we have raised a fantastic total of £665.75 for our school charity, WWF.
Plastic free under the sea
Did you know that plastic caps are among the top five most harmful ocean trash items? Marine mammals, birds and fish often see plastic bottle caps as food, with potentially fatal consequences.
Continuing on with our environment work, Year 4 have been researching the effects of plastic in the oceans.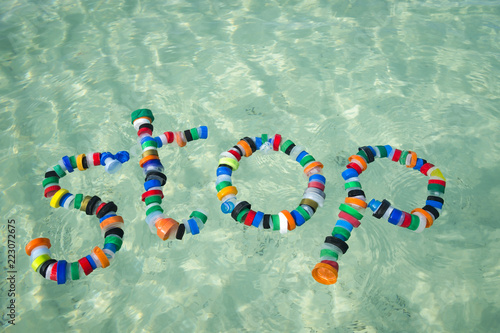 Using some of the data below, the children will be creating graphs and charts to record these findings.
During a recent beach clean, 10,004 bottle caps were collected from the Dutch North Sea coastline.
more than 80% came from beverage and food packaging

the most common bottle cap colours that were found were blue and white (common colours for bottled water packaging)

80% of the bottle caps had no branding visible

more than 70% were damaged, ranging from slight to severe damage, indicating that the bottle caps had been floating at sea for a long time
In addition to this, we are creating a large piece of artwork using only plastic bottle tops. The children have been asked to collect tops in various colours and add them to the display on a daily basis.
Below are some images of our creation in the early stages.
Living and Learning: Talk PANTS
The Talk PANTS campaign helps parents of 4-11 year-olds keep their children safe from abuse. Like the Green Cross Code, it takes a potentially tricky subject and gives parents and teachers the tools to talk about it in an engaging and age-appropriate way.
Learning objectives
Children will be able to:
• understand and learn the PANTS rules
• name body parts and know which parts should be private
• know the difference between appropriate and inappropriate touch
• understand that they have the right to say "no" to unwanted touch
• start thinking about who they trust and who they can ask for help.
Having introduced the PANTS rules to the class, we then discussed the Talk PANTS poster and  acrostic poem. Taking each sentence in turn, Year 4 took turns in explaining what they thought each letter of PANTS stands for. The children were encouraged to say the meanings out loud as a chant.
After a lengthy, mature discussion the children thought about the people in their life  who they feel they could confide in and trust.
Finally, the class were given the opportunity to choose an appropriate learning objective for this lesson.  Some of the children then had a go at writing their own acrostic poem.
Sports day
This year's sports day will take place on Thursday 04 July 2019, at Roundhegians Rugby Club. Access to Roundhegians will be off Chelwood Drive.
Key Stage 2 events will take place at 9.30am and Reception and Key Stage 1 at 1.30pm.  Children will be walking to the field, escorted by adults.  We will require additional adult helpers so please let the office know if you can help with this.
If weather conditions mean we have to change the date, the reserve date is Thursday 11 July.
The format of this year's event will be competitive races and field events with children having the opportunity to compete for medals.  However, all children will be rewarded for taking part.
Our teams will be: green, blue, white and red and your child/children will be told their team colour by their class teacher.  If possible, please could your child wear a t-shirt to wear to match their team colour.  Pupils may wear PE kit for the whole day.
As we are off site, please could you provide your child with a carrier bag to sit on.  If you are coming to spectate, you are welcome to bring rugs or chairs to sit on.
Please could you ensure your child has their water bottle and a cap/hat at school; it would also be useful if you could apply sun cream before your child comes to school.
Normal lunch time and end of school collection arrangements will still apply on this day.
In the event of bad weather, updates will be sent via Twitter and posted on the website.
Your support is valued to make the event memorable and we hope you are able to come and cheer your child on at sports day.