Living and Learning: 8Rs for learning
For the start of this half-term, our Living and Learning focus is the '8 Rs for learning'. This is about promoting good learning behaviour for your child.
In class, the children will focus on different 'Rs'. We use an animal to symbolise each 'R', which might help your child remember all eight – can your child remember which animal matches the correct 'R'?
You can support your child at home – we've listed a few ideas to help you below. Ask us if you've any questions or comments.
Download top tips for promoting the 8Rs for good learning behaviour.
Risk taking
Talk about the difference between a safe and unsafe risk. At school, we want your child to take a safe risk by having a go at answering, even if unsure; trying something new and attempting harder learning.
Responsibility
Provide time and space at home so your child is able to organise themselves: their PE kit, reading book, homework, spellings and tables… Don't organise everything for them!
Make a link between rights and responsibilities: your child has the right to a great education, but needs to be responsible for their own learning.
Responding
This could be responding to their teacher in class or responding to feedback in their learning.
Ready
Make sure your child is at school on time for a prompt start.
Make sure your child has had plenty of sleep so they are alert and ready to learn at all times.
Encourage your child to ask lots of questions – that shows they want to learn!
Resourceful
Encourage your child to be organised so they can play with a range of different toys.
Encourage your child to try new ways to solve a tricky problem.
Resilience
Encourage your child to keep going! Set a tricky challenge or puzzle for your child to do.
Encourage your child to think of different ways of doing things.
Don't let your child win when they play a game – they need to experience losing, too!
Celebrate mistakes as opportunities to learn – be happy that your child found some learning hard and encourage them to 'bounce back' and learn from the experience.
Relate this 'R' to Humpty Dumpty and our current whole school topic, After the Fall.
Remember
Make sure they have time to learn spellings, number bonds and times tables – a little practice daily is best.
Play memory games:
Kim's game: show them objects for 30 seconds… can they remember all the objects?
Can they build up the sequence, 'I went to the shop and I bought an apple'… 'I went to the shop and I bought an apple and a bike.'… 'I went to the shop and I bought an apple, a bike and a cucumber.' etc … Take turns!
Reflect
Talk with your child about what they've learnt, asking questions about how they learnt, why they learnt it, when they'll use their learning, how they would teach this to someone else, what learning might link with what they've learnt today…
This week, children will have the opportunity to not only reflect on their learning in general but also reflect on how the 8Rs supports their learning.
Of course, these characteristics are referred to throughout the year across all subjects to promote good learning behaviour.
Reading: inference skills through drama
In our reading lesson this morning, we've been using drama to show our understanding of a character's feelings at different points in a story.
Science: learning about animals
In today's science lesson we've been using secondary research to find out about different animal classes.
We then used iPads to create a presentation about a particular class of animal.
Hello Y5! (or nearly Y5, anyway…)
Hi!
I'm really looking forward to teaching you in September. Here's a little message from me.
I hope you have a great summer!
Mr Owen
Can you find the treasure?
This week, in our Year 3/4 bubble, we've been part of Captain One Eye's crew and after we read our instruction text about how to make a treasure map, we decided to have a go ourselves. The children followed the instructions to create their own versions including their directions to the treasure. Next, it was time to make our own treasure boxes and consider what treasure is important to us in our lives.
Modern Day Treasure Hunting!
Someone in our class has been doing some treasure hunting of his very own, using a metal detector and magnetic fishing rod! We're very impressed!
I think maybe this awesome map helps him find things!
Thanks for sharing!
Mr O
Virtual sports day results and skipping challenges
Well done to all children who took part, at home and at school, in the virtual sports day yesterday.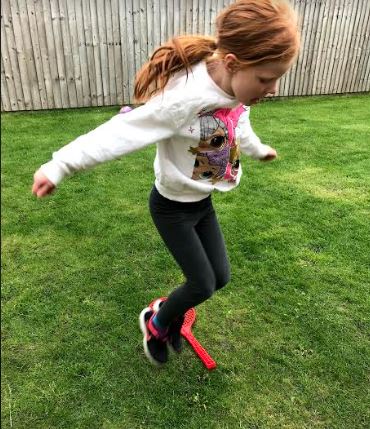 The results are in and can be accessed here.
Here's our overall school results for each challenge (out of 217 schools).
Netball challenge 56th
Keepie uppie challenge 27th
Rugby challenge 93rd
Speed bounce challenge 46th
Skipping challenges
If you are interested in trying another physical activity challenge, Jodi from Skipping School – a regular visitor to school, is running a daily skipping skill challenge this week. Sadly, Year 2 and Year 4 have missed out on their skipping festivals this year so these videos will help the children to recap the skills they have learnt at school.
Virtual sports day
So it wasn't quite our normal sports day but today we've enjoyed taking part in the virtual school games sports day.
First, we watched the opening ceremony video and took part in the warm up before completing the different activities. All the children tried hard to beat their personal best and the results have been submitted.
We've even created our own physical activity challenges that we'll try out next week.
Did you take part at home? Hope you've entered your results. You've got until 12pm on Wednesday 08 July.
Charlotte's Web
The children in school have been enjoying listening to a story called Charlotte's Web.
Charlotte's Web is a children's novel by American author E. B. White and illustrated by Garth Williams and it was published on October 15, 1952. The novel tells the story of a livestock pig named Wilbur and his friendship with a barn spider named Charlotte.
One of the all-time great classics of children's literature. This gentle story has inspired readers for generations. Readers discover how we should make and keep friends and how we should treat each other.
Wilbur the pig's life has already been saved by Fern, but when he is sold to her uncle, he realises his life is in even more danger.
His heroine is a hairy spider who sucks the blood out of flies, aided by a rat, and they're working to save Wilbur from the reality of every working barn.  Enter Charlotte A. Cavatica, a beautiful large grey spider. Charlotte is determined to keep Wilbur from the chopping block, and comes up with an ingenious way to do just that. Charlotte's Web is a classic tale of friendship, bravery and some animal magic.
This week, the children have made their own versions of Charlotte. The concentration in the room was quite something!
Well done, Years 3 and 4!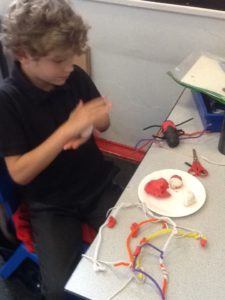 Rafts, maps and other piratey fun!
Captain One Eye has been particularly impressed with your efforts today. Check out what some of your fellow captives had created! Thanks to everyone that's sending photos in – it's great to be able to share all your hard work. Anyone else that would like to share, please email me at davidowen@spherefederation.org
There's a video of Princess Leia's raft launch here!