Famous Five videos
Hi everyone,
Hope you're okay and are enjoying listening to the Famous Five. I'll be posting three videos a week (Mondays, Wednesdays and Fridays).
Try to keep it up. I don't want you to miss anything!
Take care!
Mr W.
Easter Fun!
Hello all,
Here are some pictures of the learning you guys have done over the holiday. The Andy Goldsworthy art looks amazing!
Please send any pictures or videos to paulwilks@spherefederation.org.
It's really great to see what you've been getting up to!
Highlights from the week!
Hi everyone!
Some children are still coming to school as their parents are key workers. We've been doing all the learning that teachers have been setting on homework pages, but have had plenty of time for other activities too.
Art
We've painted some beautiful rainbows…
…and we've made creations out of clay. Aren't they good?
Coding
We've been coding on Scratch and Kodu: both free-to-download programming software, which children enjoy using to build games.
Exercise
Joe Wickes PE sessions have proved very hard work…
Sometimes we're just going outside to play games instead. Anything to keep fit and healthy!
Music
We were even lucky enough to have a visit from a teacher in our federation who is also a musician. Mrs Richardson performed for the children by singing, playing keyboard and even using a singing bowl. We kept our 2m away but we could hear it just fine! It was a lovely experience and we were all very impressed. Thanks very much Mrs Richardson for  coming in.
I love music! Are you learning an instrument at home? I'm practising my drums as often as I can. It's a good opportunity to get better. I've got a guitar that I haven't played in a while too… I might have to pick it up again! Why not take a short video of you playing something on your piano, guitar, drums or whatever other instrument you're learning and send it to me? My email address is davidowen@spherefederation.org. If you're happy for me to share them on our website's news pages, please let me know. I'm sure others would love to see them too!
Construction Challenges!
One of our favourite activities has proven to be marble runs. We've spent quite a while planning and constructing these, with the courses our marbles are running gradually getting more and more complex. We've now got some working with tubes and foam tracks and it's very satisfying.  When I can work out how to get a video on here, I'll post one for you to see ours in action!
Do you want to try? They're fun to make and don't take any special equipment or materials – just a marble. You can then use anything to make the run:
pencils
books
boxes
toys
Lego bricks
Don't forget to start somewhere high so gravity can help.
Home learning!
Hi all,
Hope you're all getting on okay. From the look of these photos, you guys are having loads of fun and learning loads.
Thanks for sending the pictures. It's really nice to see what you're doing.
Boudicca posters!
Thanks for sending in your posters about Roman Britain. They're great!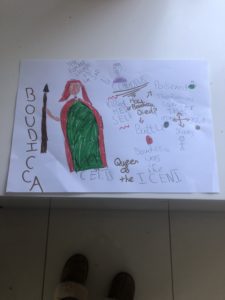 Home Learning
Here's another photo of one of our classmates and her busy day of home learning. Looks like great fun!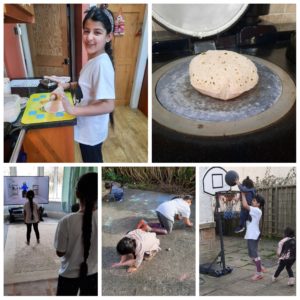 Home Learning!
Hope you all had a good day and that the home learning tasks went okay. Have a look at what these two got up to today…..
Some great history themed crafting and an innovative use of skipping ropes!
Improving our vocabulary
In an English lesson this morning, we've been using dictionaries and iPads to find definitions for some words which we'll be using in writing later this week.
The Y3,4 Easter production
Current government guidance around the coronavirus outbreak is clear that schools should remain open. However, there is a possibility that schools may close at some point.
If schools were to close, children would miss out on valuable learning time with their teacher. (We have plans in place to provide some home learning in the event of school closures, but this won't be the same as children coming to school to learn with their teacher.)
Because we prioritise learning, we want to ensure children are benefitting from as much time as possible in the classroom.
Based on this reason, we've decided to cancel the Y3,4 Easter production. This is because the production involves quite a lot of time in rehearsals. Whilst this can be a useful time for children to develop wider skills, we want to prioritise learning in the class – just in case later on learning in the class is missed.
We're continuing to follow government guidance. This decision is not due speculation about bans on mass-gatherings, for example.