Young shipwrights ahoy!
One of your fellow captives aboard my pirate vessel has proven himself to be a decent shipwright, makin this wonderful ship.
Some of ye arrrr seeming to be quite handy. Nobody has had to walk the plank so farrr. I might have to consider some new additions to me crew!
Landlubbers aho!
Some of ye landlubbers be working hard. So hard in fact, that they don't need to walk the plank after arrll.
Have a look at this'n! It be at least adequate.
(Awesome job, Evie!)
New date for Zoom catch-up: Tuesday at 10am
Hello everyone,
Sorry for another change in date for the meeting. It's going to be at 10am on Tuesday now.
NEW: If you attended the previous meeting, you can also join this one. Just email to let me know.
paulwilks@spherefederation.org
Thanks
Mr W
Hobby Half Day
In school, the children get an afternoon a term where they take part in different hobbies. As this can't happen this term, we decided to have an activity themed morning painting pottery. After choosing their preferred money pot, the group set to work painting. We each chose song to listen to whilst working!
Well done, everyone!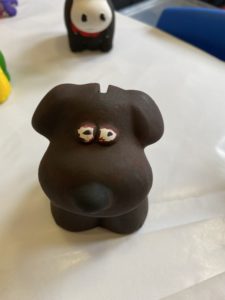 Zoom Meeting!
Hello Year 4s!
I really enjoyed talking to everyone at the 'meeting' today! It was great to see you all.
If you didn't attend today's session, please join me at the next one. However, I've changed the date as the planned Thursday session did not have many takers.
The new date will be Monday 29th June at 10am.  
Please email me to let me know if you'd like to attend.
Thanks
Mr W
Zoom Calls!
Hello Y4 Parents / Carers!
I would love it if your home learners could join me for a Zoom call this week. We'll talk about lockdown, home learning and  compare lockdown hairstyles!
There will be two sessions:
Wednesday 24th June @ 10am
Thursday 25th June @ 10am
Email me at paulwilks@spherefederation.org to let me know which one you would like to join and let me know the name that will appear in the Zoom call – I won't allow anyone into the meeting if I'm not expecting them. Ideally, the name would be the child's first and last name, but it can be your name. (And please make sure the name is appropriate.)
I'll limit numbers to the meetings to about 12 children so that we all get a chance to talk. The sessions will last approximately 30 minutes.  I'll ask a couple of questions which will include questions related to home learning:
What home learning have you felt most proud of?
What learning have you made most progress with at home?
What sort of learning routine are you in?
It would be great if your child has thought about these so they're able to answer a question like that.
Hope to see you there!
Mr W
Take a seat
In school, the children have been designing and constructing chairs. We looked at many different examples and enjoyed sketching some.
Doing design and technology, whilst social distancing, is tricky! However, the children were mature and followed the rules well.
The finished products!
Super photography!
Hi Year 4s
Have a look at the amazing photos Harman has taken. Do you recognise where they were taken? That's it, Roundhay Park!
Fabulous home learning!
Hello Year 4s!
I hope you've had a good week! Thanks very much for sending me some excellent photos of what you've been doing.
Amazing artwork
Today, the children in school learnt all about Amelia Mary Earhart. She was the first female aviator to fly solo across the Atlantic Ocean.
After lots of discussion about Amelia's heroic adventures, we had a go at drawing some pictures of her in an aircraft.
I'm sure you will agree that the sketches are superb!
Well done, Ewan, Bridget, Harman, Vedant, Shameeska, Jodie and Sam.