Tennis opportunities
Today, Year 2 – Year 6 pupils have taken part in tennis sessions to give children a taster of tennis and to promote sessions starting locally at Chapel Allerton Tennis and Squash Club.
Celebrate Yorkshire themed menu
Catering Agency, our school meal provider, will be running a special themed menu on Thursday 16 January. Please contact the office, in the next few days, if your child would like a school dinner on this day (no action needed if your child normally has a school meal on this day).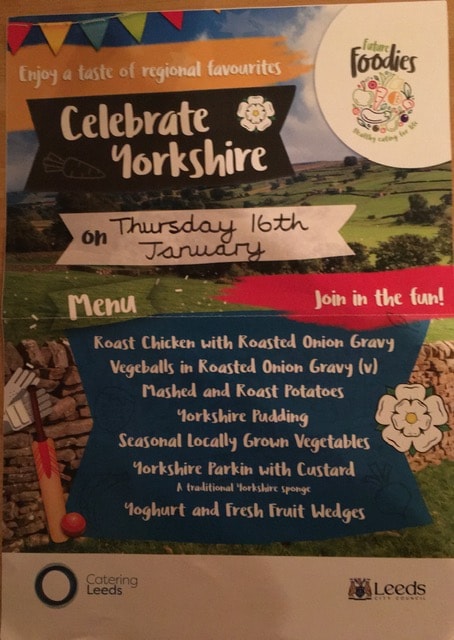 Living and learning this half term
Living and Learning sessions
 are held weekly, in class, to promote social and emotional aspects of learning and other areas of Personal, Social and Health Education (PSHE).  This half term we have two main themes, from our
long-term plan
.
Drug, alcohol and tobacco education (DATE) 
 Keeping safe and managing risk
Pupils tell us they enjoy learning delivered by visitors and this half term all classes will take part in esafety and drug education sessions with d:side and visitors from NSPCC will be delivering their
Speak out Stay safe
programme. Further details will follow.
We begin the half term with a focus on manners and in particular interruptions.  Children will consider what is a valid interruption, for example an emergency and what alternatives are there to interrupting?  Children across school are encouraged to use our brain, buddy, boss system to try to avoid interruptions.  This means they would first think themselves.  Then, they could try asking a friend and the final option would be to ask the adult.  This encourages the children to become independent and take responsibility.
Here are the weekly Living and Learning statements, for this half term, to support this learning. There will also be some whole school homeworks on these themes.
I don't interrupt (with my mouth or my hand).
I can make things better.
I know what a drug is.
I know how to seek help.
I make safe choices, including online.
I can assess my own risks.
Skillful Cookery
Year 3 and 4 have exercised their baking skills this week by creating stained-glass-window cookies!
Our cookies were vegan and gluten-free so that everybody could enjoy them. We weighed out the butter, sugars and vanilla paste first.
After mixing this into a smooth batter, we added the flour, bi-carbonate of soda and baking powder.
While we waited for the dough to chill, we learned how to make hot chocolate safely so that we can have plenty over the chilly holidays.
Once the dough was cold enough to work with, we rolled it out and cut it into different shapes.  If you cut a smaller shape out of the middle, you could add boiled sweets which then melt in the oven to create a sweetie window – very cool.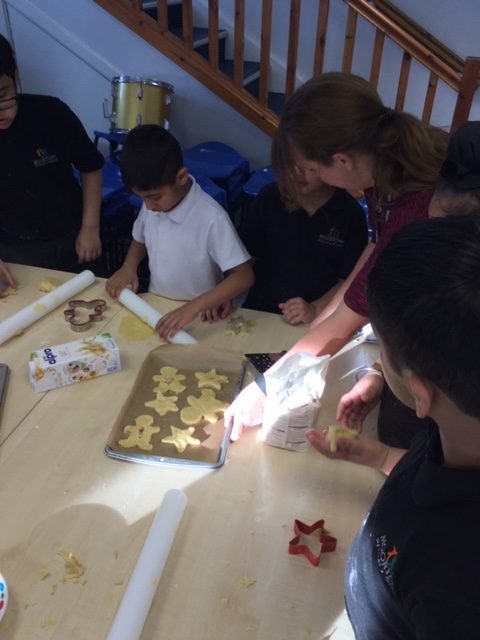 Cross country success
Following the recent Leeds North East Cross Country Festival at Cardinal Heenan, we are proud to announce that the following children have qualified for the Leeds final in February.
Year 3
Bridget (13th), Jake (5th) and Junior (20th)
Year 4 
Billy (11th)
Well done to all the children who took part and good luck to our qualifiers.
Rugby at Allerton Grange
Last week, Y4 visited Allerton Grange to work with the sports leaders there. We took part in a range of activities designed to develop our skills in tag rugby before having a go at some tag rugby games. We really enjoyed the session and are going to try to re-create these activities at school so that we can continue to get better.
We practised passing the ball and moving:
We learned about passing the ball to each other and trying to intercept:
We tried to receive the ball in the air before the other person got it:
We tried to steal each others' tags before they got to the other side:
We tried to get the ball to the try line with another team stopping us from getting through:
Takeover Day
Today, it was Takeover Day so the children took over Year 4!
Some people got to:
do the warnings chart
give out cool class tokens
do the times tables test/ spelling test
say 321  and stop
serve lunches
write certificates 
do the register

lead guided reading group

And Betty and Amrit M  wrote this class news post.
Packed lunches
At Moortown Primary, our packed lunch guidance includes:
information about the different food groups
how to put together a healthy, balanced packed lunch
links to recipes and ideas for healthy packed lunches
This week, our packed lunch guidance will be emailed to parents and carers and sent home to children who have a packed lunch in school.
Packed lunches should be in a secure named container.  No sweets are allowed – instead, we encourage lots of fruit or vegetables.  Water is available on all tables for children who choose a packed lunch.  However, your child can bring their own drink in a non-breakable container – please avoid fizzy drinks.
Change4life provides lots of ideas for healthy packed lunches including  suggested swaps.
As an alternative to packed lunches, school meals, including a vegetarian option, are a great choice and are prepared daily in our kitchen. Children are offered a choice of main courses and desserts and they select their main meal choice at the start of the day.  Catering Leeds provides food which meets national Food Standards criteria.  School meals can be combined with packed lunches.
Free school meals are available to all children in Reception, Year 1 and Year 2.  They are also available to some older children according to family income.  It's important to register for entitlement to free school meals, even if your child has a packed lunch or is in a younger class – this is so we can receive additional funding (called the pupil premium) which we can use to help your child. Please check if this is something you might be entitled to.
Living and Learning: Takeover Challenge Day
On Friday 6th December, we will be taking part in Takeover Challenge Day and this year, it is being supported by
First News
.
What is Takeover Challenge?
Takeover Challenge is a fun engagement project which sees schools and organisations across England opening their doors to children and young people to take over adult roles.
It puts children and young people in decision making positions and encourages schools and organisations to hear and act upon their views and ideas. Children and young people gain an insight into the adult world and schools and organisations benefit from a fresh perspective about their work.

During the day, children will take over some of the adult roles in class. This may include taking the register/dinner register, tests, performing the warm up for PE, reading the class novel or planning parts of lessons.
Some older children will have the opportunity to 'takeover' other roles in school including taking over the office, serving dinners and leading the certificate assembly.
School Savings Club
The next School Savings Club paying in date is 09 December 2019 at 3.15-3.45pm.
The account is open to all children and it is free to set up. As there is not minimum deposit requirement, it is a great way for your child/children to begin to manage their own money and understand the importance of saving. We offer paying in sessions every half term where you can bring along any savings to be paid into your child's account.
As an extra incentive, Year 3 pupils who open an account, or who currently have an account, will be credited with £10.
If you're unable to attend in person, please hand in any money to be deposited to the office in a sealed envelope addressed to Mrs Tiffany.
Here are the remaining paying in dates for this year (the penultimate Monday of each half term).
03 February
23 March
11 May
06 July
To find out more about the accounts or if your child would like to open account, please enquire at the office.