Home Learning!
Hope you all had a good day and that the home learning tasks went okay. Have a look at what these two got up to today…..
Some great history themed crafting and an innovative use of skipping ropes!
Improving our vocabulary
In an English lesson this morning, we've been using dictionaries and iPads to find definitions for some words which we'll be using in writing later this week.
The Y3,4 Easter production
Current government guidance around the coronavirus outbreak is clear that schools should remain open. However, there is a possibility that schools may close at some point.
If schools were to close, children would miss out on valuable learning time with their teacher. (We have plans in place to provide some home learning in the event of school closures, but this won't be the same as children coming to school to learn with their teacher.)
Because we prioritise learning, we want to ensure children are benefitting from as much time as possible in the classroom.
Based on this reason, we've decided to cancel the Y3,4 Easter production. This is because the production involves quite a lot of time in rehearsals. Whilst this can be a useful time for children to develop wider skills, we want to prioritise learning in the class – just in case later on learning in the class is missed.
We're continuing to follow government guidance. This decision is not due speculation about bans on mass-gatherings, for example.
Living and Learning: body image parent and carer guide
Our focus in Living and Learning, for the rest of this half term, is body image.
What is body image?
Body image describes our idea of how our body looks and how we think it is perceived by others. This can include our thoughts and feelings about our height, weight, shape, skin colour, and our appearance and attractiveness more broadly.
This parent and carer guide has been designed to give practical ideas to support your child in building their emotional resilience in this area.
Allerton Grange Basketball
On Tuesday, Year 4 enjoyed another session with the sports leaders at Allerton Grange. We worked on a number of skills we'd need for a basketball game before playing end ball with basketball rules. We all really enjoyed it and the sports leaders were fab too.
The new, national multiplication tables check
The government is introducing a new, statutory multiplication tables 'check' (MTC) for the first time, in June this year. Children in Year 4 will take this check.
The purpose of the check is to determine whether pupils can fluently recall their times tables up to 12, which is essential for future success in mathematics. It will also help your child's school to identify pupils who may need additional support.
Read more about the check in this leaflet from the Standards and Testing Agency.
Living and Learning: manners
Our manners focus this week, in Living and Learning, is all about covering our mouth to prevent the spread of germs.
You're just about to sneeze or cough but, oh dear, you don't have a tissue. What should you do? Cover your mouth and nose with your hands? Surely that's what polite people do.
But hold it! If you sneeze or cough into your hands (and then fail to wash your hands straight away), you'll only be spreading colds and flu germs on everything you touch.
And that's because germs (as long as they stay moist) can live for HOURS on hard surfaces such as tables, phones and door handles. And not just on objects – everybody you touch will be contaminated, too.
And of course, vice versa – if somebody else has sneezed or coughed on their hands, they're leaving a germ-trail for you to pick up.
So what's it best to do?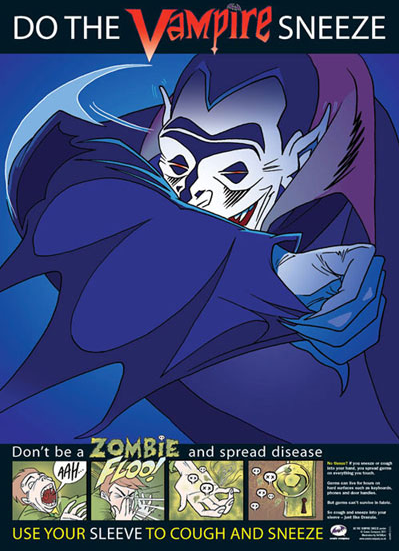 Here it is in action.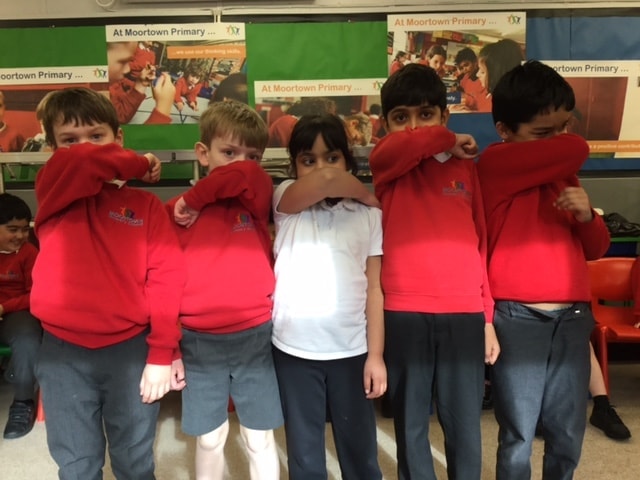 World Book Day themed menu
Catering Agency, our school meal provider, will be running a special themed menu on Thursday 5th March. Please contact the office, in the next few days, if your child would like a school dinner on this day (no action needed if your child normally has a school meal on this day).
Reviewing computing
The end of the half term brings us to an end of our computing topic which lots of us are particularly sad about. The children have really enjoy this learning and many have continued it at by creating their own Scratch accounts.
We've learnt lots of new vocabulary through this topic and many of us now feel confident with words which we'd never heard of at the beginning of the half term. Today, we shared our knowledge as a group by creating a concept map of what we understand about our computing vocabulary.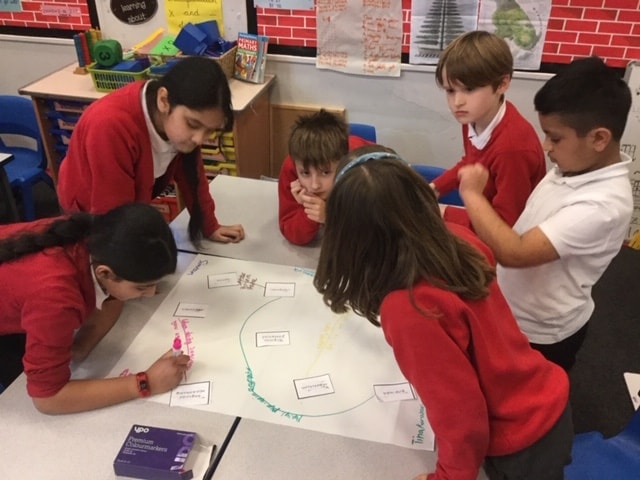 Is your child in Year 4?
The government is introducing a new assessment for Year 4 pupils. In June, each child in Year 4 is set to complete an online multiplication tables check (MTC). Read more about this new assessment.
There will be 25 questions covering the full range of facts children are expected to know, which means questions going up to 12 x 12. However, there​'​s slightly more weighting towards multiplication facts involving 6, 7, 8, 9 and 12 due to these being the most difficult to learn. For example, there will be between 2 and 4 questions involving multiplying by 6.
For each question, children are presented with a multiplication fact and an empty box. This may be written as __ x 6 or as 6 x __ .
If you'd like to practise at home, our own website has lots of spreadsheets you can download.
There are also lots of websites that you can use. This one is very similar to the MTC. It's possible to alter the settings on this website to focus on particular times tables.
Another exciting way to practise times tables is through the 'Times Tables Rockstars' website. Every child has their own individual login details that enables them to access their account at school and at home. Feedback so far is that this is proving an enjoyable way to practise times tables facts at home!