Science: d:side visit
This morning Ruth from d:side visited us to talk to us about how we can keep our bodies healthy.
We talked about how to keep the outside of our body clean and healthy by washing and cleaning our teeth.
We then learnt about the inside of our body. We learnt about the different organs and the jobs they do. We then talked about how to keep these organs healthy by doing lots of exercise, having a healthy diet and getting lots of sleep.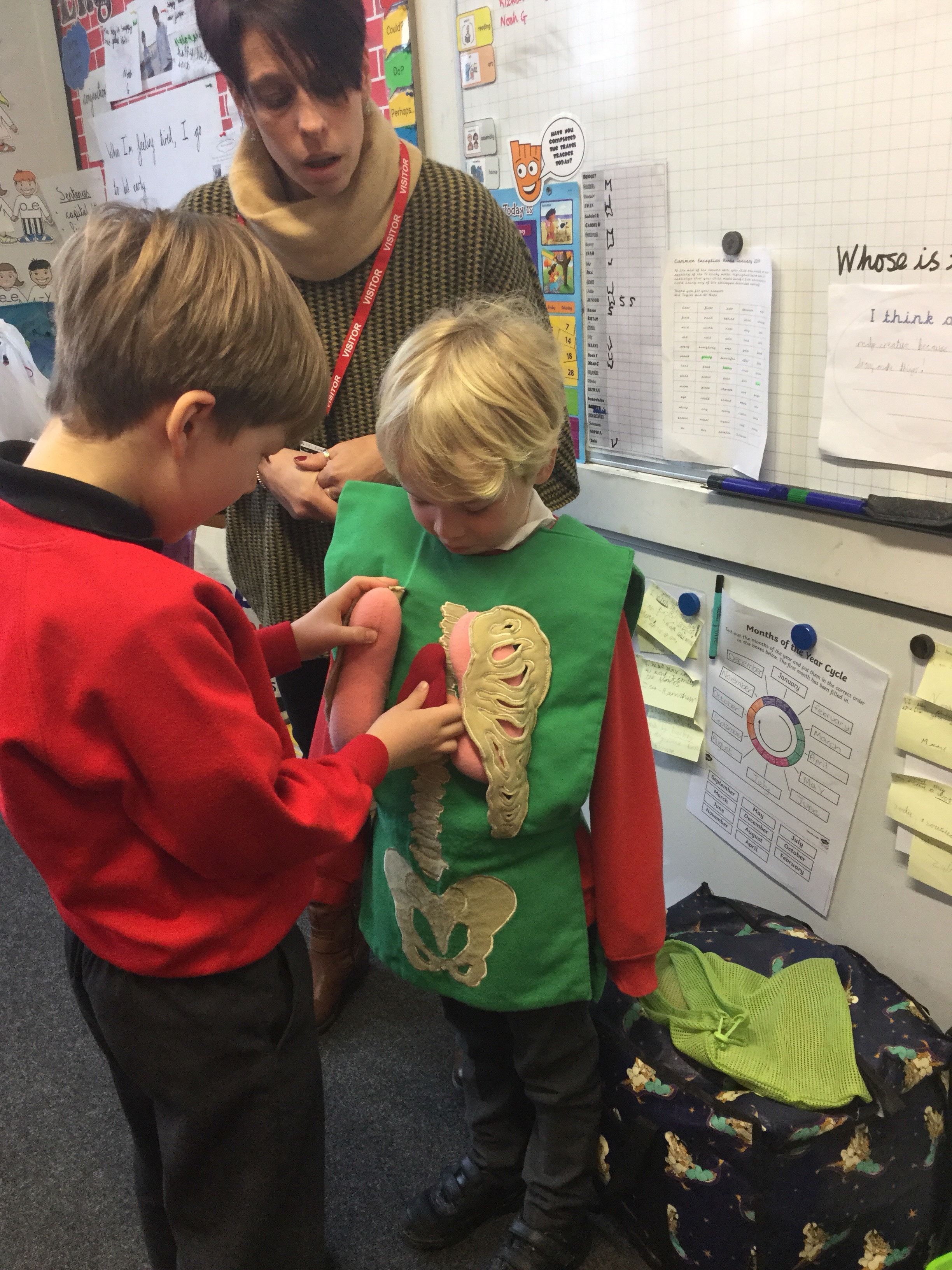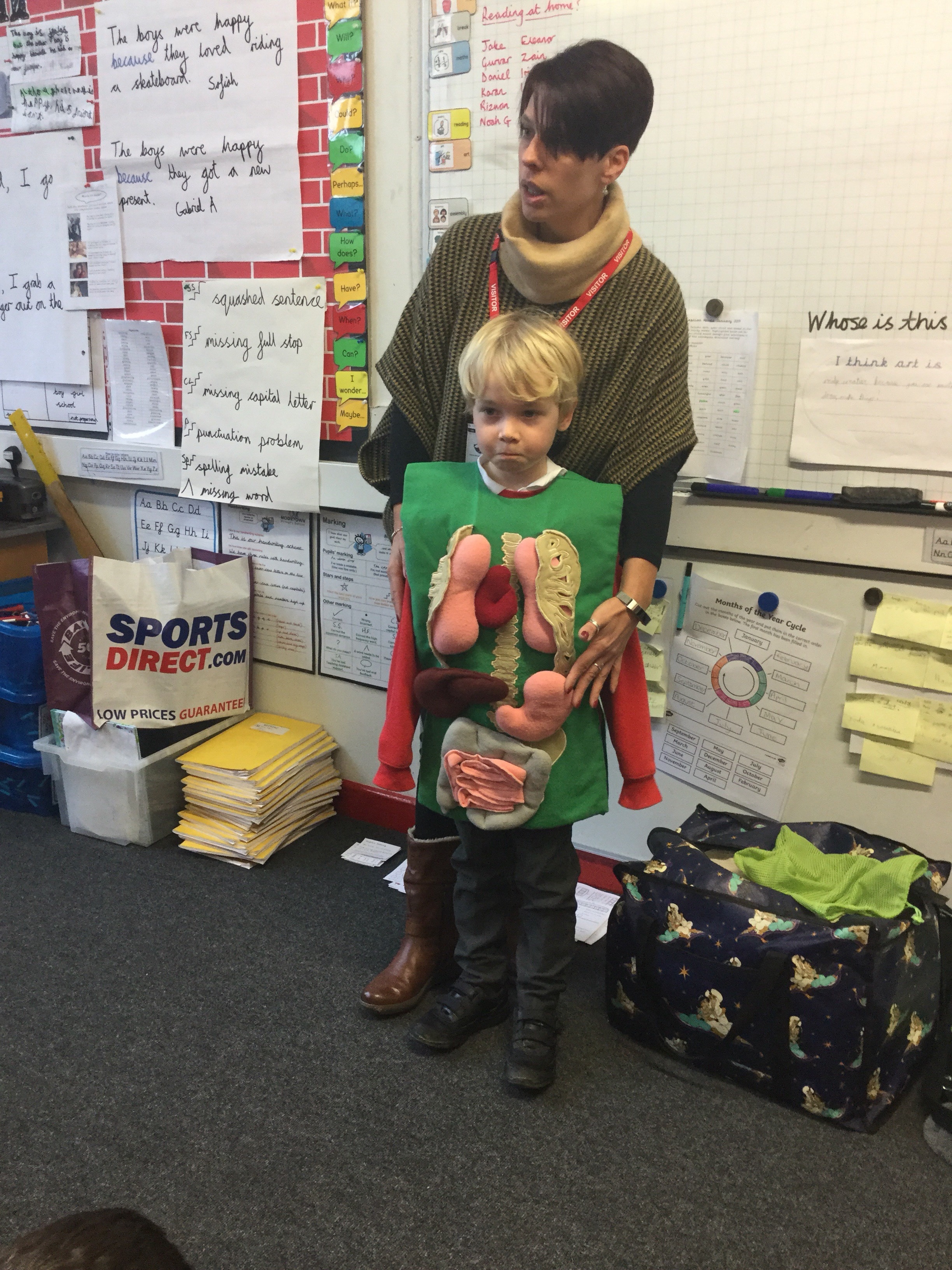 Staying Safe themed week 04 February
Our next whole school themed week, based around Staying Safe, will be taking place from Monday 04 February 2019.  The key message is how to be safe in a range of situations – at home, at school, online and in the environment.
A variety of events and visitors are planned to help us deliver this key aspect of education including road and scooter safety (Leeds City Council); water safety (Canal and River Trust and RNLI); bike maintenance (Edinburgh Bicycle Co-operative); staying safe around dogs (Dogs Trust) and e-safety (One Day Creative and d:side). Some of the events require parental permission and these letters have been sent out separately. There are also some opportunities for parents and carers, from all year groups, to get involved in the week. Please contact the office to reserve places.
*THIS WEEK* Thursday 24 January 2:30pm – 3:15pm d:side drug education information session
A representative from d:side, a health education provider, will be running an information session about drug education.
 Monday 04 February 2:30-3.15pm One Day Creative, creative education provider, e-safety workshop
Wednesday 06 February Edinburgh Bicycle Cooperative Dr Bike event
Bring your bike for a free bike safety check, from 8:30am – no need to book.
Thursday 07 February 2:30-3.15pm First aid workshop
A representative from Leeds Beckett University, will be running a first aid workshop for parents and carers.
The themed week is a good opportunity to continue to think about healthy, active ways to travel to school.  Children are encouraged to travel to school in a sustainable way, keeping safe along the way.
Finally, can you help? Does your job involve an aspect of safety?  If you are able to support our Staying Safe themed week by coming into school, please contact Mrs Taylor via the school office.
We will keep you up to date about events during the week through Twitter and the class news pages on our website.
Thank you for your support to keep Moortown a happy, healthy and safe school.
Allerton Grange visit
Yesterday, Year 2 walked to Allerton Grange for a sports session led by some of their sports leaders.
For the Level 1 sports leaders, this was their first session working with other children and we felt they did a great job encouraging and motivating the children and teaching and organising the session. The class were particularly excited to find out the session was based around football skills – football is definitely a class favourite!
These sessions, where we work in partnership with Allerton Grange, support the leadership skills of the sports leaders and also give our children the chance to visit a local high school and take part in an active PE session in a different setting.
After-school club availability
There's still time to sign up to our Spring term after-school clubs starting next week.
Please contact the office if you would like to book a place on any of the following clubs which currently have spaces available.
Monday
Love of reading club

Do you enjoy stories?  Join Mrs Charlesworth and delve into books, get into the characters and listen to stories. Share your own favourite stories too.  This club finishes at 4.15pm. 

There are no sessions on Monday 28 January 2019 or Monday 11 February 2019.

Y1, Y2, Y3
£12
Netball

Come and learn the skills and techniques of netball in this fun club.  Organised by Mrs Taylor and Miss Rushbrooke.  This club finishes at 4.15pm.  There are no sessions on Monday 11 February 2019 or Monday 04 March 2019.

Y3, Y4,

Y5, Y6

£6
Tuesday
Dance

Join Miss Marsden to learn fun dance routines to perform at a dance festival in April 2019.   This club finishes at 4.15pm and continues until Tuesday 23 April 2019.  There is no session on Tuesday 12 February 2019.

Y1, Y2,

Y3

£9
Basketball

Come and learn the skills and techniques of basketball in this fun club.  Organised by City of Leeds Basketball Club.  This club finishes at 4.15pm. There is no session on Tuesday 12 February 2019.

Y3, Y4, Y5,Y6
£7
Wednesday
Gymnastics

A fun way to keep fit while learning new skills.  Organised by Leeds Gymnastics Club. This club finishes at 4.15pm.

Y1, Y2,

Y3, Y4, Y5

£8
Thursday
Mindfulness

Join Miss Marsden and try a range of mindfulness techniques, both creative and physical.  This club finishes at 4.15pm. 

Y1, Y2, Y3
£8
Introducing our new topic…
This afternoon, the children were challenged with a group jigsaw puzzle activity which gave them a clue about what our new topic is going to be.  While completing their individual jigsaw was the aim, they also needed to help the rest of their group complete their puzzle without talking!  Taking turns and working cooperatively were key skills needed.
'I felt it went well as our table helped each other to complete their jigsaws.'
'We swapped pieces that we knew would help others to finish their puzzle.'
Finally, the clues were revealed and we found out our new topic is based on the Katie and … series of books by James Mayhew.  We can't wait to get started on this art themed topic.
What is a drug?
In Living and Learning, as taken from our long term plan, we will be focusing on drug education for the next two weeks.
Our first statement for this learning is, I know what a drug is.
Our definition of a drug refers to a substance people take to change the way they feel, think or behave.  The word 'drug' includes:
All legal drugs, including tobacco, alcohol, solvents and volatile substances, misused medicines and legal highs
All illegal drugs
Prescribed and over-the-counter medicines
On Thursday and Friday of this week, we welcome d:side, a health education provider, to school to deliver drug education workshops to each class as part of this learning.
Parents and carers are invited to come to an information session, led by d:side, on Thursday 24 January from 2:45-3:15pm.  Please inform the office if you would like to attend.
PE kit in school
On Tuesday morning, we will be visiting Allerton Grange for a PE lesson led by their sports leaders.
The children will be walking to Allerton Grange so please ensure they have tracksuit bottoms or leggings, PE t-shirt and some trainers or pumps in their PE kit to wear.
Living and Learning: What's the matter?
As well as a science focus for the What's the matter? topic, we've also been thinking about What's the matter? from an emotional point of view.
Hopefully you got chance to find out more about this in our recent class assembly.
A focus for our writing, as we start this new term, is using conjunctions.  We've used different pictures as a stimulus to ask What's the matter? and in our responses we've been using a variety of conjunctions.
Ask your child if they can spot the conjunction that has not been highlighted.
Science in real life
As part of our What's the matter? mini science topic, we had a real life problem to help with when we received a letter from Mr Vango.
Our first scientific enquiry skill we used was questioning.  We needed to work out what was the question we needed to answer.  We also considered some other questions that we might need to investigate.
Thinking about the equipment needed and the safety aspects were an important part of the method.
After making our predictions, we tested four different materials.  Ask your child how we made the test fair and what we observed during the testing.
In our english lessons, we have written back to Mr Vango with our conclusions and recommendations.  Ask your child which material we suggested he should use for his tents.
What's the matter? creative homework
On Thursday, during our homework review, we enjoyed sharing and celebrating the range of homework the class had produced based around designing a house using a range of materials.
Here are some of our favourites.  Presentation was important for this homework as we needed to see the materials labelled clearly.  We liked these examples as they told us the materials used and we also saw some description of these materials.  For example, a blue wooden door.